This year's 2022 Women's Leadership Awards Journal is now live and ready for download, featuring prime leadership honoree content. The online flipbook contains more than 15 interviews, both in video and Q&A style, with some of beauty's brightest minds and strongest leaders. Kicking off this year's journal—and the live luncheon program being held today, June 2, at the Ziegfeld Theater—is the event Keynote Alice Chang, Founder, and CEO, Perfect Corp. Alice is a pioneer in tech and one of the few women holding such a position in the tech industry. The virtual beauty-app developer was created by Alice in 2015 as a way to offer beauty brands unique solutions that offer more personalized and engaging experiences for their consumers. Earlier this year, Perfect Corp. entered into a definitive agreement and plan of merger with Provident Acquisition Corp., a publicly-traded, special acquisition company valuing the combined company at $1 billion. Perfect Corp.'s technologies are used by 420 brands in more than 80 companies. Read all about Alice's career journey and her advice for the next crop of women tech executives in the interview below. And be sure to access the journal to read about executives from Estée Lauder, L'Oréal, Unilever, NARS, Firmenich, Macy's, Parfums Christian Dior, Procter & Gamble Beauty, UOMA Beauty, Nordstrom, CVS Health, BFA Industries, before it closes later this year.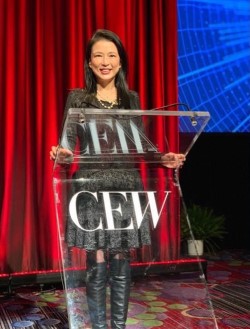 CEW: What were you like growing up, were you always so driven?
Alice Chang: I have always been a curious individual who isn't afraid to venture outside the lines. Growing up, I asked tons of questions and dug deep into topics to gain multiple perspectives and develop my own unique angle. Problem solving was ingrained in me from a young age, and it continued to propel me throughout my early education and higher learning at UCLA. I always had a strong desire to learn and grow, both as an individual and as a professional, and this growth mindset is something I have brought with me on each new life venture.
CEW: What led you to Cyberlink, where you were CEO from 1997–2015, and what were some of the key learnings that prepared you to create and lead Perfect Corp.?
AC: Before moving into tech, I was working in the financial sector in the banking industry, around the time when the internet was first introduced into our daily lives. I quickly became interested in the myriad of possibilities that existed in the online realm, and established Cyberlink with the mission of enhancing consumers' lives through the power of technology.
As the CEO of Cyberlink, I saw firsthand how digital technology can improve the consumer experience. I recognized the practical application of AR and AI across other facets of life and new industries. There was untapped potential for this technology, specifically in the beauty and fashion space, where consumers were seeking a more personalized and convenient product-discovery experience. In June 2015, Perfect Corp. was born with the dream of reimagining the consumer beauty shopping experience through advanced AI and AR.
CEW: You introduced Perfect Corp. in 2015 at a time when AR/AI was in its nascent stages in beauty. What led you to the beauty industry?
AC: As a beauty shopper myself, I recognized a blank space in the beauty shopping experience and identified an opportunity where AI and AR beauty tech could power product discovery through a virtual try-on journey. Beauty is innately a more personal shopping experience, involving products that are applied directly to your face, making these purchase decisions particularly important to the consumer. I recognized how virtual try-on capabilities would allow consumers to experiment with more products than ever before and guide them on a more personalized shopping journey to make more confident purchase decisions. Additionally, mobile devices were quickly becoming a preferred shopping medium, specifically amongst younger generations, and this created a unique platform where interactive try-on technology could sit in the hands of the consumers. Beauty brands were seeking unique solutions that offered more personalized and engaging experiences for their consumers that were easily integrated across multiple consumer touchpoints. Beauty shoppers are omni-channel shoppers, so it was imperative that brands found digital-first ways to connect and engage with customers across all platforms.
CEW: Has being a female tech innovator been challenging in a male-dominated industry? If so, how have you overcome these challenges?
AC: As a female leader in tech, I feel immense responsibility to pave the way for a future of female leaders to pursue careers and leadership positions in the tech space. I am grateful to all the women I have encountered and learned from along my career path, who gave me the courage to believe in myself and the confidence to see my vision through, even in the face challenge. When you hold steadfast to that determination, you inspire others, embrace obstacles, and achieve the impossible.
CEW: What is your advice to up-and-coming female tech innovators?
AC: Dream big. Really, really big! Your mind should know no limits. Look to surround yourself with people and environments that encourage creativity and collaboration, and challenge you to never stop dreaming and forging new territories. True innovators see boundaries as invitations to go beyond what's deemed possible and achieve greatness that other's couldn't even imagine.