Sharon Chuter is certainly a catalyst for change.
The Uoma Beauty founder and CEO has set the bar for how an individual can use their platform to implement awareness and reform. Her trailblazing initiatives to institute change in corporate beauty firms, namely the number of Black people they employ and the positions they hold, as well as raising awareness for Black beauty founders, has made her CEW's inaugural Catalyst for Change Award Honoree. The honor is part of the organization's distinguished 2022 Women's Leadership Awards [WLA] program, presented by Dotdash Meredith, that recognizes an exceptional group of women for their achievement and success in beauty.
Sharon's transformative achievements are numerous.
In June 2020, following the murder of George Floyd and the subsequent global outrage of police brutality towards Black people and systemic racism, Sharon launched Pull Up for Change (#pulluporshutup) on Instagram, a challenge that asked beauty companies to publicly state their percentage of Black employees at the corporate and executive levels. Born out of frustration of a lack of economic opportunities for Black people, despite corporate companies posting support for the #blacklivesmatter movement, the initiative jumpstarted a call for transparency and accountability within beauty firms.
Hundreds of companies have since committed to increasing their percentage of Black employees.
"If you want to be part of the solution, actually be part of the solution and stop talking about being part of it. I hope we have triggered conversation," Sharon told CEW Beauty News in September 2020 of the campaign.
Born in Nigeria, Sharon is no stranger to the innerworkings of big brands, having held positions at LVMH, L'Oréal, Revlon, PepsiCo and GSK. She left corporate America to launch Uoma Beauty in 2019. Her vision was to disrupt the industry's outdated definition of beauty; her goal was to start a movement, not just a business.
In February 2021 Sharon continued her efforts towards raising awareness for Black beauty founders with the Make It Black campaign, a collaboration with brands to create limited-edition black packaging for select items during Black History Month to raise money for emerging black business founders. The campaign reappeared in 2022 with Uoma Beauty, E.l.f. Cosmetics, M.A.C Cosmetics, Mented, Morphe, Flower Beauty, Ulta Beauty, and Ipsy/BoxyCharm taking part in the effort.
Sharon, who in June 2021 launched UOMA by Sharon C. exclusively for Walmart, also continues to reiterate her push to redefine, literally in the dictionary, what it means to be Black.  She is calling for definitions in dictionaries to reflect positives of the word Black.
"Black is luxury. American Express has its Black Card; Black is fashion and it is timeless," she said in a recent virtual interview.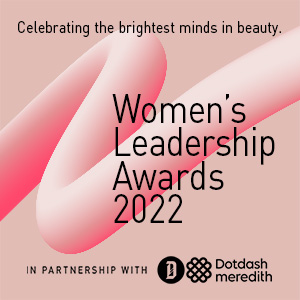 Sharon will be honored at the Women's Leadership Awards luncheon on June 2 at the Ziegfeld Ballroom. The event will also recognize Achiever Awards honorees, (senior executives who have shown success in leadership, business, philanthropy and mentorship) and Social Impact Awards honorees (emerging leaders who have made an impact on their companies through social action). This is the only event that recognizes exemplary female leadership in beauty. A virtual event with supporting content will air on June 3.
This year's 2022 Achiever Awards Honorees include:
Susan Akkad, SVP, Local & Cultural Platforms, Corporate Innovation, The Estée Lauder Companies
Nata Dvir, Chief Merchandising Officer, Macy's
Nathalie Gerschtein, President, Consumer Products Division, L'Oréal USA
Sarah Curtis Henry, Chief Commercial Officer, N.A., Parfums Christian Dior
Marcela Melero, VP, Global Dove Skin Cleansing, Unilever
Ilaria Resta, Global President, Perfumery, Firmenich
Alexis Schrimpf, Vice President, Global Skin & Personal Care Design and SeeMe Beauty Founder & Chief Design Officer, P&G Beauty