In a series of conversations with top women beauty leaders about the passion points within their jobs, Procter & Gamble executive Alexis Schrimpf discusses how design first became a passion of hers, and how she selflessly applies it in all of her work.
"I decided to become an industrial designer at age 15, when an industrial design student interviewed my dentist father about how an instrument felt in his hand. I realized then that this was a field that was all about putting the user's needs before your own.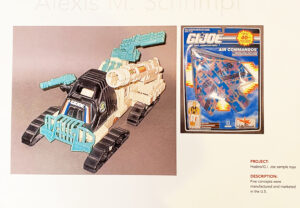 For 33+ years I've tried to do just that. For example, when I present designs, the designs don't necessarily reflect my favorite things or my favorite colors because the design isn't meant for me. From my first job as a GI JOE toy designer for five-year-old boys to doctors specializing in minimally invasive surgeries, to people with IBS, to women who want a skin care jar they can open themselves—it's always been about empathizing with the consumer. This means falling a little in love with the consumer and the design problem every time. Frankly, I always love my last design the most and always wish we could have gone just a little further. I would be remiss if I didn't also acknowledge all the great people I've worked with along the way to create and bring these designs to life. Design is not an individual sport but a collaboration between so many—all to make impactful solutions." — Alexis Schrimpf, Design Vice President, P&G Skin & Personal Care and Co-Founder, SeeMe
Alexis Schrimpf is a 2022 CEW Achiever Award Honoree. To learn more about Alexis's career journey, secrets to success, and what she's learned along the way, be sure to participate in this CEW Women's Leadership Awards hybrid event taking place over two days, June 2 (in-person luncheon) and June 3 (virtual interviews with Honorees). Alexis will be one of 15 women honored across multiple companies and executive levels during this exclusive event celebrating female leadership.