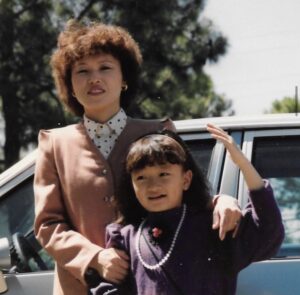 Born in South Korea and raised in Louisiana, Christine Chang moved back to South Korea when she was 10. Suddenly she found herself going from the playground to Korean bathhouses on weekends with her mother and aunts. Several beauty rituals really resonated, including splashing milk and tea-steeped waters on her skin, and making impromptu paste masks made of yogurt and Job's tears powder (also known as coix seeds, a shiny brown barley-type grain.) These experiences sparked a lifelong interest in beauty and skin care.
In addition to attending elementary school in the U.S., and middle school in South Korea, Christine attended an all-girls boarding school on the sunny shores of Gold Coast in Queensland, Australia for high school. She credits her love of travel to growing up and attending school on three different continents.

Christine Chang

Christine eventually returned to the U.S. for college. After graduation she started working at L'Oréal in Korea. She returned to school to attend Columbia University in New York, earning a master's in Korean literature, and winning a translation grant. While she appreciated her time in academia, she returned to the beauty industry with a global business development role at Kiehl's with a renewed appreciation for brand building.
From running an essay and resume editing service in college, to a stint as a party planner, Christine believes all the odd jobs and diverse experiences she held while at university and in her early career helped contribute to her unique take on marketing. She would later invent, along with Sarah Lee, the concept of "skintertainment" – beauty videos featuring fun yet educational how-to's.

Christine in front of a Glow Recipe themed Sephora Window

Books and tech gadgets aside, Christine's desert island must-haves include a kit with beauty treasures such as Glow Recipe's SPF and Guava Bright Eye Gel Cream, and Kiehl's Amino Acid Shampoo.
Christine's favorite weekend pastime is cooking with her 10-year-old daughter. The two most recently tackled donkatsu pork cutlets.

Christine with her husband and their daughter

Christine, who lives on New York's Upper West Side with her husband and daughter, is already working on the family's next big travel excursion: seeing the aurora borealis.

Christine Chang And Sarah Lee In 2015 on Shark Tank

One of Christine's favorite memories from Glow Recipe's early days is lining up outside of ABC Studios in 2015 to audition for "Shark Tank". After multiple rounds of interviews, the duo somehow found themselves in Culver City, Calif. filming in front of the infamous sharks and receiving three offers on the show. Ultimately, they didn't take any funding, but the experience gave their brand Glow Recipe nationwide awareness.

Young Sarah with her mom

Sarah Lee has always had an incredible passion for beauty. She was born in Seoul, South Korea and raised in both Seoul and Hong Kong. She watched and eventually joined her mother in applying a nightly skin care routine. As an eight-year-old, Sarah fondly remembers many moments of lying on the couch with her mom masking with cucumber slices.
As an international student in Hong Kong, she knew she wanted to move abroad and build her career through a global lens.

Sarah starring in a skintertainment video

Sarah was always the one in her friend group to recommend the latest and trendiest products or services. While attending Ewha Womans University in Seoul, Sarah opened Sarah Salon, where she invited her friends for beauty treatments, such as mani/pedis, facials, and hairstyles.
Sarah started her career with L'Oréal in Korea in 2004 in the marketing department, then became the first-ever Korean ex-pat in the New York office in 2008, joining the global marketing and product development team. Over an 11-year career with the company, Sarah worked at Matrix, Lancôme, and L'Oréal Paris in product development, global and U.S. marketing, and trade marketing.

Sarah with her husband Jin

After 16 years in Manhattan, Sarah took the opportunity during the pandemic to move – and chose Miami, where she has since discovered "a large beauty community." She and her husband Jin now live in the city where they first met in 2013.
Sarah is an avid skier and a certified scuba diver. A family trip combining a Tanzanian safari and diving off the coast of South Africa is on her bucket list (no sharks though please!).
Sarah's favorite food is her mom's kimchi jjigae (kimchi stew). She misses it every day and often attempts to recreate her mom's Korean dishes.
Sarah's ride or die beauty products are Glow Recipe's Watermelon Glow Niacinamide Dew Drops because of the dewy finish it gives her skin; she loves using it alone or mixing it with a foundation. Her holy grail hair product is the L'Oréal Paris Everpure Moisture Shampoo, it's been her favorite sulfate-free shampoo since her days heading up hair care and styling at L'Oréal Paris.

Glow Recipe's Miami offices

Sarah and Christine opened their first non-New York office in Miami earlier this year after Sarah's move and hired their first employees in Florida.
To this day Sarah still experiences "pinch me" moments, such as when she and Christine sent handwritten thank you notes with every product order when they first started out (which they also packed up themselves).