Beekman 1802 has been a beloved brand since its launch in 2008. Founded by Josh Kilmer-Purcell and Dr. Brent Ridge when they moved to upstate New York and acquired a farm with goats, the brand has evolved into a skin care pioneer based on its unique positioning of offering goat milk-infused formulas that are effective in moisturizing, exfoliating, and nourishing the skin's microbiome. In December 2021, Eurazeo Brands acquired a majority share in the estimated $62 million company, and in March beauty industry veteran Jill Scalamandre was named CEO. Here, Jill sat down with Beauty News about what drew her to the company, some of its biggest opportunities, and what's in the brand's product pipeline.
BN: First and foremost, what attracted you to Beekman 1802?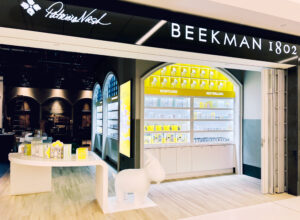 JS: It was pretty much love at first sight. The brand is very beautiful and authentic, and has a simple story based upon two ingredients, kindness, and goat milk. The story behind the brand and the incredible products made me immediately fall in love.
BN: I'm sure the attraction also had to do with the brand's founders. What are their strong points and what are they looking from you to bring to the brand?
JS: After acquiring a farm with lots of goats, the founders (Josh Kilmer-Purcell, Brent Ridge) learned about the benefits of goat milk for skin after a Google search. That was the start of the business and its foundation. Since then, they've done an incredible job at selling the brand, first on HSN and QVC, and now with a fantastic partnership with Ulta Beauty. My role is to expand our retail and global footprint and help grow awareness. I see a real opportunity in educating around the brand's kindness mission as well as the incredible benefits of goat milk on the skin.
BN: What do you see as an immediate opportunity for Beekman 1802?
JS: The brand is under the radar. And the idea of bringing kindness into everything we do is something we need to shout from the rooftops.
Then, there's the benefits of goat milk. Today there are many singular ingredients that are trending. Goat milk is an unsung hero. It's a single macro nutrient that's rich with 12 different key nutrients, like vitamin A, vitamin B3, niacin and minerals. Goat milk is also proven to feed the microbiome, which is a big buzzword right now, and we are the first microbiome-friendly brand at Ulta. What's also important to know is that many skin care products disrupt the surface of the skin. But our Clinically Kind skin care feeds the skin without disrupting the surface of the microbiome, making it safe for sensitive skin and a healthier way to nourish skin. Many research houses are putting a lot of money into truly understanding the importance of keeping a healthy microbiome.
BN: What is the brand's percentage of sales online versus in-store?
JS: In terms of DTC it is roughly 26 percent of our business. And we see it growing further. We also have our Kindness Shop in Sharon Springs, NY where the founders started Beekman 1802, which does very well and brings in a lot of tourists. This month we opened our second Beekman 1802 Kindness Shop in the new Delta terminal at LaGuardia Airport. It's a gorgeous shop designed in partnership with School House. Since one of our key business goals is to grow awareness, we know there's 35 million people coming in and out of that terminal annually. It will help us set the stage internationally while allowing us to spread kindness to travelers from around the world. And of course, we have e-com which is very important and has been seeing growth year over year.
BN: What are your thoughts on bringing the brand to Amazon?
JS: Right now, we have a third-party agreement on Amazon. We have a lot of direct sellers and we really want it to be much more branded. There will be opportunities in the future to strengthen that.
BN: Talk about your team.
JS: We have a great team, and I should say that is another big reason why I joined Beekman 1802 – because of them! I have not brought anyone on, the team is super agile, nimble, talented. The founders are very involved. They're prolific with ideas and super smart. They're both creative and businessmen.
I've always wanted to join a company that had an instilled purpose because I think that's the future. I tried to build that at philosophy with the Hope and Grace Foundation. And then at bareMinerals with The Power of Good Fund. But kindness was already built into the company's DNA and brand culture. The team is smart and talented, and they live the kindness culture. We are also doing research with kindness.org to understand the kindness quotients of companies. It's known that if you have a kind culture, you will have a more motivated, engaged, and happy team, in turn resulting in more positive business results. We believe There is Beauty in Kindness. So much so that we're funding research for other companies to evaluate their kindness quotient and learn how to bring more kindness to the workplace.
BN: What is Beekman's kindness quotient?
JS: I think we have an 84 percent kindness quotient, which is very strong and indicates and demonstrates that the team not only is smart and talented but deals with each other in very respectful and kind ways.
BN: Where do you see social media opportunities?
JS: There's an opportunity to grow social media…it is a gap within the organization. We have some great relationships with influencers, and we want to build that out more. We are focusing on TikTok and have seen some very successful campaigns on that platform. YouTube is becoming a bigger focus as our educational channel where people can come and learn about the product efficacy and the science of goat milk in a fun and entertaining way.
BN: What is in the product pipeline?
JS: We have so many incredible launches in the pipeline for 2022 and beyond. This fall we will introduce our Milk Drops Eye Balm which focuses on our goat milk innovation along with some advanced biotech ingredients. Holiday is a very big moment for us, too; people love to give Beekman as gifts. It's what all my friends and family are receiving this year. And we can't forget about our Bridgerton collaboration. We will be launching new products and holiday gifts as part of our partnership with Netflix and Bridgerton. I think everyone is very excited to see what's next from Beekman 1802.