For Kristian Edwards, PhD, clean beauty is more than a trend, it's a public health issue. Driven by her passion to help Black women live happier, healthier lives she launched BLK+GRN, an all-natural online marketplace designed to provide Black women with a one-stop shop for personal care products free of toxins, while supporting Black female artisans. Three years into her journey, the online retailer now employs five staff members and averages more than 600 orders a month. Here, Dr. Kristian shares her story behind the company, the economic importance of supporting Black businesses and advice for entrepreneurs.
Beauty News: What inspired you to launch BLK+GRN?
Kristian Edwards: I have a doctorate in public health and I read a study that the products that were marketed to Black women were more toxic than products being marketed to other demographics, and that really upset me. I then went on my own personal journey to find clean brands and retailers and while going through that process, I also read the book "Our Black Year" by Maggie Anderson, which talks about the economic importance of Black people supporting Black-owned brands. After reading the book, I was convinced that it was a choice I needed to make and I can vote and invest with my dollars. I started ordering clean, Black-owned products from various websites and testing them, and some were great while others didn't work at all. It was costing a lot of money and it became too difficult to keep track of the different websites. It just made sense that vetted, clean beauty products for Black women should exist in one place and that's how BLK + GRN was born.
BN: How have you raised awareness?
KE: I thought I was the only one who had this problem, but it turns out that I was not alone, so after I launched, several media outlets began reaching out and people began spreading the word because we were solving a real problem. We currently don't partner with influencers much, but I'm working on building a program because I know people value insights from people they trust.
BN: Talk about the #BuyBlack365 hashtag and its importance.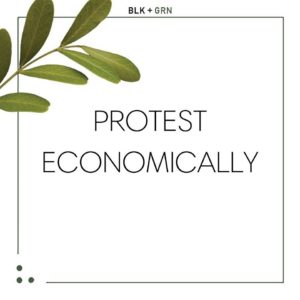 KE: I feel like the rest of the world is catching up to where I already was. I've been using #BuyBlack365 for a couple of years because I understand how important it is. Now, as a result of all the racial tensions, everyone else is starting to see that this is one way that they can help and contribute to the growth of Black businesses, and it's exciting for me to see the support grow.
BN: How are the BLK + GRN artisans chosen?
KE: Step one is cross checking the product's ingredients with our toxic 20 list, which are ingredients we've identified as harmful. The next step is verifying all the ingredients are on the low to moderate scale of possible hazards through the Environmental Working Group. Finally, we receive samples, which are tested by experts to make sure they are efficacious. For example, an esthetician tests all the skin care and a hair expert tests all the hair submissions. If we don't like a product, we don't just say no. We tell the brand how they can improve, so that they can eventually come back to us.
BN: Why did you decide to only feature female-owned brands?
KE: I understand the challenge of women in business and I wanted to create a space for them to excel. The website is getting to the point where I'm considering expanding to include men, but women were a priority because they have a harder time.
BN: What are some top sellers on the site?
KE: In general, the top sellers are products that people are looking for that they can't find alternatives for and are meeting a need. That's why one of our best-selling products is Black Girl Sunscreen, founded by Shontay Lundy. Black women don't like the white cast traditional sunscreens have on their skin, and her formulations completely absorb on all different skin tones.
BN: What keeps you going?
KE: Whenever I get an email from customers with affirmations about how happy they are, that motivates me to keep going. It validates that I'm doing something right and helps me fight through tough times.
BN: How are you funding the business?
KE: I'm a Professor, so I use my salary to fund the business. I have also been awarded funds from pitch competitions, and most recently, won $15,000 from The Walton Family Foundation's Big Pitch for Entrepreneurs of Color.
BN: What's a mantra you live by?
KE: Be Happy. Be Happy. Be Free. With everything I do I always ask myself, does this help me be happy, healthy and free?
BN: What advice do you have for entrepreneurs?
KE: Make sure you are solving an actual problem. It's a lot harder to start a business in a crowded market if there is no need for it. I think it's also important to talk to your potential customers and make sure they like your idea because then you'll know if it's worth investing the time and money.
BN: If you were to write the note found in a fortune cookie, what would it say?
KE: Don't let the down moments get you off track. Keep going.