Jodi Katz, Founder of Base Beauty Creative Agency, is celebrating 15 years in business this year. The boutique firm aims to provide a holistic, integrated approach to marketing brands such as Colgate, Church & Dwight, Estée Lauder, Sally Beauty, and more. This month Jodi authored a book, "Facing the Seduction of Success: Inspiring Stories on Leading in Business While Living Your Life," a compilation of stories and insights by fellow professionals pulled from her podcast, "Where Brains Meets Beauty." Launched in 2017, the podcast recently celebrated its 200th episode. Here, Beauty News caught up with Jodi about her beginnings in beauty, how the podcast informed her book, and how business has shifted since 2020.
Beauty News: Tell me how you came to work in the beauty industry?
Jodi Katz: I started my career with a variety of jobs that included BBDO, Cosmopolitan, Glamour, a few digital start-ups, and beauty brands. Although all of these jobs helped to form my creative marketing foundation, it was my freelance copywriting gigs with Bliss and Avon that were pivotal moments for me. They solidified my desire to work within the cosmetics industry.
After spending four years as Creative Director for L'Occitane en Provence, I decided to take all my years of holistic creative marketing knowledge and launch Base Beauty. At the time, creating my own agency was less about wild ambition or flexing my entrepreneurial muscles (although both are essential to running and growing a business) and more about my desire to form a culture where work could be fun, bold, and creative while also having a family. I didn't feel like it should ever be a choice—why can't we have both a fulfilling career and a thriving personal life?
BN: Talk to me about your business, Base Beauty?
JK: This year, we are celebrating 15 years as an agency. Base Beauty is a 360-omnichannel agency that specializes in providing brands within the beauty and wellness industry with fully integrated and holistic 360 marketing services. I started this business because I saw the white space and need for a creative and nimble agency that had expertise in not just one area of expertise, but all consumer touchpoints across earned, owned, and paid. Of course, with any void comes an opportunity, and if this agency didn't exist, I was going to create it. Now more than ever, brands demand agency partners that deeply understand and can fully execute in the entire marketing ecosystem, can provide holistic reporting and analysis and have mastery of the beauty and wellness space. Our commitment to this need is a gamechanger and a big part of Base Beauty's success over the years.
BN: Tell me a bit about the podcast and how that informed your book?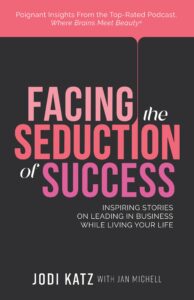 JK: Five years ago I launched my career journey podcast, "Where Brains Meet Beauty," when I was craving community. While the show is rooted in the beauty and wellness industries, we don't talk about products, tips, or tricks. We focus on the adventure of navigating careers, the good, bad, and ugly because I've always been curious about how people define success and reach their goals. Through the show, I became energized by the honest backstories of people actively shaping this space, and it provides both free therapy and free coaching for me and our fans.
I'm humbled and grateful that the show and related content has received hundreds of positive reviews and currently reaches more than 20,000 eyes and ears monthly.  Over the past several years, we've welcomed more than 200 guests including notable entrepreneurs, household names, and c-suite executives who have not only shared their professional journeys but the honest, humanizing stories behind the 'why' which is really what the show is all about.
Inspired by the powerful career wisdom of my guests, we are celebrating the show's five-year milestone with my first book Facing the Seduction of Success, available June 7 on Amazon. In the book, I focus on the lessons that really matter right now – how to lead in business while also living your life fully. The guidance in the book comes from my guests who have evolved in our industry including Lisa Price, Wende Zomnir, Sue Nabi, Frédéric Fekkai, Yve-Car Momperousse, Suzanne Somers, Rea Ann Silva, Alicia Grande, Sasha Plavsic, and Deborah Lippmann to name just a few.
While my podcast listeners are beauty and wellness insiders, the book is my way to share this wisdom so that anyone in any industry can learn how to lead in business while living a full, rich life outside of work.
BN: Why is the word 'seduction' in the title?
JK:  I've always been intrigued by the word 'seduction' and how it relates to success. It's a disarming description for career advancement and there are many ways to interpret it. It can be an alluring motivator that drives people to reach their goals. It can also be a challenging interference from participating fully in other parts of your life. I'm so fascinated by how other leaders navigate this dichotomy.
BN: How did your business shift in the wake of COVID?
JK: The pandemic was certainly a time when the art of pivoting was tested and mastered. Fortunately for Base Beauty, our agency was always founded and operated with a virtual-first mindset. I started this business out of a desire to be both a mom and an entrepreneur. I knew in order for that to happen, I would have to create a work environment where people could be connected from anywhere. So when the pandemic hit and everything went virtual, it was really business as usual for us. We became a resource and a blueprint to the brands we represent on how to create meaningful needle-moving work virtually, and we are so proud of the work and support we've been able to provide to our clients.
We've had some growing pains for sure, but we've had a lot of fun in trying to make the most of the situation, being nimble and finding ways to create impact. Whether it was through virtual photoshoots, events, or training—whatever it took, we were able to get the job done and create effective marketing in the process.
BN: Can you speak a bit about the power of empathy in the workplace?
JK: My team considers the end-user consumer with a generosity of spirit that's unique and fascinating to watch. In our work, we dive deep into the experience of the consumer, putting ourselves into their shoes, which results in rich and powerful insights to act on. I studied my team's talents and learned that we score exceptionally high in the empathy area of Emotional Intelligence assessments. In fact, of the 15 different emotional intelligence competencies, empathy was the highest along with self-actualization. I dove deeper into the work that has been most effective for our clients and found that there is a direct link between our team's empathy and driving results, whether it's an increase in DMs asking where to buy or driving a 33% increase in sales.
But empathy is not just about data. I choose to lead with empathy. I've had a lot of jobs through the years, and plenty of challenging experiences to inspire change. Since I started my agency to be a working mom on my terms, I've created a work experience that celebrates our side hustles and life beyond work. It sounds so simple, but many team members came from jobs where they had to hide their life beyond the office to maintain a facade of 100% work dedication. I don't want to work all the time and I don't want my team to either. We've proven client after client that you can make magic happen during classic business hours, and once the workday ends, explore, embrace and enjoy the other facets of your life.
Empathy is also built into our team programs. We created a monthly Mental Health Day program a few years ago to counterbalance the increased pace of marketing. This is an extra day, in addition to PTO, that is pre-assigned to staff for them to take wherever they want, other than work! This program has grown and is a powerful way to communicate how much I care about my team's well-being, helps to retain staff and attract new hires. Empathy also leads our Peer-to-Peer program, which pairs up staffers who are new to the agency with people who have been here a long time. The goal is to foster connection, provide rooting for new hires, but also a way to ensure that we are creating opportunities for staff to grow in their careers. As someone who felt unheard in my former jobs, I wanted to build a program that puts our staff's voice first in leading their trajectory at Base Beauty. We've discovered incredible talents in new team members just by asking "what else are you good at?"