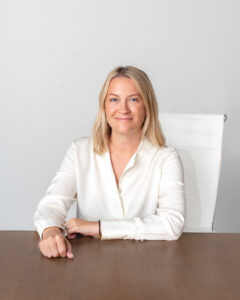 During the past year, Tracy Kline, Bluemercury's Senior Vice President of Merchandising, Digital and Marketing, has proactively monitored pandemic–led consumer trends/behaviors to successfully steer the retailer's expansion into new categories and curate compelling assortments. Tracy, who has been with the company since 2016, is aiming to re-invigorate prestige beauty with a consumer-first strategy developed around creating an approachable shopping experience. Here, Tracy spoke to CEW Beauty News about the biggest opportunities for Bluemercury, expanding into booming categories, consumer buying trends, and sampling safely in brick-and-mortar stores.
Beauty News: What is the biggest opportunity for Bluemercury, and what steps are you taking to achieve it?
Tracy Kline: Even though we've been here for almost 22 years, the biggest opportunity is around brand awareness and it's something we are putting all of our focus on this year and beyond. We're concentrating on our points of differentiation such as our curated assortments, beauty expert education and advice, the uniqueness of our store locations, and getting out the message of our DNA that beauty is lifestyle and about feeling your best. To that end, mid-year, we launched a campaign that focused on what beauty means to our clients. It's called #showusyourbag. We've partnered with 13 individuals to star in a raw, personal and honest campaign to bring this to life. With this campaign, we hope to guide the beauty industry to have the bigger conversation around self-care and wellness and create more dialogue about the definition of beauty to mean confidence and not covering up. The campaign will continue to evolve with new videos, partners, beauty experts and brand founders.
BN: What is the retailer's commitment to Black-owned brands and founders?
TK: With our parent company, Macy's, we were so excited to sign the 15 Percent Pledge. With the Pledge, it's important that we introduce brands that are partners and that are going to be successful. We're not launching brands simply because we made a commitment; we're launching them because we believe in the initiative and want to be successful together.
In 2020, we added four amazing brands (Beautystat Cosmetics, Behind Your Mask, Biophile and KNC Beauty) which we were in conversations with prior to signing the Pledge. This year, we added Ebi and Glissant, to build our intimate and feminine care category strength. We started a multi-pronged initiative to drive the success of diverse entrepreneurs, which includes a digital platform to spotlight them, internal focus groups, and a mentorship program. We also sponsor SoGal Foundation's Black Founder Startup Grant, which offers financial support in the form of grants to Black women or nonbinary entrepreneurs. We need to do more and will continue to focus on bettering ourselves.
BN: Talk about your strategy behind expanding into trending categories, such as intimate and feminine care, hair loss treatment and more.
TK: We see it as our job to make clients feel comfortable asking questions and trusting us. It really hit home with the intimate and feminine care expansion because it's not about addressing special needs in the sexual health category, it also includes the pregnancy journey and the transition to menopause. As a mother, I had mastitis [an inflammation of breast tissue that commonly effects women who are breastfeeding]10 years ago and you feel alone, especially because no one talks about it. I love that we are normalizing the conversation around this category, and we've had a tremendous response. All of the brands that we have partnered with were founded by women who created products out of their own experience and people love hearing that personal story.
Within the hair loss category, we partnered with Virtue to offer Virtue Flourish, a hair loss regimen which is exclusive to our brick-and-mortar stores. We started it in 100 locations and are expanding since the response has been incredible. You'll see more expansion from us in this category.
BN: How important are exclusive brands to Bluemercury?
TK: We have  exclusives and of course, two of our own proprietary brands, M61 Skincare and Lune + Aster Cosmetics. Rather than focus on exclusivity, we aim to offer the right products that will meet the needs of the client, coupled with education. When you start going down the path of needing to be the first, you're not a collaborative partner. We want to ensure we are able to offer the best of the best, whether it's someone making the products in their kitchen or a long-established operation.
BN: Have you seen a shift in consumer buying trends and habits over the past three months as restrictions lift? What's in/what's out?
TK: During the pandemic, skin care, face tools and devices sales increased and it hasn't slowed down. However, people are beginning to realize it's not just about your face. We're now seeing an uptick in supplements as well as body products such as oils, cellulite treatments and creams. Intimate care and hair loss continue to trend. The home fragrance category completely exploded for us and it continues to do well. In fact, the fragrance category was up double digits driven by double digit increases in candles. People are also starting to buy makeup and personal fragrance again.
Hair was a growing category during COVID, but it was particularly heavy with shampoo and conditioner. Sales continue to grow in the hair styling sub-category. Most notably, dry shampoo improved by four percentage points compared to the prior month, indicating a return to pre-COVID consumer behavior.
What's out is not being inclusive and not understanding that everyone is unique.
BN: Talk about your post-pandemic in-store retail strategy and how you're engaging with consumers online.
TK: One of our points of difference is sampling in a no pressure environment, so we have brought it back safely with pre-packaged sampling. We are being conservative with testers and are working to ensure that we are arming people with the right means to try something at home and return with feedback. When COVID happened, we began offering virtual masterclasses, which we now host twice a month. We have an omnichannel approach and want to ensure the client is having that same experience both online and in stores. To aid in the discovery process, we launched a curated conscious beauty kit during the pandemic and will continue to roll our additional category kits online. In regard to channel growth compared to 2019, visitors to bluemercury.com are up nearly 60 percent and new visitors are up 71 percent.