Chris-Tia Donaldson is a triple threat. Not only has she authored a book, This is Only a Test: What Breast Cancer Taught Me About Faith, Love, Hair, and Business, she also transitioned from being a successful corporate lawyer to creating her own hair and skin care brand, Thank God It's Natural (TGIN). In 2015, Chris-Tia was diagnosed with breast cancer at the age of 36, and she quickly learned how having money could make the difference between living and dying when it came to affording treatment. Today, she uses her success in the beauty space—her line generates nearly $10 million and is sold in stores such as Ulta Beauty and Target—to advocate for women experiencing financial difficulties. Here, Chris-Tia, Founder and CEO of TGIN, talks to CEW Beauty News about running her company, which is based in Chicago, and the challenges she faces as a small business owner.
Beauty News: How has your brand changed and evolved since it launched in 2014?
Chris-Tia Donaldson: We are now very diverse; we originally started out thinking we would focus solely on the African-American market, but it quickly resonated beyond that. Our products look agnostic, and anyone can use them, so we went with it. We're a brand that makes products for everyone.
BN: How and when did that shift occur?
CD:  In 2014 I met with a CEO of a grocery chain here in Chicago. He had stores in the suburbs with a predominantly white clientele, and he said my line wasn't just for Black women, it could be for everyone.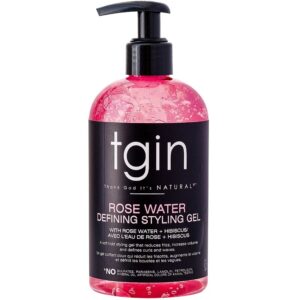 BN: How many items are in your portfolio?
CD: It's constantly changing but we have around 50 sku's. We have three collections. One focused on moisture, one focused on repair and one that delivers lightweight products.
BN: How large is your team?
CD: Right now we're at 11, but not many are full time; we have a ton of contractors.
BN: Do you own the majority of your company?
CD: Yes, I own the entire thing.
BN: And what is your distribution?
CD: We are in well over 10,000 stores, including Ulta Beauty, Target, Walmart, Whole Foods, Sally Beauty and Walgreens. We are in the textured hair section of Ulta Beauty with brands like Ouidad, Shea Moisture and Pattern Beauty.
BN: When the world started to shut down in March 2020, what became your first order of business?
CD: Our customers were already shopping online, so we already had a customer base that was highly digital and we were still on target to meet forecasts for that quarter even though stores had closed.
BN: Who is your core consumer?
CD: Right now, I would say millennials with a little bit of Gen-Z, so people between the ages of 25 and 44 of all races, who are college educated. But like I said Gen Z, that early 20-year-old, they are really starting to shop with us.
BN: How do you engage with your consumer?
CD: Mainly on social media and through email.
BN: Do you have a social media marketing team?
CD: We have customer service, content creators, a social media manager, content managers, and then we have graphic designers. It's pretty robust, but not everyone is full time. That's where the contractor piece comes in.
BN: What social strategies have worked best for your brand?
CD: We think of it as more of a community where we're not really trying to sell, but build relationships and answer questions. We use influencers to help get our message out and amplify the voice of our brand.  We're always looking to partner with people who fit with our goals as a brand, which is to redefine beauty.
BN: What did your brand experience as a result of Black Lives Matter?
CD: We definitely grew as a result of exposure in the press. A lot of magazines and various outlets were using what happened [regarding the murder of George Floyd] as an opportunity to highlight Black-owned brands. We definitely saw customers come in as a result of that.
BN: What keeps you up at night?
CD: What's challenging right now is that we're at an inflection point in terms of growth. We have done the hard work of getting into retail, and surviving retail. We have shelf space, we have relationships. A lot of the brands that went into retail with us, in this particular space, are not around anymore. We're at a point where we are trying to get to the next level. It requires a different skillset. I think our biggest focus right now is out of stock. It's a good problem to have, but we are constantly trying to adjust our forecast and that takes a lot of work. In October 2020 we made a hire to address that, someone who specializes in supply chain. As you take on more accounts things get more complicated, in terms of what people are ordering and when. Some of the smaller accounts tend to get short shifted, if you will, and if you have someone to manage the inventory to cover the million-dollar deals, as well as the $50,000 and $10,000 deals, that adds up.
BN: Who has been your mentor over the years?
CD: I don't have any formal mentors but I am in a CEO peer group. They have really helped me sort through challenging issues, such as bonuses and compensation, changing or moving facilities and taking on new accounts.
BN: What are your plans for 2021?
CD: This year we will focus on our key retailers, expand distribution and make sure the moves we are making are successful.