Dr. Barbara Sturm may be one of the busiest entrepreneurs in beauty. On Thursday, May 13, Dr. Sturm opened her newest boutique and spa, this time in Miami, bringing her global retail store count to four. The two-story unit located in the heart of the Miami Design District features an interactive showroom alongside two express treatment rooms on the ground floor, and two complete facial treatment rooms on the top floor.
And today, Dr. Sturm enters sexual wellness with the launch of The V Collection, items that look to care for a woman's pubic area and the skin that encompasses the region. Parallel to this launch is a partnership with NakedCashmere, in which Dr. Sturm is launching a capsule collection of clothing consisting of four items. Here, Dr. Sturm talks with Beauty News about all of her latest news.
BN: Please talk about the items comprising The V Collection and why intimate care made sense for your brand. 
BS: Concern over certain ubiquitous women's issues, such as  imbalances of the microbiome and to the distinctive pH of the vulva and vagina, prompted the development of the line, which features V Wash and V Drops. These two items were specifically formulated to care for a woman's intimate area to keep the skin's microbiome healthy and defend against unwanted reactions, such as irritation and infections. I created the V Wash to help gently cleanse the intimate area to maintain a healthy, protective pH. It contains pre- and pro-biotics to prevent unhealthy bacteria and yeast proliferating and causing infection. It is best used in conjunction with my V Drops, which is designed to nourish and balance delicate skin.
BN: You've also launched a capsule collection with NakedCashmere. Can you tell us the details?
BS: We have partnered with NakedCashmere and the creation of an exclusive, capsule clothing collection to launch alongside the V Line. Their luxurious cashmere brand produces the finest quality and environmentally conscious cashmere in the world. I'm a long-time devotee of the brand. The collaboration, which includes a duster cardigan, a bralette, high-waisted lounge shorts and a hot water bottle cover, will offer complimentary samples of the V Wash and V Drops as well as the cult classic Face Mask, with any purchase of the exclusive Dr. Barbara Sturm X NakedCashmere collection.

BN: Let's move on to your Miami boutique and spa. What do you anticipate this unit's  specific needs to be, that may be different from other locations?
BS: Miami is mostly always warm, sunny and the humidity is high, this means that people living in Miami will naturally have skin needs unique to this location. Especially with humidity and heat your skin tends to be a little oilier so you don't want to use rich or oily products – you really want to go light and super hydrating. Our line is perfect for our customers in Miami because it gives freshness and hydration and at the same time, takes care of your skin barrier function and it's also anti-aging. We have a really great SPF – SUN DROPS SPF50 – which offers hybrid sun protection/skincare that feels lightweight on the skin and creates a broad-spectrum shield against UVA and UVB rays, while also providing it with healing, moisture and anti-oxidative ingredients and giving the skin a nice glow. Also, for people who suffer from hyperpigmentation issues, the Darker Skin Tones Line combined with the Brightening Line is great for that.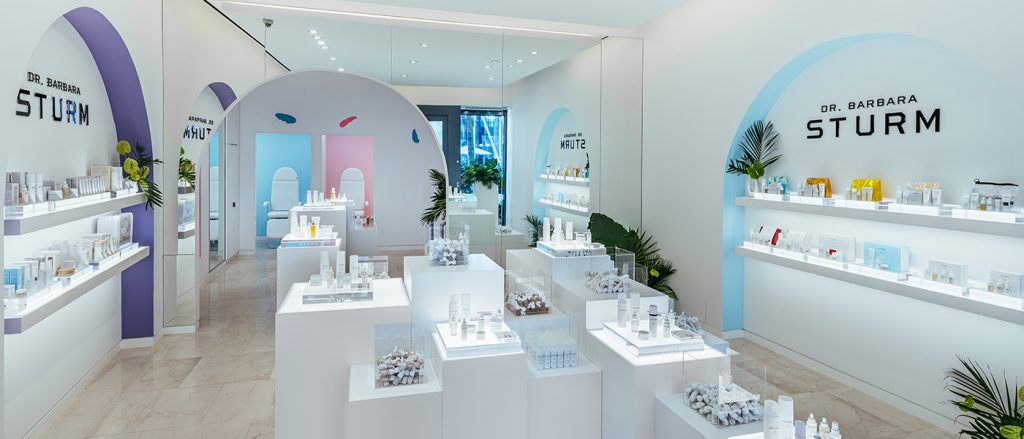 BN: What does this store offer that may be unique to other locations?
BS: We'll be offering my Professional Line, which is a new, medically advanced skincare collection only offered in-spa after personal consultation. We are also offering Infrared Therapy; a non-invasive treatment which helps diminish the appearance of age spots, fine lines and wrinkles and boosts skin elasticity. It also helps to enhance mood, cognitive function, and energy levels. I swear by it. As well, the Summer Facial will be available only in the Miami and LA Boutiques & Spas.
BN: How has business been in your various locations over the past year?
BS: For every business, the Covid-19 pandemic necessitated change and creativity in serving customers. For me, it caused an acceleration of the things that I intended to carry out anyway at my company to improve the customer experience and we introduced many new ways for customers to interact virtually. However, digital and physical are both important. You can't get a facial online. My latest Spa openings in LA, London and now Miami are physical extensions of my digital commitment to the education of my customer and patient, and a platform upon which to provide innovations in advanced science technologies.
BN: What are you seeing consumers looking for now, versus one year ago?
BS: I think consumers are mostly looking for the opportunity to interact with my products in person and ask all of their skincare questions to my expert aestheticians face-to-face – and of course, to be able to experience our treatments again. The pandemic has reminded all of us that life really comes down to our human connections and I think we're all really excited to get back to that. I'm happy to have a physical space in Miami where this will be possible.