Dr. Barbara Sturm has upgraded her website with the goal of delivering unparalleled service, user experience and customization to her skin care savvy clientele. Here, Dr. Sturm talks about her new ecommerce platform, what she's learned about her consumer over the past seven months and the various online educational programs she's established to make the product discovery process seamless.
CEW Beauty News: Please talk about the new ecommerce platform and what it offers consumers. 
Dr. Barbara Sturm: The new website expands my commitment to providing education and the most helpful and accommodating customer service. The new platform features additional resources that enrich the shopping experience and deliver individually tailored skin care solutions. It includes a live chat functionality for users to receive dedicated advice and care 24/7 and allows clients to book complimentary virtual skin care consultations with one of my expert aestheticians via multiple digital platforms including FaceTime and WhatsApp. It also features clear and easy-to-navigate categories and detailed product pages with video content, such as skin care routines tailored to specific needs that I curated. In the new online Sturm Candy Shop clients can pick and mix from an assortment of travel-sized products to build their own routine and my online educational series of Skin Schools and Digital Masterclasses are also accessible to view on demand.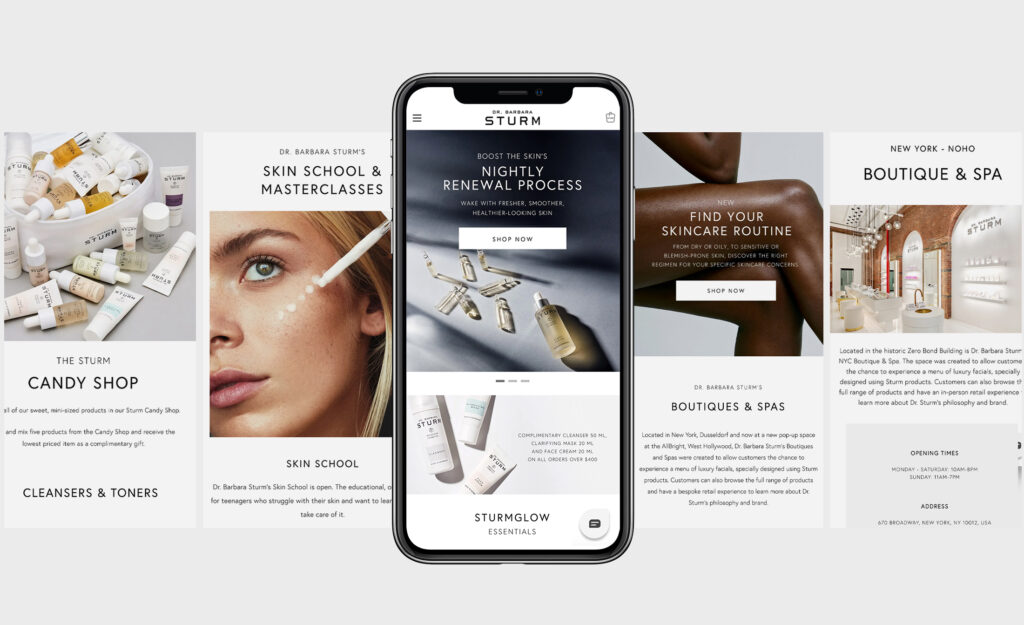 BN: Had this digital approach been in the works, or is it a response to COVID and how people are shopping now? 
BS: I am always trying to improve the customer experience. The new website launch was already part of that effort to transform our e-commerce into the most customer-friendly site possible prior to COVID-19.
BN: Where did the concept for Skin School come from? How large is your Gen Z audience?
BS: When the lock down started and teenagers couldn't go to school, I created a virtual and free of charge Sturm Skin School as an educational series specifically for teenagers, where I share advice on the common skin concerns that young adults face and the best skincare regime to follow. Roughly 15 percent of our audience is under 25 (their ages range from very young to older participants) and I want to arm them with the information necessary to achieve a lifetime of healthy skin and overall wellness. Education is integral to my work – I use my Skin Schools, Masterclasses and IG Lives to help people understand the science of both skin and the ingredients to apply to it.
BN: Talk about the Digital Masterclasses and what this offers the consumer.
BS: My goal is to provide education and make knowledge and facts about science, skin care and wellness accessible to all. Masterclasses and Skin Schools have allowed me to do that on a weekly basis and engage in fun and interesting dialogues with my global customers. I also learn alongside the customer from many of the expert participants who join me live on camera. Especially during lockdown, these digital gatherings provided a virtual community and an important educational platform about self-care during the pandemic. It allowed me a way to talk to groups, but also to engage one-on-one with customers on their questions.
BN: How will consumers be updated on new content featured on the site? Social media? Email?
BS: We will update consumers via all of our social media channels, and they can also sign up for our email newsletters at drsturm.com.
BN: You've also launched Sturm Candy Shop. Explain the premise and user experience.
BS: When we first put the selection of travel sized products into glass containers lined up on a shelf during our L.A. Oscars Pop-Up Spa, it looked just like a candy shop – and the name was born. The Candy Shop offers our customers a selection of some of our bestselling products in travel sizes. It is a great way for new customer to efficiently explore the brand, or for existing customers to try my new inventions. The Candy Shop name perfectly reflects the mini-sized products.
BN: What have you learned about your consumer over the past five months?
BS: Consumers are educated, savvy, and no longer interested in fluff and marketing-based skin care. They want to know what regimen they should use for their tailored needs, and they want to know about the science of what they put on their skin, what is in the products, and why they are effective.
BN: What are the bestselling products as a result of everyone staying home?  Did you see a shift?
BS: Working from home increased our already high exposure to High Energy Visible [HEV] light rays through the use of TV, computer, mobile phone and tablet screens, which penetrate our skin more deeply than UVA and UVB, causing premature aging and skin dysfunctions. There has been a lot of demand for my Anti-Pollution Drops, a serum that acts as a shield to protect the skin from HEV blue light that is emitted by our electronic screens to combat screen face during quarantine. We have also seen an increased demand for our oral supplements.
This stressful, masked time is also a hothouse for blemishes, clogged pores and irritated and inflamed skin, and my Clarifying Line, which includes the Clarifying Mask, Clarifying Face Cream, Clarifying Serum and Clarifying Spot Treatment, has also been hugely popular.
BN: What is the status of your retail shops?
BS: Our Düsseldorf and New York Boutique & Spas are now open, and I will be opening a third location in California next month. Clients can follow us on Instagram @drbarbarasturm for the announcement.