Earlier this week Eos' new Moisture Hit lip balm collection launched nationally at Walgreens and Kohl's. The rollout is an extension of a test-and-learn micro batch strategy introduced last April for one day only on the brand's website. The inaugural micro batch drop introduced a duo of moisturizing lip balms formulated with cannabis sativa hemp seed oil that sold out in less than 12 hours online. Subsequent micro batches, Sprinkle Donut and Vampire Kiss, sold out in two hours and 35 hours, respectively. The brand also saw higher engagement metrics around the program, indicative of increased consumer loyalty. Eos CMO, Soyoung Kang, took five minutes from her busy day to talk about how she reset the brand's identity.
CEW Beauty News: What was your mandate when you joined the company a year and a half ago?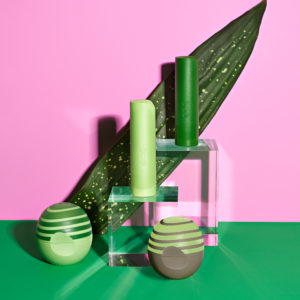 Soyoung Kang: Our lip balm, which launched a little over 10 years ago, was created to take a relatively quiet and routine category within personal care and inject more delight and awesome, experiential elevation into it. So Eos launched lip balms with innovative packaging, really amazing flavors, using clean formulas and 100 percent natural ingredients. And the success of Eos really proved that consumers may not be outwardly demanding more from their products, but inherently consumers always appreciate better experiences. I joined the brand a little over a year and a half ago at a really interesting time. The brand had been growing like crazy for many years, but it had reached a point more recently where growth had slowed down. And that's not an unusual thing in the lifecycle of a brand. So my first mandate when I came in was to reboot the brand identity – the look, feel and voice – and re-brand assets such as our logo and package design. I was also tasked with revamping the innovation strategy and portfolio, from the positioning of our various product lines to a broad expansion of the product range. Next up, we embarked on a journey of finding all new creative agencies and partners to launch a global brand campaign and support the reboot launch. And all of that happened in my first seven to eight months on the job.
BN: What was one of the first things you launched?
SK: I came from a world of specialty retail, with a decade of experience at Bath & Body Works. The idea of micro batch was born out of a desire for Eos to experiment with really far out innovation, but doing it in a way that was relatively controlled in a very speed-to-market driven fashion. I think when you come from the world of retail, you're used to moving very, very fast. And because you own your distribution, you're able to launch more quickly. Early on, when I had just joined, we looked at R&D and saw we had been experimenting with cannabis sativa seed oil in the lab. Cannabis sativa seed oil is a really nourishing, hydrating ingredient and we use a cold pressed version, which maintains all of its natural, beneficial fatty-acids and antioxidants. But we wondered if the Eos consumer was ready for a cannabis sativa seed oil product, so we decided that we were going to launch it as our first micro batch—that's how Moisture Hit was born. Launching as a micro batch also helped to accelerate the development timing. Our typical new development timeline, from when we kick off to when we are in store with retail customers, can be 12 months or more. We are able to execute these micro batches in just four or five months.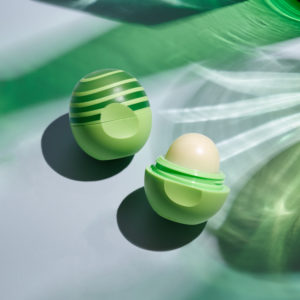 BN: What were expectations? And results?
SK: We hoped it would sell out within two to three weeks. Turns out we didn't even make it 12 hours before selling out of every piece of product. Our e-commerce revenue on launch day was seven times higher than it was the same day prior year, and traffic was up 70 percent from the day before the micro batch launch. The traffic was already building even before launch because we teased the drop on our social channels and via email. Our micro batch marketing strategy was to stick to our own channels, so we could really reward our most loyal fans, who were the first to hear about the drop.
BN: What were your next steps?
SK: Given the success, we actually did two more micro batches in 2019. For our second drop of Sprinkle Donut, our fans had caught on to the micro batch concept, so it sold out quickly. For our third drop, we got a little wiser and doubled the size of the batch, which was our Vampire Kiss color-changing black lip balm for Halloween. It lasted less than two days. Our first micro batch was the one we could action fastest for a national launch opportunity, so this week you'll see product start to hit shelves at Walgreens and Kohl's. We have another big retailer that is planning to take it in the third quarter. Overall this was a huge learning opportunity for us to see if there was commercial viability in something before taking it nationally. We were able to take that learning experience and share it with our retail customers, and it obviously helps to have proven commercial results. We heard one story where a buyer for one retailer was actually using her Donut lip balm when a stranger tried to buy it from her. So not surprisingly, the micro batch strategy will continue to be important for the future of Eos, and three more are concepted so far for this year.
BN: How is the brand faring as a result of this success, but also considering the mass market's challenges?
SK: So far, we're experiencing growth year to date. We launched our reboot late third quarter of 2019 with all new packaging and products, and as you know, any time you flow new product into market – especially a brand like ours with so many points of distribution – it takes a little while for everything to get in place. Despite that, we're excited to be experiencing really healthy business year to date, and we believe we're in for a record year with strong double-digit growth.