Little did Sarah Lee and Christine Chang know—while masking over a glass of wine in 2014—that they'd be pioneers in bringing Korean beauty to the forefront of U.S. skin care. The duo, who met while working in marketing and product development at L'Oréal Paris, launched Glow Recipe with $50,000 of their own funds. Their first endeavor was as an e-commerce platform selling eight handpicked natural K-beauty brands. Adding a personal touch, they enclosed handwritten thank-you notes to customers. An appearance on Shark Tank in 2015, where they won an investment but eventually amicably walked away, raised their profile giving them confidence to transition in 2017 into a global skin care brand focused on sustainable, fruit-based products free of harsh ingredients. Today, Glow Recipe is a multimillion-dollar business, still wholly-owned by the founders, that's sold in Sephora and Sephora.com in the U.S, and Cult Beauty, Douglas and Mecca internationally. Here, Sarah and Christine talk with CEW Beauty News about the evolution of their brand, thriving while retail stores were closed, expanding into Asia and how they took a stand during the Black Lives Matter movement.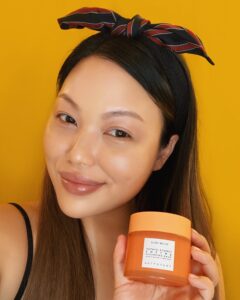 CEW Beauty News: What happened as the world changed and stores closed during the pandemic?
Christine Chang: We went back to our online roots. Social media has always been a big driver for our business. The first thing we did was turn to our community and asked them what they wanted to see. We wanted to be ultra-sensitive and not only discuss skin care. We started an Instagram series called Glow Time to help our community cope—we had 30-minute live sessions, sometimes with a chef or an artist or mixologist. We gained more loyalty that converted to tremendous growth. We launched our Watermelon Glow PHA+BHA Pore Tight Toner in the middle of lock down and it was one of our best launches ever. It was 100 percent dot com.
Sarah Lee: Our Watermelon Glow PHA+BHA Pore Tight Toner is inspired by the Korean Aqua Peel Facial bringing together hydration, exfoliation and pore tightening in one product. Pre-COVID, we planned to launch it at a full Korean spa experience in real life with editors, top clients and influencers. When COVID happened, we made it a full virtual event, but did not want to lose the concept of a Korean spa. We partnered with a celebrity aesthetician, Jade Marie (@jadeywadey180), who showcased a DIY facial on Instagram Live to her 1.3 million followers. People asked questions real time and the audience could see the effect of the toner. Her Instagram had over 150,000 views and there were 600 active viewers during the hour session. The product was the number-one trafficked page on Sephora that day. We saw results and it remains one of our top performers.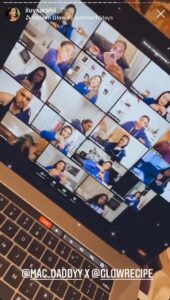 CC: With our recent Plum Pump Hyaluronic Serum launch we hosted a virtual slumber party with beauty influencer Angel Merino (@mac_daddyy). He invited other top influencers to a 2000's-themed party via Zoom. We provided guests with slumber party kits in advance of the event with some of our products for an at-home facial, a branded onesie and slippers, plum cocktail kits, and during the event had a fun Mean Girls-themed game with actor Jonathan Bennett who played Aaron Samuels in the film. The event gained millions of social impressions and reinforced that skin care is social and shareable and is supposed to be done together. That skintertainment factor, a word we coined, is infused into every aspect of the experience.
For our Papaya Sorbet Enzyme Cleansing Balm we really wanted to demonstrate the makeup remover's skin benefits. We partnered with several interesting influencers, including SFX makeup artist Mimi Choi (@mimles), who we featured on our Instagram showing how effectively the balm removed a makeup look she created with a papaya [on her face]. It was the number-one cleansing balm launch on Sephora.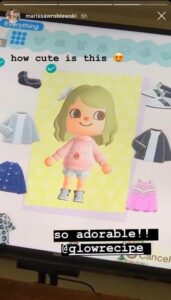 SL: Our philosophy is that skin care is not just efficacious, but joyful and fun. That was especially important during COVID when we all faced uncertainty and pressure. Our brand resonated with our community because we asked them to enjoy skin care and it became a self-care moment. Our core values align with Gen Z and we've seen over a 34 percent increase in that demographic on ecommerce over the past six months.
We were also the first beauty brand to have an Animal Crossing activation with Glow Recipe sweaters for the characters. We also offer sweater merchandise in real life because our brand is perceived as a lifestyle brand. It's been fun to see other beauty and fashion brands like Givenchy do their own take on Animal Crossing during these past few months.
BN: How are you handling the issue of getting samples into consumers' hands as stores open but testers are not available?
CC: We were inspired by tea boxes and created dividers with different types of cachets or packets. It is hygienic, appealing and colorful and people can select the type of sample they want from the box.
BN: During a challenging time, you managed to still enter a new market.
SL: At the end of August was our first foray into Asia [with Sephora Southeast Asia]. We were seeing success even before our launch from a pop-up we had; people were asking for more stock. We had virtual activations with webinars [with more than 400 participants] where we virtually took beauty advisors and VIP customers into our bathrooms to learn about our routines and self-care.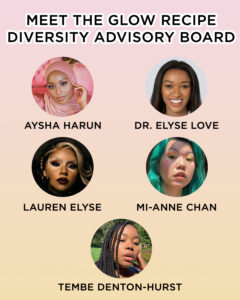 BN: How did the brand react to the Black Lives Movement?
SL: We've always been passionate about inclusivity and diversity especially in our social media and how we hired models for shoots. One thing that was missing was an advisory board and this was an opportunity for us to push harder and move forward. We kicked off our Diversity Advisory Board a month ago to help change the landscape.
We also have a Community Mentoring Initiative, creating a comprehensive mentoring program to support and partner with students and three Black-owned businesses in the beauty and wellness space including Hama Beauty, 54 Thrones and Skin Gourmet. We had over 100 companies interested.
We are going to host a virtual Glow Together Summit in November to continue to surprise and delight as well as provide education and engaging concepts to our community. We will have speakers on all aspects of self-care including members of our Diversity Advisory Board.