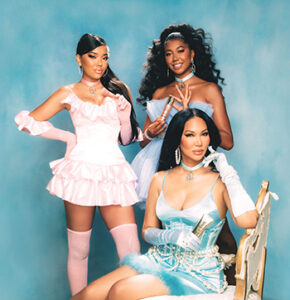 Earlier this month, Kimora Lee Simmons and her daughters, 20-year-old Ming and 18-year-old Aoki, announced the launch of Baby Phat Beauty – an extension of the iconic Baby Phat fashion brand, which re-launched in December 2019. A collaboration with beauty and wellness incubator, HatchBeauty Brands, the debut collection features a $45, three-piece kit comprised of a lip gloss, hand lotion and shimmer body spray, available in three variations that represent the unique fragrance of each of the founders. The line is currently available at BabyPhatBeauty.com, and will roll out a limited edition item for the 2020 holiday season, followed by additional options in skin care and color in 2021.
Here, Kimora spoke to CEW Beauty News about diving into the beauty space, starting a business with her daughters, and advice for female entrepreneurs.
CEW Beauty News: With so many beauty brands on the market, what do you think sets this one apart?
Kimora Lee Simmons: Be it fashion or beauty, Baby Phat has always had a very special position in the marketplace. We've always focused on showing girls how they can be a little bit of everything. Classy? Check. Glam? Check. Sexy? You Bet! Almost a decade before anyone else was even looking in that direction, we were democratizing the runway and giving permission for girls of every shape, size and color to show up and stand out. We were trailblazers then and really, nothing has changed; the world, however, is just starting to catch up.
When we decided to venture back into beauty, we felt it was important to take ownership of what we had already done, while helping forge a path for a new generation. Baby Phat Beauty is the brainchild of me and my daughters, Ming and Aoki, and we 
are here to bring our unique perspective to the space and encourage girls from all 
backgrounds to own who they are and keep expressing themselves unapologetically.
BN: Why was it important for you to have your daughters involved with the line?
KLS: Ming and Aoki grew up on the runway, so starting a business with them was and has always been a natural progression of events. In many ways, all of our personalities have defined the stories these products are telling. Divine is me, it's warm and sweet, a little bit boss, a little bit badass. Opulence is Ming and it focuses on upping the glam with notes of peach, orchid and caramel. And finally, Ethereal is Aoki, the colors and scents are reminiscent of her free spirit and independence.
BN: What advice do you have for women entrepreneurs looking to start a business?
KLS: Own who you are and don't apologize for fighting for your seat at the table. Most importantly, do it in a way that is uniquely you. Women receive so many messages every day about who and what to be and usually, the things that are 'all wrong' on paper are exactly the things that give an edge. I mean, in the 1990s, Chanel and streetwear weren't exactly a combination being explored but I managed to take my love of both and turn it into a movement. Had I been focused on what everyone else was telling me, I never would have started from such an authentic place and of course, Baby Phat wouldn't be what it is today.
BN: What's the best advice you've ever received?
KLS: The best piece of advice I received is also my favorite beauty tip: smile.
BN: What's a mantra you live by?
KLS: My mantra has always been 'live large, give large.' It's fine to pursue the things you want, but pass it along, pay it forward and make it count.
BN: If you could write the note found inside a fortune cookie what would it say?
KLS: Embrace the goddess you are, something divine is around the corner.
BN: Finally, happiness is…
KLS: Family.