Annie Bystryn, General Manager, Korres North America, joined the Athens, Greece-based skin care company in February 2019 as Chief Marketing Officer. Founded in 1996 by pharmacist Giorgos Korres, Giorgos oversees the company as Global CEO. Lena Korres is the Brand President and Chief Innovation Officer. In 2018, the company received an investment from North Haven Private Equity Asia (NHPEA), a private equity fund managed by Morgan Stanley, and Chinese distributor Profex, which agreed to acquire a majority share (70 percent) for $58.2 million. Since then, the company has been hiring the best in beauty to take it to the next level. Annie was brought into the company by Robert DeBaker, its former President. (Annie and Robert led beauty brand Becca to success from 2015 to 2017 until its subsequent sale to The Estée Lauder Cos.) In February, Robert left Korres for another opportunity, and Annie was elevated to General Manager North America, in addition to her role as Chief Marketing Officer. Here, she shares the brand's strategy in a world impacted by COVID, how the brand's website enhancements are propelling sales and how consumer engagement is enhanced by closely monitoring their behavior and delivering content where she is spending time.
"Within six weeks of taking on my new role as General Manager role for North America COVID happened. So right as I was learning about the details of the back end of our business, everything dramatically changed. It's been an incredibly tumultuous year, but also a productive year in terms of learning and discovery, how the consumer has shifted before our eyes. No one is thriving in 2020 with COVID, but I feel like we are staged to thrive as we move into 2021.
In North America, the brand is sold in Sephora and Sephora Canada, on HSN, The Shopping Channel, on our own website and Amazon. We also just launched in Anthropologie. Greece is still a significant piece of our business. In Europe, our business is predominantly in France and Germany, but there's a very strong and established business across the continent. We also have a growing business in the U.K. – on QVC UK, our own newly launched website and other digital retailers – and in Asia, where we are on Tmall.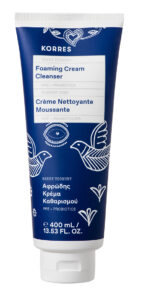 I think what has been crucial over the past six months has been getting close to the consumer. You know, brands are about people and we see how she is changing, how she connects to brands, before our very eyes. For us, it's about getting as close to her as possible, while expressing who we are and creating that dovetail of engagement that's drives our DTC business. COVID has accelerated the existing shift to digital, but it isn't just about sales. It's about where we're meeting her. Engaging with the consumer is everything and the digital space is the only place we can connect.
A lot of the historic wisdom in North America has shifted. Before, the wisdom was to bring the consumer into the brand through product. What we're seeing now is that she's actually really interested in learning about the brand, and then discovering the product. One of our great strengths is that Korres has a very clear position, we are Greek Natural Beauty, and we deliver products that go from seed to skin and back again, in a sustainable full circle. We have so many stories to tell and she wants to come with us on those journeys. As we all know, the more time she spends with you, the better. It creates "stickiness".
You know, there's a difference between somebody coming to your site to replenish a cleanser and then shopping and leaving, versus a new consumer spending time on your platforms and learning about the brand. We've been asking her questions about what she wants to learn, and she's very interested in two major pieces. She wants to escape her life, right now; Greece is an escape. She's also very interested in the roots of Korres. Those brand elements resonate with her during COVID and have created traction in engagement and conversion. We did an Instagram poll recently to understand what she wants to see in our content. 80 percent said they wanted to learn more about our farms. And 73 percent said they wanted to learn more about our apothecary heritage.
We have a lot of stories based in folklore, this year. Content around our Greek folklore-inspired product packaging – from product shots to broader content around traditional Greek art – drove 4X our baseline engagement on our social platforms this summer.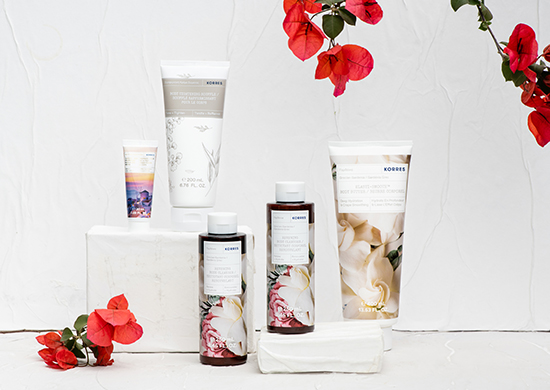 We've had extraordinary success with our pivot toward virtual brand events. We are doing them every three to four weeks, with more attendance and engagement from editors and influencers than we did in the pre-COVID, in-person era. The success has taken us by surprise, to be honest. This summer, we took her island hopping to help her experience our bath and body line and help her escape to Greece with Korres. The July Island Hopping social media content theme garnered +24 percent new followers and 600M total impressions over prior month. We recently did a live event, which we livestreamed from Crete with our family-run olive growers, and had hyper levels of engagement. From a sales perspective, we're two and a half times up year over year on korres.com.
Our email list is growing double digits, quarter after quarter, with social media as one of our biggest engines. Since COVID, our social media content has seen an increase of 70 percent in engagement.
Donnie Soddu, our VP of Global Digital, has done an incredible job launching a new website for us this year and it's been a phenomenal success. Korres.com is our brand flagship – and offers an immersive yet user-friendly discovery experience for consumers. Year over year, korres.com revenue is up over 2.5X and conversion rates on korres.com have more than doubled.
We're also investing more and more with influencers who are bringing consumers into the brand. Content from influencers is synchronizing with where she is right now. We obviously have strong sampling initiatives with our retail partners, but I think that she's really discovering us through our website. We launched a new website in May, which has been a game changer. We now have triggered on-site marketing, supported by powerful technology that provides personalized experiences based on each visitor's unique on-site journey, at scale. We now also offer alternative payment methods such as Afterpay and Apple Pay to adjust to new consumer and shopping trends. Our robust new content encompasses our brand philosophy, product process, and ingredients via new site pages and marketing blocks.
What I think is important for brands to do is not just speak as the brand and push the product. You should be observing your consumer closely, noticing she wants different things and then meeting her where she is today. To me, that's the definition of consumer engagement.
Key store presence is always important for a brand. But KORRES is lucky in that we can really tell a brand-led story, own that relationship with the consumer, and then bring her to our retailers. This is really what retailers are going to be asking all brands to do.
In 2021, as we look ahead, we will be investing in the successful tactics that we developed this year. We recognize COVID has changed the landscape in permanent ways. The consumer has changed in profound ways. The go-to-market playbook has changed – and will keep changing.
Even when she opens her emails, she's opening them really late because she's doomscrolling. We find incredible email open rates at 10 p.m. So that made us realize she's stressed. And that inspired us to get into meditation and escapism content, which has helped us achieve higher engagement levels. And now our conversion rates are close to 3X, what they were this time last year.
In Q4, our website will be launching several new features to engage our consumers and drive conversion even further. We are launching a blog for evergreen and seasonal brand content to serve as a source for brand education and a new engagement point with our online community. We will be implementing a skin quiz so they can receive personalized product recommendations based on their environment, lifestyle, and skin concerns – built with both conversion and key ingredient education in mind. There will be a "Build Your Own Kit" feature for shoppers to put together their own assortment of products.