Lynn Tilton, a savvy entrepreneur, bought Stila in April 2009, just days before the financially struggling brand had lenders ready to liquidate the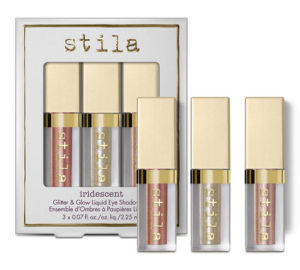 company. At the time she was running numerous companies under the Patriach Partners portfolio – an investment firm with holdings in more than 75 businesses. Stila struck a soft spot for Lynn. "It was beloved by customers, and I believed in their loyalty and that the fan base would continue to grow and buy Stila products, driving a successful turnaround of the company," said the Bronx native. Since Lynn has been at the helm, the brand has exceeded $100 million in revenue; become a debt-free, high-margin business; grown internationally; and has gone through a complete visual makeover, from black plastic to gold-custom packaging. Big hits and first-to-market wins have followed, including Stay All Day Liquid Eye Liner, Stay All Day Liquid Lipstick, Heaven's Hue Highlighter and the Glitter & Glow Liquid Eye Shadow franchise, to name a few. This year Stila celebrates its 25th anniversary by bringing back their iconic lip glosses, which were discontinued several years ago, with a new campaign, Beauty Boss Lip Gloss.  Somehow Lynn found time to speak with Beauty News for our 5 Minutes With…feature.
Beauty News: What made you buy Stila?
Lynn Tilton: I believed in the brand, and in their customers. I also looked forward to owning a company where I would lead women, as most of my companies were manufacturing companies, where most of the employees and leadership team are comprised primarily of men. I also believe owning a beauty company would allow me to inspire and empower other women. Outer beauty inspires inner beauty, which drives compassion.
BN: What new changes or direction did you instill when you took over the company?
LT: Turning around a deeply distressed company combines both quantitative and qualitative strategies that are requisite to driving a company to future success. It was important to build on the company's history and recognition for its first-to-market innovation, preserve Stila's reputation for innovation and high-quality products, drive growth through added distribution, and enhance profitability through margin and expense disciplines.
BN: What's your business approach to helping grow a successful brand?
LT: Every business works from the customer backward. The success of a company is rooted in its products or services. Regardless of industry, the customer covets two things: design and disruption — to be enveloped in beauty and elegance and to be excited by innovation and technology. I continually drive incremental innovation (design and disruption) in products and processes, while maintaining fiscal discipline such that the company makes money on every product it sells.
BN: What have you found to be the biggest challenge with Stila? 
LT: The biggest challenge that Stila faces is an ever-increasing crowding of the prestige color space with the continued introduction of new celebrity and influencer brands. This challenge will force Stila to better define its white space and niche in a crowded market, both with product innovation as well as with strategic and social identity.
BN: What's the biggest lesson you've learned over the years?
LT: That we cannot be defined by what others think and say about us. In the end 'to thine own self be true' because a person can only be distinguished by the actions he or she takes, and the words spoken. It is essential to believe in oneself and take comfort in the person you are.
BN: Greatest accomplishment thus far?
LT: It is important that we take others on the journey with us. For me, success is defined by the 700,000 jobs that I, and my teams, have saved by buying more than 200 companies that would have otherwise been left for dead.
BN: What's a specific business mistake you've made?
LT: The success of businesses is rooted in the talent and teamwork of people. It is always painful to remove people who are unable to handle the expectations of the role. I have often allowed employees to stay in leadership roles too long, hoping they would rise to the role, when I should have made the leadership change much earlier.
BN: What is your favorite product (not your own)?
LT: The Dyson Air Wrap is to the hair industry what the Tesla is to the car industry—a significant game changer. I keep one with me wherever I go as it's simple to use.
BN: What's a mantra you live by?
LT: Start each day from a place of appreciation, not expectation.
BN: If you were to write the note found in a fortune cookie, what would it say? 
LT: Life is a test of perseverance. Most people lose because they give up. Keep fighting for your dream.