Amanda Chantal Bacon started Moon Juice out of Venice, Ca., selling juices, alternative milks, tonics, snacks and adaptogenic blends in 2011. She branched into adaptogenic herbal mixtures she called 'dusts' based on the beauty from within philosophy. Today, she has three locations offering array of collections, from shakes to skin care. Moon Juice products are also available online and in 500 physical locations, including Nordstrom, Sephora, The Detox Market, Credo and ABC Carpet & Home. Plans call for expansion into Canada and Australia.  CEW Beauty News recently chatted with Amanda about her journey from a career in fine dining to becoming a wellness visionary with a company that's estimated to generate $60 million in sales.
BN: You're really a pioneer of the concept that what you put in your body impacts overall appearance and health. How did Moon Juice evolve?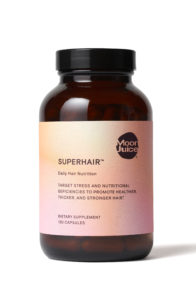 Amanda Chantal Bacon: This has truly been an organic unfolding. It was born from dealing with an autoimmune condition [an Ayurvedic doctor told her to cut out sugar, wheat and dairy to amazing results]. As little as 15 years ago there wasn't functional medicine. There weren't choices like almond milk. There was no wellness industry and I had to order my adaptogens that are buzzy today in bulk from other countries.
I came from fine dining, so I had the skillset to bring hospitality and aesthetics to life. We started getting profound amounts of interest from New York and beauty editors and it became clear I needed to export these concoctions out of the shop, out of smoothie cups and into something that would be functional. That was the birth of dusts—our breakout products about seven years ago.
BN: Are there links between fine dining and Moon Juice?
ACB: I was able to use what I was trained on in that world. I was able to take elements and make them palatable. Now I'm working with scientists to formulate supplements; chemists to formulate skin care. My experience helped me approach formulations the same way I would approach making a salad—it all starts with ingredients and I seek out the best.
BN: What are your best sellers?
ACB: Our SuperYou supplement for daily stress management is the company-wide best seller. We have sold out several times and there was a wait list of thousands of people for it the first time it sold out. It's a blend of four potent adaptogenic herbs that work together to address the effects of stress on the mind and body. Our supplement that is a top seller at Sephora is Superhair. I had been dying to create the perfect hair supplement for the last four years and I got the chance with Sephora. It is a multivitamin I'm really proud of and it has a layer of adaptogenic hair protection.
BN: Where do you weigh in on CBD? Will you add it to Moon Juice?
ACB: I use CBD sometimes, a tincture, it is very helpful with inflammation. I don't see a place for it in Moon Juice. My philosophy is that if someone is doing a really good job and I can buy it from them, I won't make it. I only develop items where I see there is a hole in the marketplace. I'm a fan of Charlotte's Web. I think they do a good job.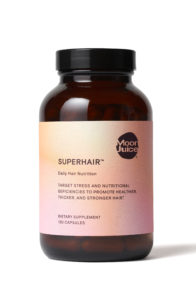 BN: What was the biggest challenge starting your business? Anything you would change?
ACB: This was a passion project. I actually went about it backwards. Typically, you start at level one and educate and build and take consumers to level two and three. We started at level 10, before the market was there. It took a lot of education—and this was before social media. Now the market has changed so much. We've gotten good at education and clarity of our product and we are bringing it to an entry level where everyone can hop on board.
That said, I wouldn't go back and change it. There was a mystery and mystique that actually help the brand garner interest.
BN: What would surprise someone about your typical consumer?
ACB: While our customer is predominately female, we are delighted to see more men in our shops. There are tons of opportunity with men who are coming in and buying for themselves. They are taking care of their skin, using supplements and our serums—they don't just want protein powders anymore.
BN: Spill your secrets—how do you stay ahead of the market?
ACB: People tell me I'm in the hottest convergence of wellness and beauty. They ask, "How did you do that?" I'm probably deeper into wellness than most people. I'm tuned in and can see where the market is going. My lifestyle is trending a few years ahead of most health-conscious people and I have insight into where they'll be and what they'll be mindful of. That keeps us ahead of the curve and offering things that are going to be exciting and interesting now, but non-negotiable in a few years. For example, I do believe that in the next few years, people won't question taking care of their external organ—skin—in the same way they don't question brushing their teeth or washing and moisturizing their skin by taking supplements.
BN: If you could write the fortune inside a fortune cookie, what would it say?
ACB: Don't let stress stress you out.