Dr. Dhaval Bhanusali is a board-certified New York City-based dermatologist who was accepted into medical school at the impressively young age of 17. After completing his studies at Michigan State University's Medical Scholars Program, he went on to complete a dermatology residency at Mount Sinai Hospital in New York City. He is from a family of doctors: his father is an orthopedic surgeon; his sister is a rheumatologist.
In addition to operating a thriving skin care practice in Midtown West since 2019, Dr. Bhanusali is active in the skin care world. Some accomplishments to date include creating Amazon's first branded skin care line, Fast Beauty Co., as well as a beauty project with Martha Stewart, 86 Elm. He has consulted on beauty brands large and small, including Hailey Bieber's new beauty brand, Rhode, as well as for beauty giants P&G, Neutrogena, SkinCeuticals, Cerave, EltaMD, and SkinMedica.
Not too busy for side projects, Dr. Bhanusali has also built numerous digital health companies. While in residency, he launched Health Digital, a hybrid digital health venture capital firm. Following this, he built HairStim Labs, a platform that allows dermatologists to create custom prescription compounds for their hair loss patients, such as topical finasteride and topical spironolactone (instead of their oral counterparts). Most recently, he built Skin Medicinals, a platform that aims to improve access to medications and save millions of dollars in healthcare costs to consumers. Here, Beauty News caught up with Dr. B, as his friends refer to him, to talk about all things Skin Medicinals.
BN: Please explain the Skin Medicinals platform and why it is catching on.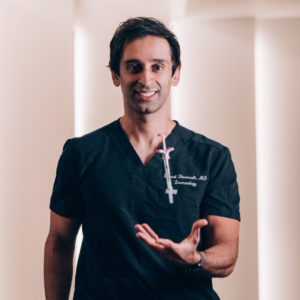 DB: Skin Medicinals is a technology platform that allows doctors to custom-create prescriptions (also called compounding) that are then filled by an affiliated pharmacy. For instance, a prescription for Retin-A can range from $50 to $300, depending on which pharmacy you go to. And if you don't have insurance, it can be hundreds of dollars or even $1,000. But for us the cost is $30 to $35. We transfer those cost savings to the consumer by compounding versions of branded drugs.
BN: So, for the example of Retin-A, what do you do?
DB: So, for tretinoin, the dermatologist can select the percent tretinoin appropriate for their patient, then add in azaleic acid (if they also want to address redness/erythema) or hyaluronic acid (if they feel that would help with tolerability). They can also choose a base with vitamin C, vitamin E, resveratrol, turmeric, and niacinamide if they want additional benefits unique to the ingredients.
BN: How is Skin Medicinals changing the dermatology landscape?
DB: I think the idea of a more transparent system for patients, while also relieving some of the administrative burdens for physicians, has played a large part in our success. The current prescription system isn't sustainable and by improving transparency and improving access, it serves as a win for both the doctor and more importantly, the patients.
This started as a passion project. A couple of years ago drug pricing skyrocketed overnight. There was a lot of pushback from the government. There were lots of lawsuits thrown around for drug price fixing and other things, but the problem is that prices never went down. Clearly, there's something going on but unfortunately, our patients suffered, and we didn't really know what to do. We looked at different options and compounding is something dermatology has been doing pretty much since the start of the field.
BN: Can you speak to what compounding is?
DB: Compounding is combining unique prescription ingredients that may otherwise not be available and providing them for the patient as a treatment option. For example, we can combine ingredients that may be irritating with something like niacinamide which can serve as an anti-inflammatory to help improve the experience. We can also combine multiple prescription actives into one formulation instead of having them in separate products. We looked at that as something of a unique opportunity, to lower pricing ourselves and also add a layer of personalization to the way we care for patients.
BN: What is the cost to dermatologists to use the platform? How does it generate revenue? Please explain the business model?
DB: The dermatologists don't pay anything to use the platform and they are not compensated. The platform itself works directly with the pharmacy in order to digitize the process and we help with formulations as well, given our experience.
BN: Who did you partner with to execute this?
DB: I started this myself. I had been doing something in the hair space very similarly with HairStim Labs. That being said, it's been a collective project within the derm world. Countless dermatologists have reached out and have helped support the platform. It's truly unbelievable. It's become much bigger than me, a kind of movement.
BN: Is the platform self-funded?
DDB: Yes, we haven't raised any money. It's one of those things where at some point we want to expand and it's something we'd have to consider. In the short term, we've thankfully been able to avoid having to bring on additional partners or anything like that. One cool thing about what we've built is that we've always been a mission-driven platform, and we've always had the idea to donate the proceeds to nonprofits. So far we've donated over $200,000 to different initiatives in dermatology, including scholarships. We're trying to do right by everybody the best we can.
BN: Talk about the consumer journey on the site.
DB: A patient goes to their dermatologist and is evaluated (whether online or in-office). The dermatologist then uses the platform to select the active ingredients they feel are best for the patient and sends in the prescription. The patient can check out either via their computer or phone and the prescription is shipped from the pharmacy to the patient's home. We encourage regular follow-ups, and the dermatologist can alter medications as needed.   
BN: Who is your target consumer for the platform?
DB: The target initially was just anybody who was trying to get affordable medication. We wanted to do something about the whole health equity issue. People shouldn't be spending exorbitant amounts of money on medication. We've seen people from all walks of life, whether it's patients coming to free clinics, or those using Skin Medicinals as their only option, to cosmetic clinics where patients are using Skin Medicinals for their anti-aging treatment prescriptions. We've seen celebrities use the platform and everybody in between. We're providing unique formulations for patients.
BN: How did you connect with Hailey Bieber for her skin care line Rhode?
DB: We were introduced by our mutual friends. We had a really good team-based approach led by Hailey but, a lot of times she would have questions and I'd answer them about ingredients, textures, scents, and everything in between. With Haley, it was a true scientific conversation every time we spoke. What the ingredient is, how does it work? How does it play within the larger formula? Benefits, pros, cons. We took a true science-based approach and we shared medical articles and things like that.
BN: How did you connect with Martha Stewart? What was the collaboration process for formulating her skin care range?
DDB: She's my dear friend, I have known her for years. For her we formulated something really fun, interesting, and unique. It's a formulation that is based mostly around a natural plant mentality. She is the queen of all things farming, ingredients, nature, and everything in between. We started working on it during the pandemic when there were a lot of ingredient shortages, but I'm hoping she'll be able to release a unique group of products that everybody will be proud of.
BN: What is the biggest difference in how a consumer attains prescription skin medication today compared to when you began practicing dermatology?
DDB: We're on the first kind of platform to allow for the shipping of medications to patients. It really wasn't until years ago that that was common. Especially before the pandemic, most people would go to a pharmacy. Now with medication shipped directly to patients, we've seen a spike in adherence, which as a doctor, is incredibly important because we want to make sure patients use their medication. I think now there's much more transparency out there with Mark Cuban's [Cost Plus Drug] pharmacy launching. People realize there is an opportunity to have lower-cost medications. Most people don't realize that you can have the same prescription go to five different pharmacies and get higher, different prices for each. It's terrifying as a doctor.
BN: What's next for Skin Medicinals?
DDB: We're expanding. We're about to hit 450,000 patients. We're at 9,300 dermatology prescribers.  We've saved over $175 million as of a couple of months ago. Now we're trying to look at a few different things. One is obviously expanding in the dermatology space but also, I mean, unfortunately, this problem is not just in dermatology, it's across all medical fields. I've had hundreds of doctors in other fields reach out to us because they're having the same issues. My expertise is in dermatology, but we're starting to see if this is feasible in other fields. To be honest, if you told me that this little idea, launched as a fun project would become this big, I would have never believed you.