Victoria Kirby has been part of the fabric of beauty editorial for nearly 20 years. Her past roles include Editorial Director of Makeup.com, Beauty Director at Redbook and Beauty Editor at glossies such as Allure and Harper's Bazaar. Now, Victoria [aka Tory] has taken her expertise and contacts into a new role heading up content (and more) for Wonderskin, which is part of IP Brands, a company founded in 2011 by Doug Cooper.  IP Brands' innovations include Wunder2, a collection of beauty solutions that work in "under two minutes." One of the brand's innovations, WunderBrow, is a one-step brow gel with multiple proprietary technologies that's generated millions of units of sales through its global strategic partner, KF Beauty. Their newest venture, Wonderskin, is a brand curated by Tory that aims to bring new technology to makeup. Here, Tory spends five minutes with Beauty News to talk about her new role and the latest in lip tech.
Beauty News: How did you learn about IP Brands?
Tory Kirby: After I left Redbook as Beauty Director at the very end of 2017, I was soon introduced to Doug Cooper, who is CEO of IP Brands, the owner of Wonderskin. This past spring Doug came to me with the opportunity to serve as Chief Content Curator to not just represent Wonderskin on QVC, but to really be a brand partner, somebody who could test formulas, give feedback and help the direction of new products, as well as provide content for the website. This was all very exciting for me, especially to help shape a brand. And because IP Brands is smaller, they're very nimble and things can happen really quickly. I feel like I can have real influence on a brand that, in my opinion, is a disruptor in the industry in terms of the kind of technology they're investing in.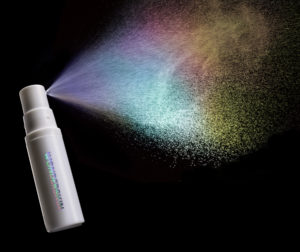 BN: What excited you about Wonderskin?
TK: I've been in this industry for close to 20 years and I've had the opportunity to witness a lot what's going on.  When I first met Doug I was just so impressed by the technology he was investing in. I meet with a lot of brands that say they have something revolutionary. But more often than not the tech already exists in another brand or it just doesn't feel like a real game changer. When I met with him the technology they were working with was actually something I'd never seen before. In addition to their own internal development team, Doug has developed relationships with cosmetic chemists throughout his career where people come to him with their innovations first so he can invest in things that truly no other brand is doing.
BN: What is Wonderskin's first innovation?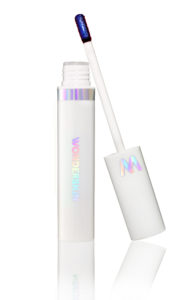 TK: The first example is Wonderblading, a two-step lip color. It's not a stain, and it's not a lipstick. It's the best of both of the two. To use it, first swipe on the Lip Masque; it comes out as a really fun purple color. You leave the mask on for 30 to 45 seconds, then you spray an activator mist on top. Within seconds you peel off the mask—it comes off in one cool strip—and you have a nice lip stain underneath. Our products' colorants and pigments make it look like a lipstick. The occlusive barrier, aka the purple film, is pushing ingredients into the lips and sealing them in once activated. The mist then causes a chemical change in the polymers in the lip color, changing them from a gel water to a solid film and drives the colorants into the lips creating a more even distribution of color.
BN: How long does the lip stain last?
TK: It literally does not budge. But unlike most lip stains, which are primarily dyes, this is mostly pigment and has more of a lipstick feel. The tech is the reaction that happens between the activator and the mask, which infuses all of these colorants and pigments into your lips. It does not come off until you use an oil-based remover. It's available in four shades. We launched with two shades on QVC in December. We sold out our first show, which was amazing. It sells for $26.50.
BN: What has the reaction been by your beauty editors?
TK: When I did desksides for the product I met with all of my peers. And because I've known most of these beauty editors for years, I can tell when they're just being polite or when they're actually excited about something. Once people see it they're like, wow. For me the most important thing is that it lives up to its claim. And it does.
BN: What's next for Wonderskin?
TK: This technology lends itself to other areas of the face, such as the brows. That's coming down the pipeline this summer, and will also launch on QVC. It has very similar technology in terms of the two-step process, with the result being a beautiful color on brows that doesn't fade throughout the day.