In 2013, beauty industry veteran, Melisse Shaban, was introduced to a breakthrough regenerative technology developed by Dr. Luke Burnett, an ex-army colonel, for healing burn wounds and stimulating tissue regrowth caused by battlefield explosions. After learning that the protein, Alpha Keratin 60ku, could also be used to repair hair damage, in 2017 Melisse and Dr. Burnett teamed up to patent the technology and launch Virtue Labs to create products designed to address various hair care concerns, such as volume, damage, frizz and color vibrancy. Prior to Virtue, Melisse served as CEO of leading beauty brands, including  StriVectin, and Frédéric Fekkai. "I have overseen many amazing products in my career, and the world didn't need another hair care brand from me," she said. "If the technology didn't work, I wouldn't be sitting here." Virtue recently announced that actress and entrepreneur Jennifer Garner joined their team to amplify brand recognition. Here, Melisse shares how she's growing the business, marketing strategies to reach consumers and advice for entrepreneurs.
CEW Beauty News: What's your business approach to growing a successful company?
Melisse Shaban: I think it starts with a relationship with customers.  Ask yourself what role you play in their lives and how do you differentiate yourself amongst other brands? About 10 years ago I watched my mom have a catastrophic response to stress and lose all her hair, and I saw what it did to her self-confidence and how she viewed herself, and there are so many women who go through this. So, when this technology came along, I realized that it would help make people's lives better. Virtue adds value, so when you think about starting a business, you need to think about the value proposition, and build brands that solve real problems.
BN: If you could change one thing about Virtue, what would it be?
MS: The product is very expensive, because the protein makes up 50% of the cost of goods. I wish it was more accessible, but we recently implemented a way for consumers to pay in installments on e-commerce to help with this.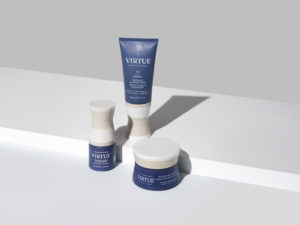 BN: What inspired Virtue's packaging?
MS: The packaging is actually inexpensive compared to what's in the bottle, but we felt that it needed to look premium, especially since the price point is high. When you decide to call yourself Virtue, you're taking on a lot. It's aspirational, the colors are comforting, and the bottles are designed with complexity of texture. When you're in the shower you can stand it up on its top, and we made sure to create unique packaging to differentiate the shampoo and conditioner so that it's obvious what you are using.
BN: What are some specific strategies you're using to reach consumers?
MS: The best thing we do is sampling because we are in a very unique situation where our products instantly change the quality, texture and health of hair.  When we launched, we sampled 8,000 consumers and that's how we got early adopters. They told us what was happening to their hair and we used that feedback to craft our marketing messaging. In the past, consumers didn't think about chemical disruption when selecting hair care products, but now, women have gotten much more involved in learning about ingredients, what's it doing to the environment, and what it's ultimately doing to the scalp and hair. Part of the communication strategy is not only what's in the product, but also what's not in the product and how we behave as citizens of the world.
Additionally, we do work with influencers and do paid campaigns. It's important to us that we select individuals who are authentic; micro-influencers tend to work best for us.
BN: How did you finance the company?
MS: We've raised $55 million to date in funding. As we are a biotech company, the first $25 million went into the protein development, which we manufacture ourselves in a 16,000-square foot facility in Winston-Salem's Whitaker Park in North Carolina.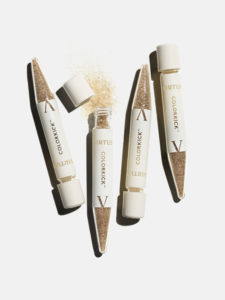 BN: What's next for the brand?
MS: We licensed off the skin component of the protein technology, but we are working on a few interesting concepts. Follicle survival is an area of focus for us so there will be some products around that. Additionally, we may be sneaking into nail care with unique keratin proteins. We are also working on the ability to straighten hair naturally for elongated periods of time through multiple proteins, without the use of heat. The result holds for eight weeks and the consumer can do it themselves. We're still a ways off from this, but it's within our line of sight.
BN: What's something no one tells you when starting a business?
MS: There's no quitting. There was a time we didn't pay people for six months and they stayed because they believed in our mission. You have to be surrounded by believers, and you have to hold hands, because there are going to be bad days, tears, laughter and lots of tequila, but you're in it together and nobody quits, and it's an extraordinary thing because this is by far the hardest thing I've ever done.
You're in it together and nobody quits, and it's an extraordinary thing because this is by far the hardest thing I've ever done.
BN: What's a specific business mistake you've made?
MS: There are so many.  When I believe in something too strongly and all of the smart folks are saying it's not going to work, and I get stubborn because I want it to work, that's when the mistakes happen. Part of being the founder of a company is you make mistakes all the time. My advice to others is to try not to make the same mistakes, because then you're not letting them inform you and help your business. You will be wrong at least 50 percent of the time and it's okay. Just fix it.
BN: What's a mantra you live by?
MS: Don't give up. Roxanne Quimby, founder of Burt's Bees, put it perfectly when she said, "you just live to fight another day." That's all you can do when you start a business.
BN: If you were to write the note found in a fortune cookie, what would it say?
MS: Believe in yourself (because other people won't).