How digital identities help transform legacy cosmetics stores into shopping experience and fulfillment centers of the future.
The events that transformed the world in 2020 are also transforming the relationship between beauty brands, retailers and consumers. The merging of physical and digital retail has only been exacerbated by the pandemic with 68%[1] of consumers saying COVID-19 has elevated their expectations of companies' digital capabilities. And with high confidence that store shopping will return robustly, bridging the gap between physical retail and e-commerce to create a seamless omnichannel experience is no longer an option, it's a core requirement to the future of the beauty industry.
To optimize the omnichannel experience, by turning stores into e-commerce fulfilment centers, availing physical retail stock to satisfy online orders is vital. This presents a huge opportunity for beauty retailers, who previously relied on physical stores as the principal channel for fulfillment and to engage with customers, but who were required to become e-commerce and omnichannel stars virtually overnight. Complete item-level visibility of all merchandise is a necessity for the success of any beauty omnichannel strategy. Yet, inventory mismanagement remains a legacy problem for beauty brands and retailers creating not only missed sales but also negative customer experiences.
This problem was evidenced when a prestige color cosmetics brand with a substantial, SKU-intensive collection engaged Avery Dennison Smartrac, a leader in digital identity solutions, in a proof of concept initiative to investigate suspected poor inventory visibility and supply chain inefficiencies.
Efficient and accurate stock counts
Using Avery Dennison Radio Frequency Identification (RFID) tags specially designed for RF-challenged beauty products, from liquid based mascaras and foundations to metal-encased lipsticks, the beauty brand revolutionized its stock visibility. Over a six month period item level inventory accuracy increased to 95%+ from an estimated 50%.
Merchandise already containing RFID labels arrived at stores from the brand's distribution center. Combined with handheld RFID readers and software tied to store inventory, a complete stock take of the merchandise-dense retail floors and stockrooms was performed weekly and in just a few hours. These operations provided the accurate information needed to make better replenishment decisions, as well as the confidence to inform e-commerce shoppers that an item is available for in-store pickup – even at curbside. As a spokesperson for the brand reported: "This level of accuracy can have a huge impact on our bottom line as well as helping us to improve customer loyalty and customer satisfaction by easing friction around the path to purchase."
"This level of accuracy can have a huge impact on our bottom line as well as helping us to improve customer loyalty and customer satisfaction by easing friction around the path to purchase."
Reducing shrink, overstock and waste
A major challenge for many beauty brands and retailers is shrink and subsequent product diversion, which results in billions of dollars in industry losses. These losses occur certainly in the cost of goods, but perhaps more importantly in damage inflicted to brand equity. The majority of stolen and diverted items is sold through unauthorized channels, where the brand no longer exercises any control over product integrity, safety and brand messaging. While shrinkage can occur in the retail store, more significant losses often occur in the supply chain – from factory, through distribution, to retail. In this proof of concept, RFID-tagged items were audited both exiting the distribution center and entering the retail stores. Significant losses were identified, where products that left the DC did not arrive at the retail stores. The complete transparency of supply chains, made possible by an RFID digital identity makes individual items entirely traceable, so brands and retailers can pinpoint exactly where shrinkage is occurring and take appropriate actions to mitigate it.
An item level RFID digital identity also can reduce waste of beauty products. This proof of concept identified significant overstocking in subject retail stores, as well as the opportunity to reduce on-hand inventory by approximately 25%, while increasing in-store, online availability and revenue. Applied across hundreds of stores, this reduction would represent a substantial savings in working capital. Also, it provides the beauty brand increased flexibility to produce and offer a broader assortment of products without overburdening supply chains and stores.
Of note, in one of the brand's highest velocity stores a staggering 20%+ of inventory was identified as non-saleable, due either to being out of season or past expiry date. The opportunity to reduce waste and minimize sales losses is obvious, but the implications of an item-level RFID digital identity go far beyond the tangible commercial gains; the unprecedented levels of visibility allows beauty brands and retailers to avoid disposing of a high volume of expired products and packaging, in addition to the reduction in consumption of raw materials, energy and other resources required to produce them. That's  important for an industry that produces more than 120 billion units of packaging globally.[2]
As beauty consumers increasingly are holding brands accountable to high standards for sustainability, the need to radically improve inventory management to avoid excesses, reduce waste and provide transparency is essential to building brand trust and a positive customer experience.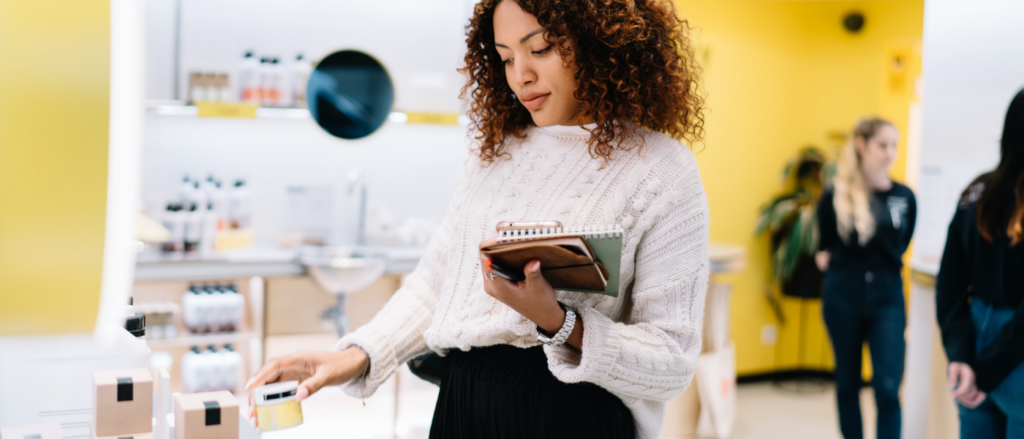 Unlocking "touchless retail" experiences
The benefits of a unique RFID digital identity for every beauty item creates compelling opportunities for retailers. The importance of initiatives like 'Buy Online, Pickup In Store' (and curbside) and 'Buy Online, Ship from Store' have only been heightened in recent months. It is essential that beauty brands and retailers are channel-agnostic, making their products available, however the customer wishes to purchase them. This requires real-time, accurate inventory visibility to help transform legacy cosmetics stores into shopping experience and fulfillment centers of the future.
The pandemic has also given rise to consumer expectation for stores to provide contact-free solutions for product testing, try on as well as 'scan and go' cashless self-checkout. RFID technology can help provide this touchless retail experience, while maximizing the efficiency of the store and freeing staff to focus on other priorities.
Despite the economic magnitude of the COVID-19 pandemic the beauty industry has proven itself to be resilient. Beauty brands and retailers that use digital technologies to adapt to new shopping and fulfillment behaviors will thrive. This proof of concept demonstrates that an item level RFID digital identity will help beauty brands and retailers secure supply chains, minimize overstocking and product waste and, most importantly provide a seamless omnichannel shopping experience in these challenging times and in the better times to come.
Learn more about digital ID technologies for beauty and personal care.
Contact us for a consultation at [email protected].
###
[1] Source: https://www.digitalcommerce360.com/article/coronavirus-impact-online-retail/
[2] Source: https://www.beatthemicrobead.org/plastic-free-beauty-the-new-normal/#:~:text=The%20norm%20is%20to%20pack,dumps%2C%20or%20the%20natural%20environment