For Charlotte Tilbury, opening her first U.S. store at The Grove in Los Angeles marked something of a homecoming. Four years ago, she hosted a Makeup Your Destiny beauty festival in the middle of the popular indoor-outdoor shopping mall.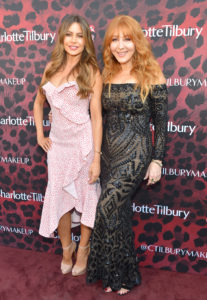 "The Grove felt like exactly the right place for our first U.S. store," said Charlotte at the Wednesday night opening of the 2,400-square-foot boutique. "And having done so many red carpets and worked on so many celebrities for the past 27 years, Los Angeles is an integral part of the brand."
The flame-haired makeup artist-turned-beauty tycoon was red carpet ready herself in a sequined full-length black dress at the opening night bash on June 26, where guests included Sofia Vergara. The exterior of the store, wedged in between MAC and Crate & Barrel, is painted in shades of red and pink, panels of the outside wall featuring the brand's signature leopard print pattern. Inside, Charlotte said she was going for a "beauty wonderland" type vibe.
"We want the store to be a portal of magic," she said. "You walk in and can enter all these different worlds."
With design accents that include mirrored surfaces, rose gold and crystal chandeliers and Bordeaux-colored tufted velvet seats, the space is segmented into various areas. A lipstick section highlights the brand's latest offering, Hot Lips 2, a line of 11 lip colors that bowed shortly before the Los Angeles opening. Charlotte said that the shades were informed by men and women who have inspired her, including Amazing Amal, named after her friend Amal Clooney; JK Magic for J.K. Rowling; Viva La Vergara, hence the attendance at the party by the Modern Family actress. Sales of products in the line will go towards charitable foundation Women for Women International, which aims to help women around the world affected by war. Charlotte has pledged one million sterling pounds towards the organization.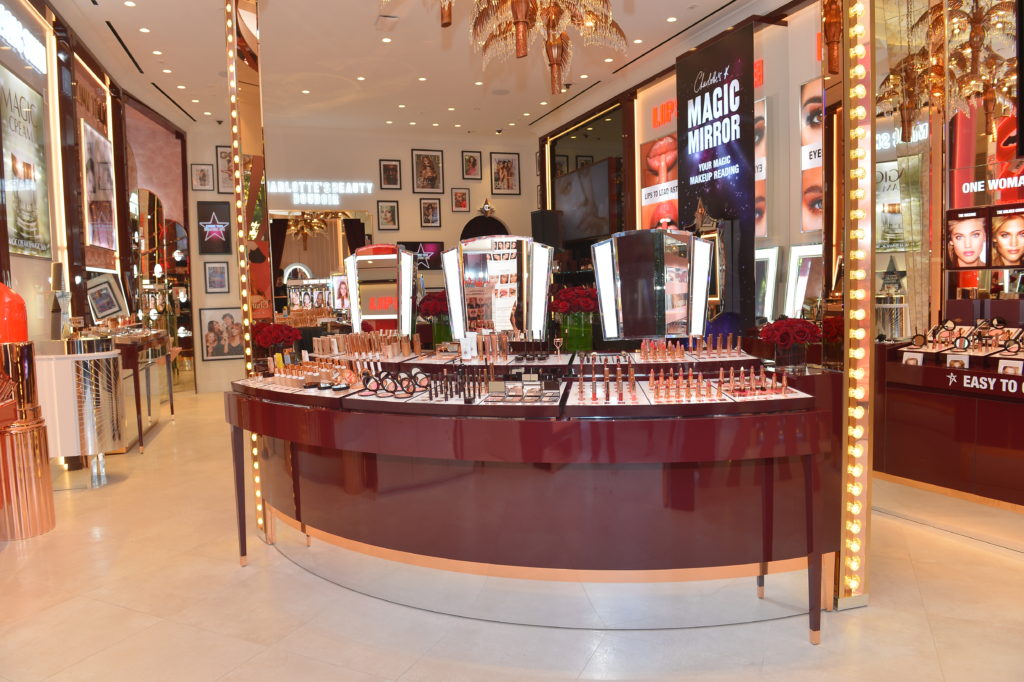 Other areas in the store are dedicated to key products, including the brand's best-selling Magic Cream and Goddess Cleansing Ritual. Shoppers will also be able to use the store's magic mirrors to virtually try on any of Charlotte's 10 makeup looks, from The Rock Chick to The Vintage Vamp.
"We wanted there to be a lot of playful areas inside the store that are also Instagram-friendly," she said. A Beauty Boudoir at the rear of the store is intended to convey "that glamour of Hollywood, with a 1930's mirrored table, and lots of velvet and satin. Shoppers can have bespoke makeup consultations, bring friends, drink champagne, have a makeover and get that red carpet treatment," she said.
Charlotte said that other freestanding stores are in the works, but in the meantime, she's focused on continuing to create products that should build a woman's confidence.
"It's a very overcrowded market, and not a lot of products work," she said. "I feel like I'm selling dreams and making dreams come true, and I don't say that lightly. We live in a world where we're often exhausted. But when you paint on a little magic, something happens psychologically, and you suddenly just feel different."