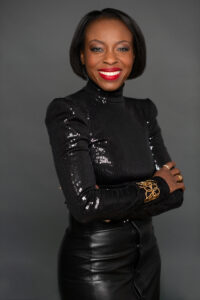 M.A.C Cosmetics has named Aïda Moudachirou Rebois as Senior Vice President, Global Marketing, effective Monday, Feb. 22. Aïda will report to Philippe Pinatel, Global Brand President, M.A.C Cosmetics.
In her new role, Aïda will lead M.A.C's brand positioning and look to further increase its presence and appeal to a global consumer in growing markets around the world, while pivoting the organization to be more focused on insights, data and analytics. She will oversee the Consumer Marketing and Product Marketing teams with a dotted line management responsibility for Product Development to drive global Consumer Engagement strategies and deliver breakthrough product innovation in order to maximize consumer connection to M.A.C. Aïda will also serve as the key Global partner to Regional teams around the world to ensure they have the tools to win in their markets.
Aïda brings 18 years of international experience in beauty, retail and consumer goods at companies including Revlon Inc, Johnson & Johnson and L'Oréal.
"Aïda has an innovative and flexible leadership style, cross-industry experience and global brand-building expertise, which combined with her multilingual, multicultural background, will undoubtedly help to drive the global M.A.C business forward in our complex fast-changing environment," said Philippe Pinatel, Global Brand President, M.A.C Cosmetics.
Most recently, Aïda served as Senior Vice President, Global Marketing, Revlon Inc. overseeing marketing for the Revlon and Almay brands. She was responsible for driving brand equity and global brand strategies, developing new product innovations, executing integrated marketing campaigns and building high-performing teams.