New York City's Flatiron district just welcomed a new neighbor who serves sparkling water from champagne glasses and ventilates its space with a signature cucumber-mint scent. This is Alchemy 43. Known as the Drybar of Botox, this California-based chain is aiming to be on the corner of every high street across the U.S. and roll out 50 stores in the next six years. The first phase of expansion began last week with the launch of its Manhattan location. The company is backed by leading commerce investor Forerunner Ventures.
"Something Drybar did so beautifully well is that they took something that was part of a larger experience and created a category around just one aspect of that, and that's what we're doing with botox and fillers," explained Alchemy 43 Founder and CEO, Nicci Levy, who formerly worked as a Business Development Manager for Allergan. "It's innovative because we're taking ideals and practices that have traditionally been used in a clinical setting and bringing medical aesthetics to a highly specialized environment."
The company offers what they call micro-treatments, employing the use of injectables to contour, plump and define, while aiming to deliver natural-looking results and destigmatizing the perception around these types of treatments.
"I find that in general, people under 35 are willing to talk about it and post on social media. The stigma is gone for them," explained Nicci. "But, people who may be older are not as open. It's almost as if there's the thinking that if you get these things done then it somehow means that you're not as pretty, but I see it as an enhancement to what someone naturally has. Do women hide the fact that they get their nails done? It shouldn't be something to feel ashamed about."
To make the company and services more approachable, all Alchemy 43 salons are equipped with chic décor that can be used for Instagramable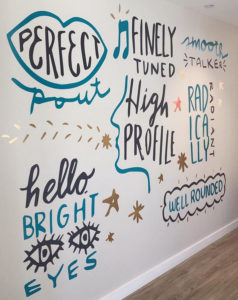 moments. A hallway of the new New York City location, for example, features a graphic wall that has been graffitied with the names of the treatment offerings such as, "Radically Radiant" and "Finely Tuned." Even the bathroom has been thoughtfully designed and is lined from ceiling to floor with a custom wallpaper of gold lips, waiting for a mirror selfie.
"One of the biggest takeaways during our first year of business is that over half of our clients were under 35 and I knew that by providing a place that was convenient, accessible and fun that we would attract the younger demographic," said Nicci. "It confirmed for me that these people have always wanted a place to go, so when they see us on social media and we look like a cool brand, they instantly get drawn to us."
Another burgeoning customer base of the medical spa is men, who made up 23 percent of users in 2018. As a result, the New York City location has minimalized the light-pink hue that bathes California locations, to a teal color in order to be more gender inclusive.
Noting that the average spend per customer is $475, Alchemy 43 offers A43 Society, a $99 per month membership program that allows clients to accrue savings to be used toward future treatments.
"The average amount of treatments in the U.S. is 1.9, so people are waiting more than 6 months on average between treatments, but Botox is only FDA approved to last up to 4 months so it's like waiting for all your grey hair to grow out before dying it again," said Nicci. "So, every three to four months when you come for a treatment you have $300 to $400 banked up and get a 15 percent discount off your bill. It's our way of teaching consumers how to budget for their treatments so they are not overwhelmed with the cost."
Outside of its medical spa locations, Nicci is looking to establish Alchemy 43 as the main platform for education by creating Alchemy Academy, a comprehensive training program that awards a certification that she hopes will create consumer confidence.
"Initially we will use it to pipeline our own people, but eventually it will be something for anyone who wants to learn. For example, when we were opening the NYC store, we posted a job for cosmetic nurses and got about 300 resumes; of those 300, 250 were non-experienced medical professionals who want to get into this industry. They all have a license to do this but there is no formalized place to go for training and we ultimately believe that we can be the leaders in the training and education for these treatments," said Nicci.
Another venture Nicci is working on is a beauty product line that will serve as an extension of the Alchemy 43 experience. The line will focus on turning medically-related ingredients into luxury products that can be used post-treatment or independently. A selection of skus will launch early 2020 with omnichannel distribution and eventually expand. "I'm a true product junkie so I can't wait," she said.