Alicia Keys made waves back in 2016 when she announced she was done with wearing makeup, and those waves returned to shore when she launched her clean skin care and wellness brand, Keys Soulcare, in 2020. Now in 2022, Alicia is entering the world of color cosmetics with the Keys Soulcare Make You collection. Offerings include a Comforting Tinted Lip Balm ($18), Sheer Flush Cheek Tint ($22), Soft Stay Brow Gel ($15), and a Natural Flush Complexion Brush ($18).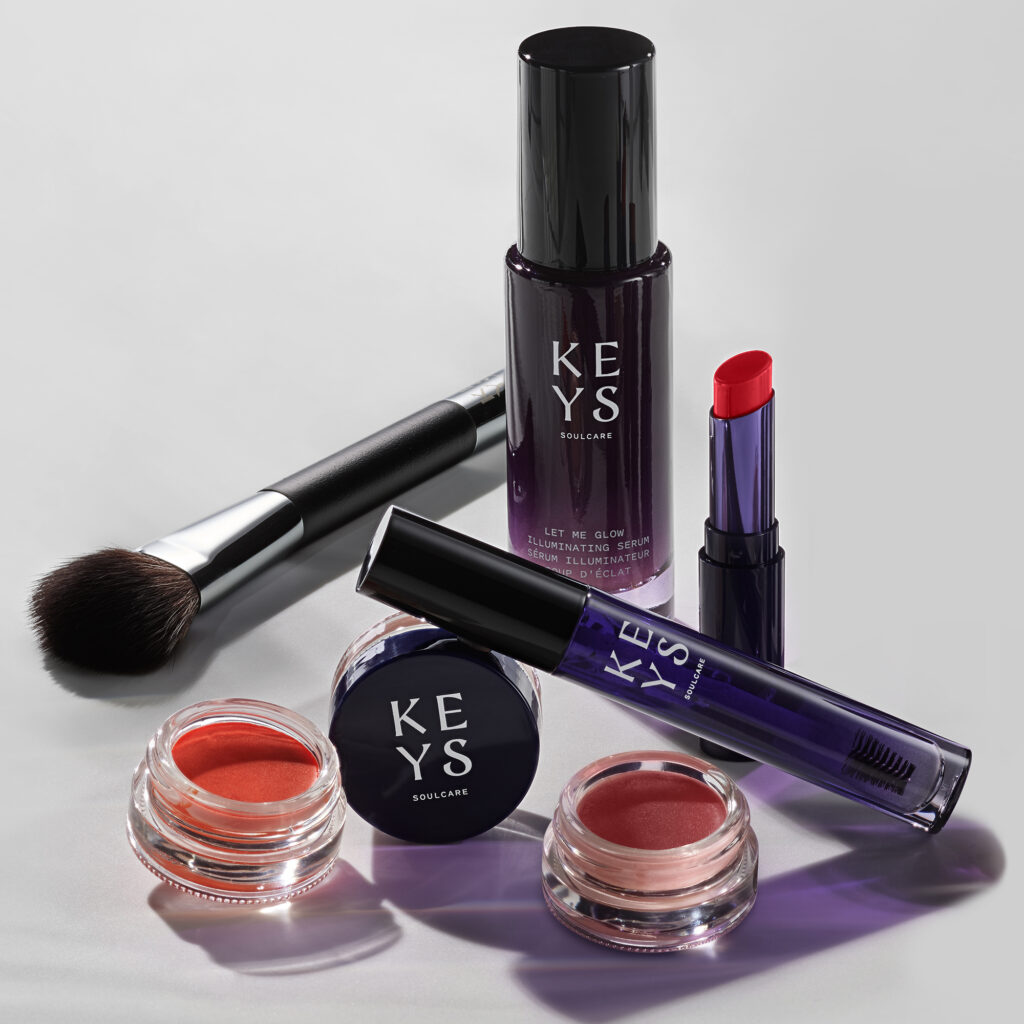 Prior to Make You, Keys Soulcare primarily focused on skin care and wellness offerings, such as Skin Transformation Cream, Sage + Oak Milk Candle, and Obsidian Facial Roller. Alicia worked with dermatologist Dr. Renee Snyder on both the skin and color items, who is also the co-founder of clean beauty brand Well People. Keys Soulcare and Well People are both brands under parent company e.l.f. Beauty. The collaboration between Alicia and e.l.f. makes sense considering Alicia's focus on clean formulations and both Alicia and e.l.f.'s embrace of an individualized approach to beauty.
To kick off Make You, the brand held a launch party on May 3 in Manhattan at Lavan541, where the artist and entrepreneur addressed the press in a speech, stating, "We're calling it Make You because you create your own beauty standards."
"I realized that on my own personal journey of self-discovery, I thought I had to be what everybody else wanted me to be. I thought I had to be perfect…and as I lived and I learned and I grew, I realized that that standard of beauty particularly was not mine…I have to create my own beauty standards…We don't have to be like anybody else, look like anybody else, act like anybody else. You get to blaze your own path and blaze your own trail," Alicia continued.
Alicia also referred to Kory Marchisotto, President of Keys Soulcare and Chief Marketing Officer of e.l.f. Beauty, whom she dubbed the "translator" of her vision for Keys Soulcare. Much like Alicia, Kory highlighted the importance of the collection's goal towards giving the consumer the "permission" to glow and define their own look. Kory said, "Keys opens doors and Make You is another beautiful door we get to walk through together. Make You is a collection of color-skin care hybrids that invite you to create your own beauty standard. Go ahead, put yourself first, choose your own path and give yourself permission to glow!"
Feedback on Make You has been nothing short of glowing, Kory said.
"The response has been soul-lifting both to the new offerings as well as to Alicia's personal journey with color. Her evolution, openness, and honesty really resonate with people."
All Keys Soulcare items are available at keyssoulcare.com and ulta.com.