Alpyn Beauty has landed several new distribution deals, beginning October 2019.
The Jackson Hole, Wyoming-based skin care company will begin selling online at Saks Fifth Avenue, and in select Bluemercury stores, as well as on the retailer's website. The brand currently has retail presence at Credo, Goop, Shen Beauty, Aillea and QVC. The partnership with Bluemercury will allow them to enter new markets as they continue their rapid growth.
Both retailers, said Alyn Beauty founder Kendra Kolb Butler, have best-in-class clean beauty portfolios.
The addition of both retailers in combination with other opportunities in the pipeline will look to more than triple the company's sales in the next 12 months. In 2018, the company's first year in business, sales exceeded $1 million.
Kendra, who was formerly SVP of Marketing and Communications at Dr. Dennis Gross Skincare before packing up her family from New York City in 2015 and moving to Jackson Hole, was naturally led back to beauty after just six months of living in the mountains.
"There weren't any beauty stores here, so I opened up my own," she said. After several months of operating her store, Alpyn Beauty Bar,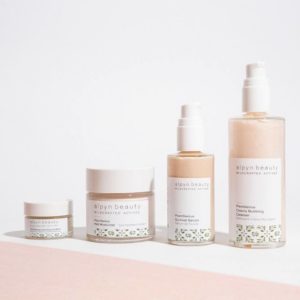 which was stocked with her favorite brands she loved as a consumer and fellow beauty marketer, Kendra learned that they weren't meeting the needs of mountain skin, which gets very dry. Kendra began wildcrafting local plants and formulating her own potions. Soon she was testing out her creams with editors, retailers and her neighbors, all of whom became fast fans.
Kendra soon opened a second store in nearby Wilson. She credits her company's success with simply doing what others are not.
"Wildcrafting is the future of clean beauty—using what nature has to offer as a remedy. I don't care about what's trending from ingredient manufacturers. I care about what mother nature is producing. As a merchant, natural and clean products were all starting to look the same. Alpyn Beauty is about going into nature and finding new actives to put into formulas to improve the physiology of skin with safe ingredients in a sustainable way."
The company is currently privately funded, with Kendra owning a majority stake.