Andrew Stanleick, BeautyHealth's new CEO, is focused on accelerating growth of its flagship brand, HydraFacial, and adding strategic brands to its beauty/health portfolio. Andrew has held senior roles at Coty, having led the Consumer Beauty business in Europe, and most recently as Executive Vice President, Americas, where he oversaw Coty's Luxury and Consumer brands, and also served as the global CEO for the joint venture with Kylie Jenner Beauty and the Kim Kardashian West business for Coty. Prior to Coty, Andrew was at Coach, as President and CEO of Europe and Southeast Asia-Pacific. He began his career at Unilever and L'Oréal. In this interview, Andrew talks to CEW Beauty News about his vision for BeautyHealth, the benefits of non-invasive HydraFacials, and why the convergence of beauty and health is the future.
Andrew Stanleick has taken over the reins at The Beauty Health Co. at a time when the company is poised to become a connected platform of brands and services sitting at the convergence of beauty and health. BeautyHealth's aim is to become "not a house of brands, but a branded house," said Andrew, who is four weeks into the role as President and Chief Executive Officer.
"BeautyHealth sits in an amazing space. Our flagship brand, HydraFacial, is non-invasive, it's wellness and self-care, traditional skin care and beauty—huge categories. We have a product which has 40 patents, 20 pending. It's hydro-microdermabrasion, and we have just made a leap with a fully connected digital system. We are very excited. And if we can plug in complimentary brands and services, we have a big vision for BeautyHealth. That's why I left a pretty great job."
The job that Andrew left was a high-profile role at Coty as Executive Vice President, Americas, where he reformulated CoverGirl to be cruelty-free, and oversaw the launch of the brand's Clean Fresh Skincare, a clean, vegan lineup. Andrew was also Global CEO of Coty's joint venture with Kylie Jenner's Kylie Cosmetics and Kim Kardashian West's KKW Beauty brand. At BeautyHealth, he will be applying his beauty and retail expertise, and building the company's platform and community, especially in Asia where he lived for seven years.
"I've been beauty all of my life, but the tailwinds are just really fantastic. When you look at the growth globally of skin care, wellness and self-care, all are forecast to grow, even accelerated post-COVID. More and more consumers are conscious about their skin and their scalp. We see that in all of the data, not just in the U.S., but globally, and especially in Asia," he said.
Selling a Beauty Experience, not a Medical Device
The entry-level, 30-minute HydraFacial costs $150, but it can run up to $800 with additional serums and boosters. "There is no downtime, it gives you a wonderful glow, and a boost of confidence. Our current user base is men and women of all ages and races," said Andrew.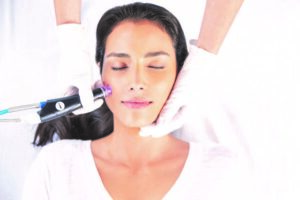 He likened HydraFacial to a Keurig coffee machine. "We make our own consumables, serums and boosters. In the past, we partnered with Murad and with SkinCeuticals, which we still do today," he said. "We can partner with any brand or celebrity who wants to work with us. We can plug that into our system. That's the wonderful piece of the technology, which gives another exponential opportunity for growth. It's a great platform technology and having this ability to plug in other brands is added benefit for consumers."
HydraFacial— a patented vortex-fusion delivery system that uses water and serums to exfoliate, extract, and hydrate skin—is currently available in 90 countries with the bulk of the business in the U.S. "We are quite nascent outside of the U.S. It's all opportunity," said Andrew. "Sixty percent of HydraFacial is done through the medical practitioner channel. Forty percent is done through spas, hotels, gyms such as Equinox, and retailers including Ulta Beauty, Sephora, Selfridges and Harrods. This piece is growing very quickly. And, we are obviously globalizing the service. Our objective is to be very accessible," he said.
HydraFacial currently has 20,000 points of distribution globally. "The potential is really exponential. In the medical channel alone in the U.S., we estimate that a brand like Botox has probably 40,000 points of distribution. So, with HydraFacial, we have a huge amount to go."
Andrew emphasized the non-invasive aspect of the service, with no needles or FDA approval required. "Since the pandemic, there's been a real shift in consumer behavior. I witnessed this in my last role at Coty. Consumers are spending a lot more attention on self-care and skin care. We see these trends continuing. We've had so many needles over the last few years, and I think people are a lot more conscious about having invasive products. We are not injecting anyone. It can be done in the middle of Sephora. It works really well," he said.
Andrew noted that as retailers emerge from the pandemic, non-invasive services such as HydraFacial entice consumers back in-store, especially older millennials.
BeautyHealth went public in May 2021. The company achieved net sales of $260.1 million in 2021, an increase of 118 percent in 2020. The base technology was created by Edge Systems in Long Beach, California. "Three years ago, we changed the name to HydraFacial, when it was owned by private equity. Then the company became BeautyHealth when it went public. The original founders got out some years ago, but we took the baton, and developed and globalized their system. At the time, it was a relatively small company, U.S.-focused, and mainly in the medical channel. Brent Saunders, the Executive Chairman, and the team, who took the company public saw the global potential. What I tell the team is that we're not selling a medical device, we are selling a beauty experience," said Andrew.
Building a Portfolio of Beauty
Most recently, BeautyHealth launched a new digital system, HydraFacial Syndeo, which is an upgraded technology system with data collection capabilities to allow for a personalized and connected experience. The tech also supplies the company with key learnings and insights, enabling it to analyze consumer behavior, and help providers understand client needs. Next up, BeautyHealth will be relaunching its Keravive scalp treatment, which Andrew likened to a HydraFacial for the scalp, following an untimely launch just before the onset of the pandemic in February 2020.
The company is also eyeing potential brands.
"We have raised capital on our balance sheet to be ready when we find the right M&A target which we feel is the right complementary fit for BeautyHealth to build out our connected platform. We have very big ambitions for this company. We want to be a world leader in beauty health," he said.
Having grown up with three sisters, Andrew remarked that he was destined to make a career in either beauty or fashion. "Beauty is not just about appearance. It's really how you feel on the inside, as well as the outside. I had a five-year break at Tapestry (the parent company whose portfolio includes Coach, Kate Spade New York, and Stuart Weitzman), but I came back [to beauty] because there is something really special about this industry."