Founder and CEO Anisa Telwar Kaicker always wanted to create the best cosmetic brushes for makeup and skin care by blending traditional Asian brush artistry with responsible manufacturing practices. Thirty years later, her company, Anisa International, is a thriving global business with full ownership of state-of-the-art manufacturing facilities in China founded on social and environmental responsibility. Here, Anisa shares with CEW her lessons in entrepreneurship, including how she created a global company culture and succeeded in a traditionally male-dominated business, all while staying true to her values.
When Anisa Telwar Kaicker founded Anisa International 30 years ago, she dreamed of creating a global industry leader in cosmetic brush design and manufacturing. Today, the company bearing her name has fueled the development of more than 80 patented and patent-pending beauty brushes. It has also built a state-of-the-art manufacturing facility in Jinghai, a LEED-certified facility in Tianjin, China, has collaborated with some of the biggest beauty brands in the industry, and has full control over its supply chain.
Headquartered in Atlanta, Anisa International ships more than 20 million brushes each year to a broad range of customers. The company employs more than 400 people in China, and more than 40 people in the US.
"The trajectory has been long and wide, and very, very deep. I cannot believe where we are today. And I think: Who are we going to become? I feel like we are just getting started," said Anisa, whose company also offers adjacency product categories including skin care tools such as facial rollers, cosmetic bags, eyelashes, and brush cleaners.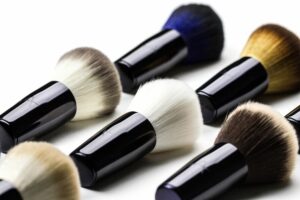 The Start of a Journey
The story of Anisa's career trajectory is a tale of the rise and dramatic fall of a high-functioning business, and the comeback of a young and highly determined individual. At age 17, Anisa began working in her mother's import-export business. Seven years later, practically overnight, the business was abruptly dissolved. "I thought I was pretty much set for life and that I would be working with my mother forever. We were exporting commodity-type products to the Middle East and, specifically, Iraq. But when the first Gulf War happened, it literally devastated our business. One minute, my mother had $100 million in contracts, the next we were embargoed (by the U.S.). The way my mother had set up the business was not very diversified," said Anisa.
The experience was traumatizing, but Anisa forged on. "At 24, I had no formal education, no idea what kind of job I could get, but I knew how to import product," she said. Anisa approached a family contact based in Korea who manufactured cosmetic brushes, and she convinced him to enter into business with her. Anisa marketed and distributed the products stateside, while he was responsible for manufacturing in Asia.
Full Ownership in Manufacturing
Today, the company's facilities in Tianjin and Jinghai are a source of great pride to Anisa as they reflect her core values: creating ethically-made products, and engaging in cleaner, safer and responsible manufacturing. In 2016, Anisa International launched a naturals collection made with cruelty-free fibers. By 2017, the company had eliminated using animal fibers in all of its products. "Being in China for the last 20 years has not been an easy road, but I like that. I control the products that I make. I know where they come from," said Anisa.
Building a Global Culture
Right from the start, Anisa was determined to create a harmonious global culture by prioritizing transparency, honesty, cultural connection and communication. How has she achieved this? "By showing up, keeping my word, giving my Chinese employees a place to work that is clean and decent and respectful, and paying them what they deserve. It's not just about the American team. It's about all of us. I created rewards that were similar. I do everything I can for my global team to understand that we're in this together. We are challenged together, we are rewarded together," said Anisa.
Anisa cited the company's first global town hall, held in early September, whose aim was to "create connection through the humanness of us." As part of the event, the company's American and Chinese teams shared videos of their respective cultures, including shared areas of interest. "Connection is everything. It's honesty, respect, transparency. Finding those linking connections is very important," she said.
In 2019, Anisa launched ANISA Beauty, a direct-to-consumer brand. Every product produced is PETA-certified, cruelty-free, and sustainably made. "ANISA Beauty has a lot of juice. It will create this innovation hub and marketing intelligence so that I can speak directly to the consumer. We will do what we do even better with our manufacturing, with new materials, and new designs. I want to make a difference to the everyday beauty and skin care user, and I will do it in a way that is the most sustainable."
Succeeding in a Man's World
As a woman in a traditionally male-dominated industry, Anisa felt even greater pressure to prove herself over the years (despite her innate advantage, as a woman, that arose naturally from using the products she produced). "I was tough as nails," she said. "Then, in my forties, I realized I can be myself and that I didn't need to be masculine in my approach. Now, I live more in my feminine energy, which doesn't mean that I'm not as strong. At a young age, I was dead-set on making my own way because I understood that if I had to wait, it was never going to happen. My goal today is to create opportunities for people. I mentor a lot of women."
In 2018, Anisa International was recognized as one of America's Best Small Companies that is committed to greatness over fast growth, according to Forbes, in partnership with the Small Giants Community.
Anisa also views her philanthropic endeavors as a non-negotiable piece of the puzzle as a business leader. "It is our job as good stewards to make sure that we are giving back. It makes work life so much more valuable," she said. Anisa cited the LifeLine Animal Project as being especially close to her heart.
Thriving in Adversity
When surveying the past 30 years, Anisa opined that "the adversity of things" has been her key lesson in life. "My mother and I went through a lot of tough times, and I learned tenacity very early on. I learned that endurance is part of the game. Anytime you're building, there are good years, there are bad years. It's not a direct path. Some people make it look like it is, but it's not." COVID, in particular, brought a fresh set of challenges. "At the time, I did not know if it was going to be like a Gulf War situation, and I had a bit of PTSD," she said.
As Anisa looks to the future, her aim is to keep redefining the cosmetic brush category to meet the changing needs of consumers. "Our goal is to ensure that we align with makeup and skincare. We do not make formula, but we need to ensure that we stay on trend, and that the materials we use are the most cleanly made, featuring the most innovative designs, and that they are long-lasting. This is what I've done for thirty years. It's my gig. And we need to keep doing it better than anybody," she said.