Not many skin care start-ups can say a global lockdown, auto-immune disease diagnosis and successful psychedelic-medicine treatment helped define their vision, mission, and brand DNA. Yet this is the case with AP Chem.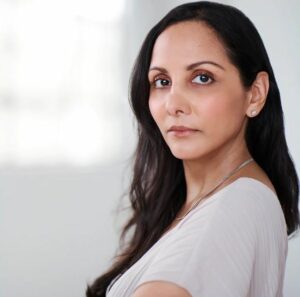 AP Chem is the brainchild of beauty industry veteran Sandra Statz and Harvard and Columbia-trained dermatologist Dr. Sherwin Parikh. Sandra brings experience in marketing and consulting for luxury, masstige and indie brands, and Dr. Parikh is the founder of New York City's Tribeca Skin Center. As a result, AP Chem is decidedly science and research-driven with anything but a clinical, sterile feel. Sandra recalled one of their first meetings after deciding to collaborate, when Dr. Parikh asked, "How can we make this brand fun?"
Created to promote age-deceleration for those in their 30s, 40s and 50s, "We saw a distinct opportunity to provide Xennial and Gen X customers with proven, effective ingredients and luxurious formulas at a reasonable price," Dr. Parikh explained. The self-funded brand launched direct-to-consumer with the MicroDose Magical Moisturizer in September and plans include introducing a serum and eye cream in early 2023.
AP Chem subscribes to the philosophy that inflammation plays a significant role in most skin care concerns, as well as overall health (including the auto-immune disease Sandra was diagnosed with in 2018.) To this end, Sandra was insistent that formulas would address inflammation, whether irritation caused by allergies, stress or external aggressors. The duo decided on baicalin as the brand's hero ingredient because of its proven soothing, barrier-strengthening and anti-oxidative benefits.
The brand's mix of traditional and "alt-pharma" ingredients includes familiar names such as hyaluronic acid and shea butter alongside a KETAmino Acid Complex of naturally occurring proteins, neuropeptides, and amino acids. Also unique to the brand is adaptoGEN8, an adaptogen-rich blend of mushroom extracts that aim to provide calming, brightening, hydrating, antioxidant, and protective benefits for the skin. This approach to actives mirrors their desire to raise awareness about all medical treatment options, including alternative and traditional therapies, or a combination of the two.
AP Chem does more than allude to the therapeutic benefits of psychoactive microdosing. Sandra explored a wide range of classic and traditional treatments for her chronic disease, before ultimately finding relief through psychedelic medicine. The brand has partnered with The Ketamine Fund, a non-profit organization that provides free ketamine treatment to veterans suffering from PTSD, as part of their mission to promote self-advocacy.
AP Chem has also assembled a panel of Alt-Pharma experts that includes a Harvard medical professor, energy-medicine doctor, and representatives from the realms of cannabis research and psychedelic medicine. According to Sandra, "The goal of this advisory board is to educate people about the various ways to treat mental and physical health. We are not prescribing these alternative therapies and we are not saying they are for everyone." The brand will, however, leverage these experts by featuring them prominently on social media to educate the public about lesser-known, untraditional treatment options that have shown promise for mental and physical health.
The brand plans to maintain its direct-to-consumer focus for the short-term to establish an educational platform for the science behind the formulas. "We want to be able to guide the narrative, and we can do that in a more authentic way on our own versus working with a retailer," Sandra shared. "We also want to concentrate on building the community that Sherwin and I always envisioned. We're always going to be transparent, and we'll answer any questions about the products, ingredients or even my personal health journey and experience with psychedelic medicine."
Part of establishing this community is ensuring that AP Chem visually reflects its customer base. Sandra revealed, "We will not use models who are younger than our customers, or use images of unattainable bodies or faces. We want to show diversity in terms of skin tone, skin types, gender and sexual identity as well. We've actually been using our friends and family. They're they love us and what we stand for. And, of course, they love the products."