As Juneteenth approaches, reflections are made on the global Black Lives Matter movements following the murder of George Floyd in May 2020 that led to a series of changes in the beauty industry. Over the past two years, thanks to campaigns such as Pull Up For Change, started by CEW's Catalyst for Change Honoree Sharon Chuter, and 15 Percent Pledge, founded by Aurora James, shifts have been made to both how companies are operated and staffed, and the assortment of products retailers sell. To get a pulse on how Black female founders think beauty has progressed, CEW Beauty News talked to several executives on their brands' journeys.
Tisha Thompson, LYS Beauty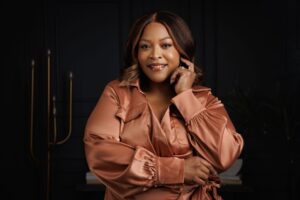 Tisha Thompson, Founder and CEO of LYS Beauty, said she faced many challenges launching her brand during the height of the Black Lives Matter movement in 2020, but she was also grateful to the public's positive response to her brand.
"In 2020, LYS Beauty was in its infancy stage. And I have been in true listen-and-learning mode ever since. Launching a brand during racial tension and political unrest presented several challenges, but consumers were receptive to our mission, and the overall quality of our product offering. That year proved that when you lead with inclusion, good intentions, and a solutions-oriented approach, there's a place in the market for you. The biggest shift for our team has been capturing any feedback given at a brand or industry level and finding ways to address it in our own unique way," said Tisha.
LYS Beauty was the first Black-owned brand to enter Sephora's Clean Color Cosmetics category in February 2021.
Danessa Myricks, Founder and CEO of Danessa Myricks Beauty
Danessa Myricks, Founder and CEO of Danessa Myricks Beauty, said that while her brand did benefit from increased exposure due to the events of 2020, interest and growth are largely due to innovation. Black-owned brands have received pushback with claims that they're only getting shelf space solely due to the owner's ethnicity, she said.
"We launched in Sephora in 2020, not as part of the 15 Percent Pledge. At that point 2020 was one of the biggest years that we've had as a brand…I think we did benefit from the awareness that was given by Pull Up For Change and all of those things, I can't deny that more eyes were on the brand as a result. [But] we continue to be here not just because we are a Black-owned brand, but because we offer great products and customers love what we create. I think it's important to note that because I often hear there are unfair opportunities being given. Like, people who don't deserve it and are only being given an opportunity because they're Black. I think that's a myth that needs to be dispelled because there's no one who is going to be able to sit in a seat, as a beauty editor or as a CEO or at any level in a job, and not have the capacity to actually do the job…Even in terms of brands that have now a place on the shelf in a store, they're in that store because they have really beautiful products and maybe they didn't have the opportunity to put these amazing, beautiful products in the store before. But it doesn't mean that there are subpar products with a Black or Brown face behind them that are just being allowed in the store just because. I haven't seen one brand yet that has launched in any outlet that didn't deserve to be there."
On celebrating Juneteenth, Danessa said, "There are so many holidays that are happening in a calendar year, and this is not one that's often celebrated. On every other holiday, whether it be a religious holiday or national holiday, we always have special sales and promotions and Juneteenth won't be any different. We celebrate it because it is an important day and we have always celebrated it and will continue to do so."
Kim Roxie, Founder and CEO, Lamik Beauty
Lamik Beauty's Kim Roxie acknowledges there are more companies making statements of support towards Black-owned businesses now than in the past, but there's room for improvement regarding providing financial and long-term business guidance for Black entrepreneurs. Kim thinks it simply isn't enough to simply give a brand money and place them on a shelf.
One of the biggest motivators she has in building her business is making sure her daughter doesn't experience the same lack of representation she has. Including what beauty represents.
"When you repeatedly say only [white-centered beauty standards] are pretty, and [the models in ads] don't have a wide nose or full lips or the features that I possess, that's an issue. The beauty industry needs to be better regarding having [BIPOC] people at the table, hiring [BIPOC] people in higher-level positions, not just a one-and-only situation. Have a range of people of diverse backgrounds at the table making decisions…If the cosmetic industry doesn't change or keep up to speed, then it won't be relevant for the next generation."
In August 2021, Lamik Beauty was the first Black-owned, clean beauty brand to launch on Ulta.com.
For Juneteenth, lamikbeauty.com will be launching a 20 percent off promotion sitewide.
Cashmere Nicole, Founder and CEO of Beauty Bakerie
Like Kim, Cashmere Nicole, Founder and CEO of Beauty Bakerie, is also concerned for the beauty industry's diversity for the next generation. She thinks of her daughter's confidence and beauty as the main motivators for growing her brand, which launched in 2011, and educating the public about supporting the Black community and Black-owned businesses.
Cashmere expressed disappointment in some brands that were initially vocal during the 2020 Black Lives Matter movement but didn't follow up with support towards Black entrepreneurs.
"Many of the brands that said that they would be able to be diverse and really push for change in the industry have kind of regressed and have gone back to previous ways. You can scroll their feed and maybe feel forgotten about already…When I go to a brand's page and I can scroll for six months and not see anyone that looks like me, I think the signal that you're sending to me is that I'm not invited, and I would not be protected in this space," Cashmere said.
In honor of Juneteenth, Beauty Bakerie will host product giveaways with several Black-owned brands, featuring a spotlight on each beauty brand's founder (Dorian Morris from Undefined Beauty, Janell Stephens from Camille Rose Naturals, Melissa Butler from The Lip Bar, and K.J. Miller from Mented), and helping to educate about the history of Juneteenth.
"Juneteenth is a day of honoring my ancestors and my community's ancestors. Those who were strong and fought for their lives are the reason why I am here right now and why I feel so strong. We are going to honor them and educate our community," said Cashmere.