Canadian brand Attitude Living launches the first collection of the world's first completely plastic-free and waterless mineral sun care line, available now in the U.S. and Canada. Two years in the making, the products are lightweight, clear, and ocean-friendly mineral sun sticks.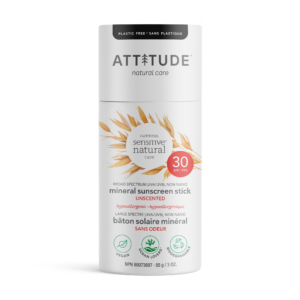 "We're so proud and excited because to be able to do a sunscreen that is waterless in cardboard and works very well that's not whitening and with good ingredients was a huge challenge for us," said Julie Ramos, Vice President of Marketing, Attitude Living. "This is something we developed ourselves—with our own team, lab, and factory—so we're able to really control the process from A to Z and to invent a new process to be able to do these kinds of products. We needed to do everything in-house because it's so complicated."
Attitude Living went through 200 formulas before landing on the right one. They only used zinc oxide as the sun protectant and all products are EWG verified, which posed formulation hurdles. "Another challenge [was creating] a waterless formula because it has to be in a cardboard stick, so you don't want it to melt or leak," Julie said. "We also had to invent, with an engineer, a new line of production to produce all these kinds of products. We had to be creative in all the different parts of the process."
The new sun care collection fits into Attitude Living's philosophy of creating only the cleanest products, which is at the heart of the company. Julia hopes this category innovation will help further their goal to inspire people to live healthier, more sustainable lifestyles. As a larger part of its mission, Attitude Living educates consumers about clean ingredients and plants trees for every product sold. "This year, we will plant two million trees," Julie said. "We are always asking, 'How can we go further?'" Two years ago, they eliminated plastic, starting with refills and moving on to sunscreen in a stick.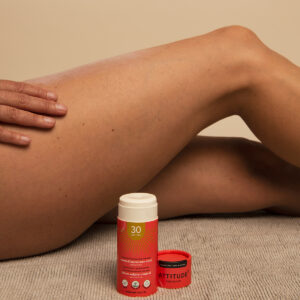 Julie hopes other beauty companies will follow Attitude Living's lead. "I would like the beauty industry to do the same as us to be creative to push the standard to reinvent beauty and thinking how can we do this better?" she said. "If everybody is changing at the same time, we will have a better planet. If every company planted trees, this would be amazing; the planet will be reforested in two years. Who is going to change? It's not the government, it will be the companies. The power of the future is in the hands of the companies to change and the consumer will change with them. We hope to inspire everybody and we're so passionate about what we do."
Despite their lofty environmental goals, Attitude Living never compromises on product, which is why they went through so many iterations of the sun care line. It was crucial for it to feel light on the skin without any greasiness and easy to apply, without leaving a white cast.
Everything is biodegradable, from the formula to the packaging. "The product is clean from the inside out—even the ink on the tube is biodegradable and the cardboard is FSC, so it comes from a responsible forest," Julie said. "We tried to cover the full circle to have the most minimal possible impact on the planet."