Although consumers have begun returning to salons, brands are offering innovative products for the DIY enthusiast and those looking to stretch out time in between visits, as seen with Dark & Lovely's Blowout collection and Pureology's Top Coat + Tone. Leave-in conditioners and scalp care products are also popular in hair care this month. In makeup, eyes remain a focus with Tula's 24-7 Power Swipe Hydrating Day & Night Treatment Eye Balm, twenty/twenty's beauty Double Duty Precision Liner, Cover FX's Power Flex Mascara, Beautycounter's Think Big All-In-One Mascara, Lyda Beauty's Twisted Stick and Bausch + Lomb's two new launches.  In skin care, Saint Jane, Odele and frankbody take on the competitive moisturizer category, while Algenist taps an unlikely source as the hero ingredient for its vitamin C serum. Finally, Touchland has teamed up with fragrance house, Givaudan, to elevate its hand sanitizer scents.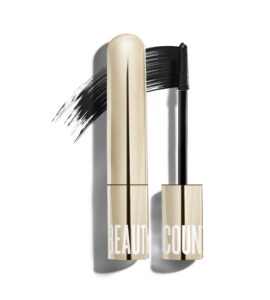 Beautycounter Think Big All-in-One Mascara
Waitlist worthy: This mascara is designed to lift, lengthen and volumize while supporting stronger, fuller healthier lashes with a tripeptide technology. It's formulated with true black pigment (as opposed to carbon black) to give lashes a dramatically rich black color. About 31 percent of the component is made from PCR plastic.
Marketing plan: "We're championing the launch of our new Think Big All-in-One Mascara with an integrated campaign called 'Generation Beautycounter.' The campaign brings together four generations of diverse women, all with different lashes and different expectations, to demonstrate how our new Think Big All-in-One Mascara is the all-in-one product that a broad range of customer needs. The 360-campaign comes to life full-funnel, including CTV and streaming, OOH, live shopping, influencers, social media (including a paid push on TikTok), earned media, owned channels and much more," said Blair Lawson, Chief Merchandising and Marketing Officer at Beautycounter.
Availability: August 3 on beautycounter.com
Price: $27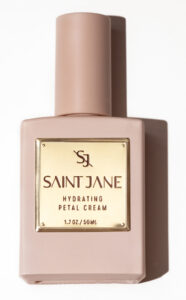 Saint Jane Hydrating Petal Cream
Waitlist worthy: "Flowers were my muse for Hydrating Petal Cream," explained Casey Georgeson, CEO and Founder, Saint Jane. "Hydration is as essential for a flower as it is for our skin, so I wanted to mimic how flowers and hydration work together. Too much hydration and a flower droops, too little and it dehydrates. It took me over a year to get the formula just right to find that balance and the combination of flowers that make the formula so gorgeous and efficacious. The bouquet of 10 florals in this cream all have unique properties. Hibiscus is a source of AHA and encourages cell turnover. Mimosa is known to firm and smooth the skin by boosting collagen production and Daisy has brightening benefits and aids in the prevention of dark spots."
Marketing plan: The brand hosted an intimate editor event at The Hotel Bel-Air in Los Angeles to preview Hydrating Petal Cream. There will also be a strategic influencer campaign that focuses on how to incorporate Hydrating Petal Cream in skin care routines and the benefits. Saint Jane is planning outreach and product seeding to beauty and wellness editors along with tastemakers, including the Sephora Squad. Additionally, limited edition gifting opportunities will be available and a digital advertising campaign will be launched.
Availability: August 10 on sephora.com
Price: $68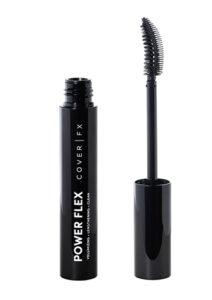 Cover FX Power Flex Mascara
Waitlist worthy: A clean mascara that includes lash-conditioning waxes infused with moringa oil to fan out lashes for maximum length while adhering polymers aim to amplify length and volume, holding lashes in place for a long-lasting lifted effect. "The vegan formula is enhanced by an innovative dual-action hybrid mascara brush," said Nathalie Manivong, VP of Omni-Channel Marketing, Cover FX. "The double-rowed silicone comb deposits formula at the base creating volume, while the fiber brush combs through lashes to provide length, volume and lift from root to tip."
Marketing plan: "The marketing plan will include highlighting the ingredient story and benefits through clear, compelling, consumer-tested visuals and copy. "We blind-tested our mascara and the results speak for themselves," says Nathalie. "100% of consumers who tried the mascara strongly agreed that the formula volumizes, lengthens, is non-irritating and that the brush delivers visible thickness and volume."
Availability: Available online on August 5 at CoverFX.com; online September 20 at Ulta Beauty
Price: $24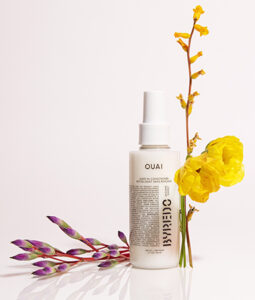 Ouai x Byredo Leave In Conditioner Mojave Ghost
Waitlist worthy: A conditioner meant to detangle, hydrate, fight frizz and protect hair from heat damage (up to 450 degrees). The multi-tasking product is fragranced with Byredo's iconic Mojave Ghost, a woody composition inspired by the soulful beauty of the Mojave Desert.
Marketing plan: "Our first collaboration with Byredo for Mojave Ghost Super Dry Shampoo sold out on our site in a matter of days, our community was obsessed so working with Byredo again was a no-brainer," explained Hannah Beal, Vice President of Brand Marketing, Ouai.  "This time around we chose to combine the same, iconic scent with our cult favorite Leave In Conditioner, a product that works well for all hair types. Expanding on our first collaboration's marketing efforts, our goal was to meld together a story of scent and product through bold, captivating imagery and word play – it wouldn't be a Ouai launch without a few puns. Our marketing efforts span North America and Europe, as Byredo is based overseas. We also teased the launch on social and put out a waitlist in the days leading up to build hype. Our communities immediately flocked to the waitlist, so we already know this collab won't last long."
Availability: August 3 exclusively at Sephora (US and Canada) and Cult Beauty (Europe)
Price: $28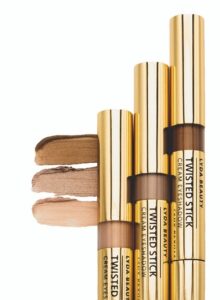 Lyda Beauty Twisted Stick
Waitlist worthy: Twisted Stick dispenses a vegan, non-toxic hue onto a built-in-brush for easy swipe and go application. Once dry, the blendable creamy eyeshadow is designed to not smudge or transfer and last all day. The eyeshadows are available in three high pigmented colors: Sea Pearl, 1001 Nights and Desert Sunset. "For added measure, our vegan (non-GMO) cream eyeshadow formula is in the process of undergoing a stringent, third party quality audit. We believe it's important to be able to have something to show for the big claims we make, as our goal is to gain your full confidence. This way we can also ensure that our formulations are indeed compliant with our 100% Super Clean Beauty standard," said Lyda Djarar Fischer, CEO, Lyda Beauty.
Marketing plan: "Recognizing that no matter how unique and wholesome our products are, consumers will only appreciate them at the level of their understanding of what clean beauty means to us. This inspired the team to take an educational approach to the Twisted Stick's activation," said Robijn Fischer, COO, Lyda Beauty. "Months before the launch, we began to create bite-size educational bits of content to share across all our social media platforms, touching on what clean beauty means to Lyda Beauty. We have also contacted everyone in our network with a teaser email, where we had them agree to accept our next product without any knowledge of it, then curated beautiful custom gift boxes for each. We are very grateful to have an amazing group of women who really believe, love and support Lyda Beauty. To further fuel curiosity, we suggested they film their unboxing experience as we were sure they would love the mystery item. To top this off, our marketing team has put together some beautiful imagery for ads, and has also partnered up with an affiliate program that operates more like a sales department. We couldn't be more excited for the launch of the Twisted Stick."
Availability: August 12 at lydabeauty.com
Price: $28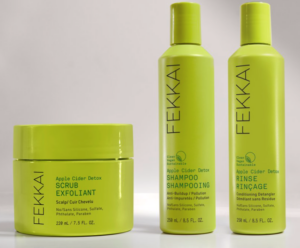 Fekkai Apple Cider Detox Collection
Waitlist worthy: This collection includes a three-step regimen of a scrub, shampoo and rinse condition detangler. Known for its antibacterial and antifungal properties, the apple cider vinegar and ginger extract aim to prevent bacteria buildup on the scalp and while soothing and restoring.
Marketing plan: "The Apple Cider Detox collection is one that I've been very passionate about," explained Molly Sloat, Chief Brand Officer, Fekkai. "The launch campaign leans into Fekkai's key brand pillars such as the collection's natural ingredients and formula efficacy, while also leaning into the brand's evolving sustainability mission. This will be demonstrated via a dynamic creative campaign, inclusive of beautiful portraits of models and ingredients featured in the range. These images will live at retail displays across the national fleet of Ulta Beauty stores and its ecommerce and throughout our DTC website and social channels. The images were shot across several landmark New York state cities that celebrate where the brand was born. We used the great outdoors as the inspiration to underscore the product benefits that are powered by ingredients such as apple cider vinegar, ginger extract, pomegranate seed oil and more. Our launch plan includes an exclusive partnership with Ulta Beauty to carry the entire line. Outside of retail and our own DTC channels, we are tapping influencers across Instagram, and for the first time TikTok, to drive immediate awareness to the collection and its unique benefits. Our influencer strategy is to tap influencers who are true loyalists of the Fekkai brand, helping to generate genuine and authentic conversations around the new Apple Cider Detox collection."
Availability: August 3 on Ulta Beauty and Fekkai.com
Price: Apple Cider Detox Scrub ($30), Shampoo ($20) and Rinse Conditioning Detangler ($25).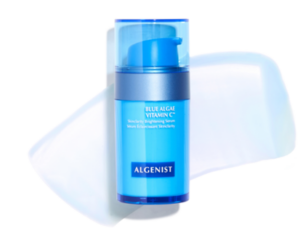 Algenist Blue Algae Vitamin C Skinclarity Brightening Serum
Waitlist worthy: The serum features naturally-sourced, regeneratively-produced spirulina. "We know that visible discoloration can start as early as our 20s. It appears in all skin types and skin tones, but especially in melanin-rich skin which can experience additional concerns such as sensitivity, irritation or the product simply doesn't work," said Rose Fernandez, CEO, Algenist. "Most consumers associate vitamin C with oranges, but ours is from a bold blue algae, spirulina and it outperforms. Skinclarity Brightening Serum is clinically shown to restore skin clarity and improve skin texture in 10 days."
Marketing plan: "Our headline is orange vitamin C is out, blue C is in. We want to drive home that we will deliver on our promise of 10 Day results. Our clinical study and before and afters are strong. These assets will be featured in our Real Skin is In campaign where we have real people sharing their experience starting on day 1 through day 10. We are so confident in the results that can be achieved on all skin types and skin tones, including melanin rich skin, that this campaign is unfiltered. The marketing plan includes UGC from our creator community across IG and TikTok, an affiliate influencer program, publisher and digital media advertising, and sampling programs," said Rose.
Availability: July 22 on Algenist.com, July 27 on Sephora.com and August 6 in-store at Sephora.
Price: $65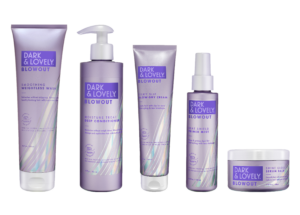 Dark & Lovely Blowout collection
Waitlist worthy: Blowout is designed with a hair defense system that aims to keep blowouts smooth, soft and shiny for up to seven days. The collection includes Smoothing Weightless Wash, Moisture Treat Deep Conditioner, Silky Slip Blow-Dry Cream, Heat Shield Hair Primer and Shine Gloss Serum Balm.
Marketing plan: "Blowout is designed to help prevent damage and stop reversion in its tracks, for a life-proof blowout that lasts," said Kristen Blandon, Vice President of Marketing at SoftSheen-Carson. "Across all touchpoints, we are demonstrating the superiority of the Dark & Lovely Blowout innovation. We are visualizing the transformative benefits through branded content, influencers and content creators across platforms such as TikTok, Pinterest and Instagram. Kendall Dorsey, our celebrity expert hair stylist, will also help us inspire the consumer by creating Blowout looks for them to try, and educating them on how to create the perfect Blowout that lasts. Lastly, we will entice consumers to try the range with display media, premium sampling and disruptive presence in-store."
Availability: August 4, exclusively at Walmart
Price: $6.97 each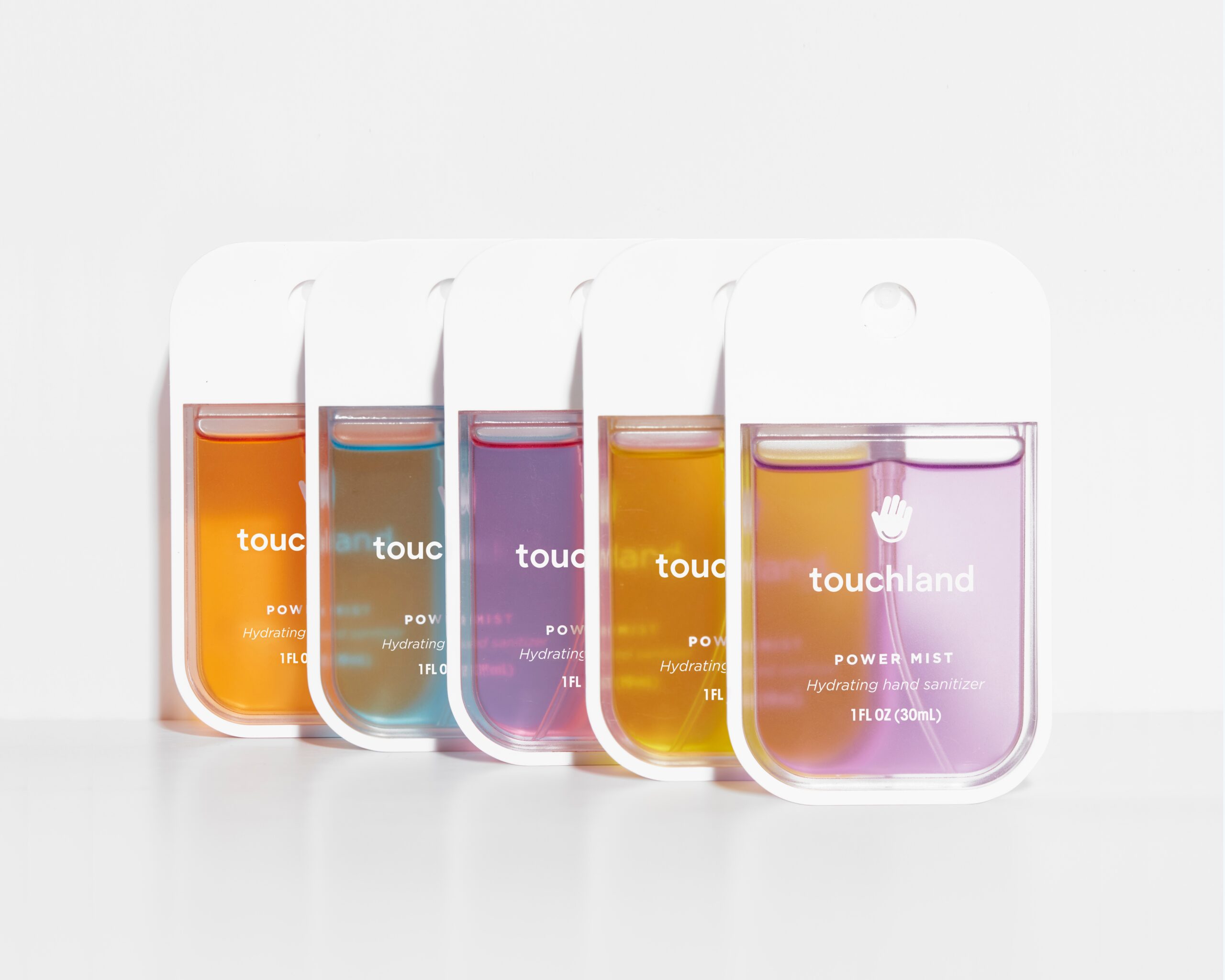 Touchland Power Mist Moisturizing Hand Sanitizers
Waitlist worthy: This relaunched collection features elevated versions of its eight original scents, plus five all-new scents (thanks to fragrance house Givaudan). The pocket-friendly sanitizer is designed to eliminate 99.9% of harmful germs and contains 500+ spritzes.
Marketing plan: "We've been in the hand sanitizer game for a decade and can safely say that last year, the world saw the greatest widespread cultural adoption of hand sanitizer ever – but it came from a place of fear, rather than a place of empowerment and fun," said Andrea Lisbona, CEO and Founder, Touchland. "To market our relaunch and new scent introduction (which was developed exclusively with French fragrance house Givaudan), we're releasing our very first campaign centered around making hand sanitizer sexy and showing people that they can still live life sensorily, passionately, and fearlessly, without being reckless and 'touch like in the before.' The multi-channel campaign will run across social media like Instagram, TikTok and YouTube, OOH channels, and we will also be organizing IRL activations with influencers. We've also been product seeding to relevant editors, micro and macro influencers, and VIPs in support of the launch."
Availability: August 4 at Ulta Beauty, Target, Touchland.com, Amazon, Revolve and more
Price: $9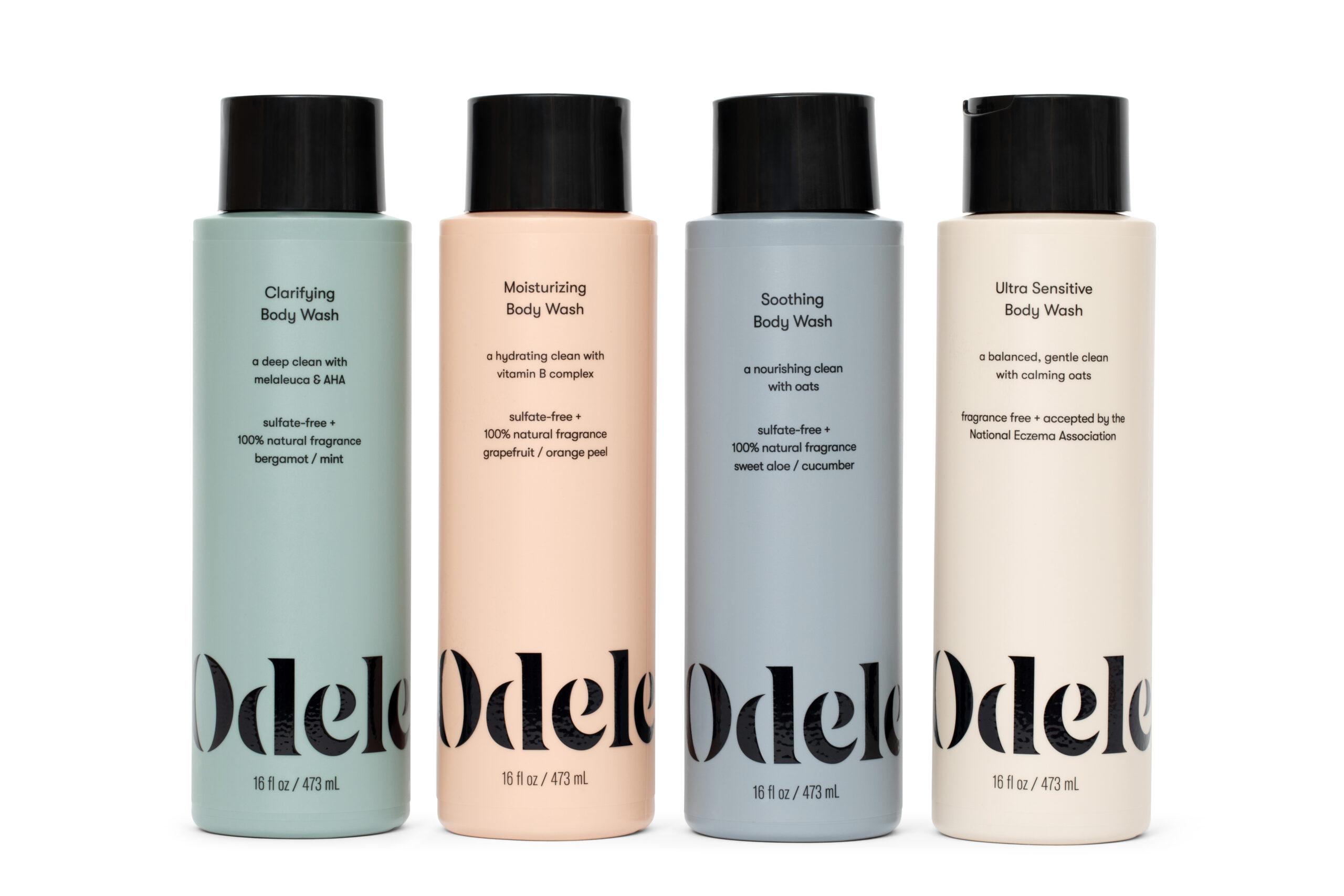 Odele Body Care
Waitlist worthy: Odele initially launched in the hair care space with nine SKUs in January 2020. Now, for late summer 2021, the brand is expanding into body care. "Since we debuted in January 2020 with our line of gender-neutral, inclusive hair care, we've been spreading the word of shareability in the shower; after all, our brand name is a riff on the Norwegian phrase for 'to share,'" said Lindsay Holden, Co-founder, Odele. "We're on a mission to declutter the shower shelves, one bottle at a time, with premium, EU formula compliant clean, generous sized products meant for you and whomever you share your shower with vs. bottles that are deemed his, hers, mine, ours. It made perfect sense to expand south, from your head to shoulders, knees and toes…we always say, what's more shareable than body wash?"
Marketing plan: "To launch our foray into body wash, we're starting close to home, with those who know and love us best. By that, I mean we are tapping our community to try out the category at no cost and seeding influencer friends of Odele via social across multiple platforms to help spread the word," said Lindsay. "Our campaign will highlight how our four unique, benefit driven body washes, created to address the most common skin concerns across different skin types and conditions, are enabled to be shared with all who share your shower. We're excited to activate the campaign across multiple digital channels and support it through relatable, approachable content via our blog, the Rinse. Now that we offer a total shower solution, we will also be kicking off a challenge to reduce the bottle clutter and #shareyourshowershelf. Multiple winners will be chosen at random throughout the duration of the campaign to win a year's worth of Odele."
Availability: August 2 at Target, target.com and odelebeauty.com
Price: $8.99 each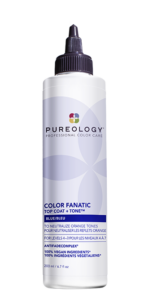 Pureology Top Coat + Tone
Waitlist worthy: Top Coat + Tone is designed to keep hair color vibrant and enhance shine in between salon visits. The collection comes in three formula variations: Blue (Neutralizes brassy orange tones and restores shine and softness in natural or pre-lightened darker blonde, red, and medium brunette shades), Purple (Neutralizes brassy yellow tones of lighter natural or pre-lightened blonde shades) and Clear (great for natural or dark brunette hair, but can be used on all hair colors and non-color treated hair).
Marketing plan: "For our only launch this year we are pulling all levers for an amazing Omnichannel full-funnel launch," said Team Nasrin Pak , AVP Integrated Communications, Pureology. "The new Top Coat + Tone launch consists of pre-seeding launch for reviews and ratings that support all retailers, seeding micro-top influencers to create buzz and testimonial content reels and TiktToks, paid social media Pinterest, IG and Facebook that drive awareness and conversion to our D2C Site and specific specialty retailers like sephora.com and lastly TrueView campaign to garner awareness within the first month of launch. We will keep the traction going by lower funnel always on-media and retargeting ads to make sure we get our consumer to try our breakthough launch of the year".
Availability: August 1 at Pureology.com, Ulta.com and Sephora.com
Price: $35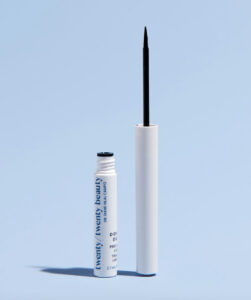 Twenty/twenty beauty Double Duty Precision Liner 
Waitlist worthy: The first color product from the ophthalmologist founded and formulated brand is designed to add definition to lash lines and with regular use, promote thicker, fuller-looking lashes over time. The formula contains a blend of castor oil, ceramides, argan oil and hyaluronic acid.
Marketing plan: "As one of the first beauty brands specifically focused on eye health, our marketing strategy relies heavily on education," explained Dr. Diane Hilal-Campo, MD, board certified ophthalmologist and founder of twenty/twenty beauty. "Our content is designed to shine a light on the harmful effects of certain beauty products and treatments and offer an explanation of why the ingredients we've chosen are safer and more beneficial for ocular health. For the launch of our first color product, Double Duty Precision Liner, we'll be leveraging our relationships with key members of the press, influencers, makeup artists, ophthalmologists, and optometrists to build awareness through media placements and joint social interviews. We're also excited to be partnering with Birchbox to spread our 'healthy eyes are beautiful eyes' philosophy as the retailer's first ophthalmologist-founded brand."
Availability: August 2 on trytwentytwenty.com
Price: $22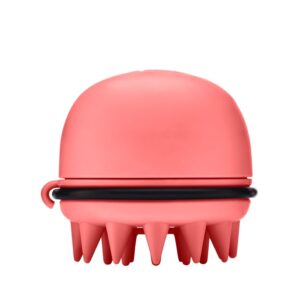 Wetbrush Head Start Exfoliating Scalp Massager
Waitlist worthy: Available in 3 colors, the hair tool releases product and exfoliates the scalp at the same time. The twist-off cap holds 50 ml of shampoo, oil or treatment of choice.
Marketing plan: "To support the launch we're seeding the product to a variety of media, stylists, and influencers across key audiences including parents, stylists, wellness experts and Gen Z and featuring a full range of hair textures," said Deborah Marquardt, Senior Vice President of Global Communications, Content & Creative at Beauty by Imagination (BBI). "There will be a big push on social, so we'll be pulsing out videos and posts on TikTok, Instagram and Facebook featuring its unique design and key benefits. Because this is a new category for WetBrush, we plan on showing and telling how, by using this adorable looking tool that fits into the palm of your hand, scalp care will become an important part of your self-care regimen."
Availability: August 22 at Ulta.com
Price: $14.99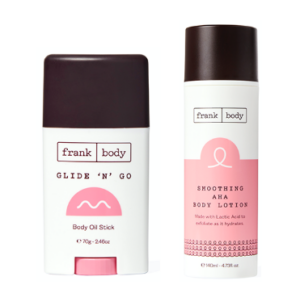 frankbody Glide 'N' Go and Smoothing AHA Body Lotion
Waitlist worthy: Glide 'N' Go is a deeply hydrating body oil stick made with hydrating oils, shea and cocoa butters, energizing guarana, and brightening pepper berry extract. The Smoothing AHA Body Lotion is made with chemical exfoliants, lactic and glycolic acids, and designed to gently slough away dry, dead skin.
Marketing plan: "Our focus in launching our first ever active body product in Smoothing AHA Body Lotion, and an innovative on-the-go hydration offering in Glide 'N' Go is showing our community that simple, clean, and effective skincare can be affordable, accessible and fun," said Ali Worrall, Interim CMO of frankbody. "These two products have very different USPs, which requires establishing very clear consumer segments within our go-to-market strategy for each product. This launch leverages the power of our social and community channels, including TikTok, Instagram and our private Facebook group, to educate our community on the benefits of using active ingredients on the body, and the convenience of the innovative Glide 'N' Go packaging and the value this adds to our time-poor consumer in her everyday life. The key to success for us is a strong focus on our brand and retailer partnership program, which will be crucial to ensuring the right consumers are introduced to these products, at the right time, with the right message. To round out our marketing support, we will activate strong influencer ambassador partnerships, dedicated digital marketing campaigns, as well as relevant and relatable content marketing strategies that come together to deliver one clear message: hyperpigmentation, body acne and dry skin can all be addressed through quick and convenient exfoliation and hydration."
Availability: July 27 on frankbody.com and August 15 at Ulta and Ulta.com
Price: $16.95 (Glide 'N' Go), $19.95 (Smoothing AHA Body Lotion)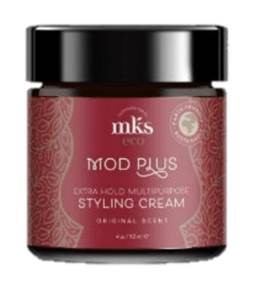 MKS eco Core Collection
Waitlist Worthy: "The 14-piece haircare collection was created to show the connection between earth and its people. This 100 percent vegan, 100 percent sustainably sourced and cruelty-free formula uses natural derived ingredients that are both good for the body and environment," said Alejandra Gomez, Marketing Manager of Earthly Body, the parent company of MKS eco. "Originally a salon-centric brand called Marrakesh, this rebrand is also available for the consumer as well as the salon professional. This collection is not only good for your hair using clean ingredients but ECO and gives back. This argan and hemp seed rich collection is cruelty free and a portion of the proceeds go to the Give Back Foundation, helping homeless people in need and each glass and aluminum packaging can be reused to some capacity."
Marketing Plan: "To celebrate this rebrand, a 360 -degree marketing campaign approach is taking place on the website as well as strategic sampling to beauty influencers and editorial highlighting the sustainability component and reusability of the brands packaging and clean ingredients. Additionally the brand, is officially re-launching in-person in August during the Cosmoprof North America show in Las Vegas," said Alejandra.  "During this event people will be able to touch, feel and sample the collection in person as well as speak with brand founder Kevin Wachs."
Availability: August 1 at EarthlyBody.com and Amazon
Price: $13.99-$35.99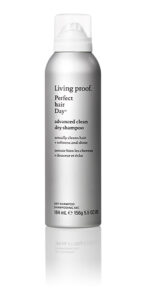 Living Proof Perfect Hair Day Advanced Clean Dry Shampoo
Waitlist worthy: The advanced delivery system is formulated to mimic the cleaning process of a rinse-out shampoo through a delivery system designed to soak up oil, sweat, and odor. The powder removal system aims to eliminate activated powders without any visible or textured residue. And, the conditioning ingredient blend is meant to refresh the scalp, balance sebum levels, and leave hair soft, shiny and more manageable.
Marketing plan: "We know there is so much love for our existing Dry Shampoo but with this launch we really wanted to speak to consumers that either don't like using a Dry Shampoo or who have never tried any Dry Shampoo," said Alexis Tedesco, Chief Marketing Officer, Living Proof. "Our marketing plans were focused on credible storytelling and education. Not only does this product deliver cleansing results remarkably similar to a rinse-out shampoo, its conditioning benefits allow for a very different customer experience. To illustrate that, we knew testimonials coming from long time Dry Shampoo advocates was key. To pre-launch we brought on influencer Jen Reed of @thesisterstudioig to pre-test the product for weeks before launch. She then held an exclusive pre-sale to her followers where she communicated her real-life experience using both Living Proof Dry Shampoos and talking about the differences. Demand was so great that her pre-sale of Advanced Clean Dry Shampoo was only up for 11 hours before she completely sold out (PS we had planned to have it live for 48 hours)."
Availability: July 26 at Sephora, Ulta, select salons, Amazon, and on livingproof.com.
Price: $30/$16 for travel-size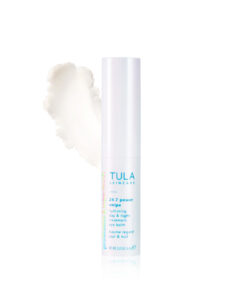 Tula 24-7 Power Swipe Hydrating Day & Night Treatment Eye Balm 
Waitlist worthy: "This product launch represents innovation at its finest. We were inspired by the ingredient story in our hero #1 best-selling moisturizer 24/7 Moisture Hydrating Day & Night Cream and the format of our viral hit Glow & Get It Cooling & Brightening Eye Balm. The results from clinical testing prove how powerful and effective our do-it-all eye treatment is thanks to its hard-hitting ingredients and our proprietary S6Pro Complex, formulated with three powerful strains of probiotic extracts and 3 prebiotics. We've harnessed the power of an innovative stick emulsion technology that creates a creamy formula that can be easily and conveniently applied as a water and oil-based stick," said Savannah Sachs, CEO, Tula.
Marketing plan: "Our launch strategy is an integral part of the consumer's journey," said said Savannah. "Leading with a seven-day teaser strategy aimed at driving subscriptions to our SMS program (which is the first notification the customer gets when the product is available), we've built hype and excitement for our most innovative launch this year. We then will activate a mix of educational content focused on our clinical results and UGC-style content across our channels, with a dedicated paid budget on TikTok. We've strategically seeded product to a selection of influencers including Hayden Cohen, Mik Zazon, and Gabriella Lascano in an effort to amplify our messaging that the 24-7 Power Swipe Hydrating Day & Night Treatment Eye Balm is a do-it-all eye cream in a stick that is powered by probiotic extracts, collagen, peptides, caffeine & more. As an omni-channel brand we have also incorporated various retail efforts into the launch which includes an Ulta Exclusive 12-week retail lead and omni.com launch, a three-week endcap featuring our 24-7 collection, a half page feature in the Ulta Magazine featuring our 24-7 collection, and prioritizing our 24-7 collection for in-store events at Ulta for the retailer's third quarter. We are always looking to lead in product innovation within the skincare space and are excited to bring this latest product and technology to market."
Availability: July 28 at tula.com and Ulta Beauty
Price: $38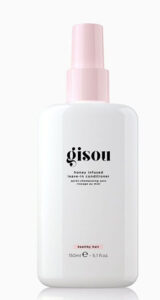 Gisou Honey Infused Leave-In Conditioner 
Waitlist worthy: A multitasking, lightweight leave-in conditioner enriched with sustainability sourced Mirsalehi Honey from the brand's own Mirsalehi Bee Garden, and a healthy hair blend of baobab extract, argan oil and panthenol. The product comes in a spray bottle, made from sugarcane.
Marketing plan: "As a community driven brand, we always keep our ears to the community's wishes. Our Beauty Ambassadors have come back with the heavy need for a leave-in Conditioner," said Christina Russillo, Interim Chief Marketing and Sales Officer, Gisou. "Instead of using models, we are working with our actual community members, who we shine a light on. Each community member represents a strength of the product. The idea is to empower the community. Additionally, samples were sent out to influencers and press with bespoke mailers that include a personally written note from the founder, Negin Mirsalehi. And we made sure that the packaging of the mailers is made from sustainable material."
Availability: July 27 at Gisou.com and Sephora.com
Price: $34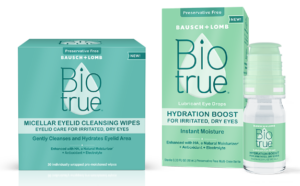 Bausch + Lomb Biotrue Hydration Boost Eye Drops and Biotrue Micellar Eyelid Cleansing Wipes
Waitlist worthy: The two products are  preservative-free and uniquely formulated with naturally inspired ingredients to relieve symptoms associated with irritated, dry eyes. "One of the major culprits of dry eyes, which is one of the most common eye conditions in the United States, is our increasing usage of digital devices. We developed Biotrue Hydration Boost Lubricant Eye Drops and Biotrue Micellar Eyelid Cleansing Wipes to provide instant moisture to help relieve dry, digital-device-weary eyes," said Joe Gordon, U.S. president, Bausch + Lomb. "Inspired by the biology of the eye, both products are free of preservatives and are pH-balanced."
Marketing plan: Bausch + Lomb is in the process of launching a national media campaign for its new Biotrue Hydration Boost Eye Drops. The national campaign will span across multiple channels to target both consumers and eye care professionals through the use of TV, digital and social media as well as print and online trade journal advertisements designed specifically for doctors. The company will also be working closely with retailers to support the launch through displays, signage and other tactics both in-store and online.
Availability: End of July at major food, drug and mass retailers, including: Walgreens, CVS, Walmart, Rite Aid, Target and Amazon.com
Price: $11.99