Cult-favorite skin care brand Augustinus Bader is officially making its foray into hair care. Known for its best-selling Rich Cream, the brand launched in 2018 with the aforementioned moisturizer and another formula called The Cream. The brand quickly expanded to include eye cream, cleanser, cleansing balm, body care, a serum and now, five hair care products. The range includes a shampoo, conditioner, leave-in treatment, hair oil, scalp treatment and a comb with prices ranging from $28 to $80 sold across department stores and specialty beauty retailers including Cult Beauty, Net-a-Porter, Sephora, Neiman Marcus and Nordstrom.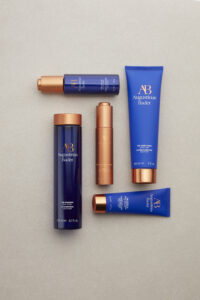 Hailed "a new era in hair care," The Hair Collection is rooted in the company's commitment to breakthrough discoveries about the body's mechanisms for self-repair and renewal, informed by over 30 years of research and biomedical innovation. The Augustinus Bader hair care range is vegan and free of gluten, GMOs, parabens, silicones, fragrance, SLS, SLES, DEA, heavy metals, talc and petrolatum, paraffin, and mineral oils.
The system, like the brand's skin care offerings, is powered by Professor Bader's TFC8 technology to target key aspects of scalp and hair vitality on a cellular level with the goal of creating an optimal environment for hair to grow and renew.
"In my work as a medical doctor and research scientist, I have observed many similarities between the complexion and the specialized cells that make up the scalp and hair follicles," said Professor Augustinus Bader. "Just like the skin, hair is governed by natural forces that slow over time, causing undesirable yet reversible outcomes. By translating our award-winning technology for skin repair and cellular regeneration to the scalp and hair follicles, we have created an unprecedented science-backed system that reawakens the body's intrinsic ability to regrow hair and supports renewal from root to tip," he said.
In clinical trials, The Shampoo increased hair strength by 56 percent in four weeks, decreased hair follicle clog by 29.81 percent, and increased hair smoothness by 80.56 percent*. The Hair Oil reduced broken and damaged hair from brushing by 34.11 percent and increased hair hydration by 34.2 percent*. In eight weeks, The Leave-In Hair Treatment increased hair strength by 152.94 percent and increased hair strand thickness by 95.92 percent**.
And in user trials, in eight weeks 92 percent of participants agreed The Leave-In Hair Treatment helped repair their split ends and color damage and helped reduce/tame frizz, 94 percent agreed it enhanced their natural texture, and 98 percent agreed it made their hair look and feel healthier ***.
The Augustinus Bader Hair Collection includes The Scalp Treatment, The Shampoo, The Conditioner, The Hair Oil, The Leave-In Hair Treatment, The Neem Comb With Handle, and The Neem Comb Without Handle. All items are available as of this week on Augustinusbader. com and with participating retail partners globally.
*Based on a four-week clinical trial with 35 male and female participants of all hair types
** Based on an eight-week clinical trial with 35 male and female participants of all hair types
***Based on an eight-week consumer perception study with 105 male and female participants of all hair types.