Sometimes geography, even within a retail store, can change an entrepreneur's course. Case in point? Tarte Cosmetics founder Maureen Kelly launched next to beauty brand Awake at Henri Bendel on 5th Avenue over 17 years ago. She was taken with the cult classic Japanese brand because it featured powerful botanicals in a beautiful formula, that only Japan could produce.
Flash forward to 2014, and as fate would have it, Awake became Tarte's sister brand. Maureen and her team in New York collaborated with the Tokyo team to address consumers' concerns around the world. The teams realized that their approach to beauty is unique, but the desire for results and simplicity is universal. With that, a new Awake was introduced. Beauty sleep-focused Awake Beauty launched last week in the U.S. last week. With a price point of $15 to $45 and beautiful, Instagram-friendly packaging in hues of pink, blue, and white, it's sure to resonate with Millennial and Gen Z consumers. Here are the adorably packaged offerings the brand sent to beauty writers, editors, and influencers to kick off its launch.
The sleep product quartet included a white Sleep Is My Beauty Secret Vegan Silk Pillowcase, the first on the market. Retailing at $40, it features soft-as-silk vegan fibers to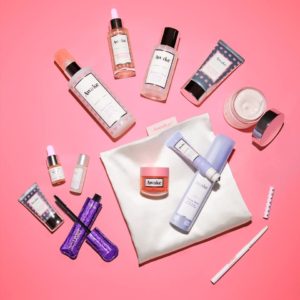 help you wake up to smoother skin and hair. It protects skin and preserves your blowout by allowing your hair and skin to glide across it throughout the night, minimizing friction.
There's also a Lip Therapy Lip Mask retailing for $20, which is creamy and glossy. It's formulated with a blend of olive, argan, rosehip and raspberry seed oils to hydrate and smooth the lips overnight.
Awake Beauty is getting into the pillow-mist arena. These aromatherapeutic sprays contain ingredients that are known to help consumers drift off to dreamland. Its Dream Mist Pillow Spray is $20 and boasts a blend of essential oils to help calm the mind before bedtime, helping consumers drift off to sleep faster. It features flower oils lavandin, lavender, rose, patchouli, and more to help promote more restful sleep.
Keep Calm & Roll On Clarity Cream retails for $16. Featuring a cooling, metal-tipped applicator, this relaxing, cooling and calming cream is designed to be applied to your relaxation points. Keep it on your desk for application whenever things get stressful. The citrus scent helps soothe tension and stress when applied to the neck, wrists, and temples.
The brand also boasts a bevy of beauty offerings in the skincare realm, with everything from serums to moisturizers to SPF and toners. Awake Beauty is sold on awakebeauty.com, in Ulta stores, and on ulta.com.