Following its accomplishment of achieving 100 percent climate neutral status in January, professional skin care brand, Babor, has announced a program to address CO2, clean ingredients and ongoing renewable manufacturing, called Green Agenda. The multi-tiered plan includes a commitment to 100 percent recyclable packaging and a 30 percent reduction of plastic use by 2023. Green packaging and distribution from production to delivery is also included in the plan, as well as the use of 80 percent raw materials of natural origin within formulas that comply with European Cosmetic Safety Standards. The ultimate goal, the company said, is to operate the most eco-conscious cosmetics company and green manufacturing facilities in the world.
"As a family-owned company with roots in the bio medical field, we have the vision and ability to create progressive sustainability measures that are as impressive and ground-breaking as the high-performance products that we produce," said Tim Waller, CEO Babor Americas.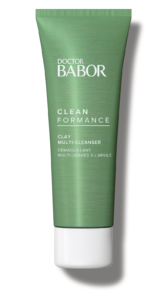 The company is also gearing up to launch a new clean beauty line in late July, Doctor Babor Cleanformance, a nine-piece skin care collection featuring over 95 percent sustainably-sourced natural ingredients. The line is designed to promote glowing and rejuvenated skin while protecting the skin from the first signs of aging through a combination of red maple extract, pre-biotics and pro-biotics. The collection, which ranges from $25 to $65, includes a cleanser, pads, serums and creams, with two specialty CBD infused products aimed at calming stressed skin with an exclusive blend of hempseed oil and CBD, derived from the seed of the cannabis sativa plant. In addition to using sustainably sourced ingredients, all Cleanformance packaging is sustainable, in line with the company's Green Agenda. Primary product packaging is made from plastic containing 30 percent recycled plastic material and secondary packaging is made with 80 percent recycled paper from a sustainable forestry. The brand will be available at Babor.com and at luxury hotels, destination spas, and premium day spas around the world when they reopen.