It's no secret that sustainability has become paramount for beauty and personal care brands, as well as for retailers and most importantly their customers. Often the conversation centers on the impacts of beauty packaging and the "3R's" — reduce, recycle, reuse — and rightly so. The industry produces over 120 billion units of packaging a year, according to recycling firm Terra Cycle[1]; and most goes straight to landfill. At the same time, the sourcing, production, and distribution of the products themselves also consume enormous amounts of natural resources and energy.
Fresh assortments driving and addressing the latest trends generate beauty retail traffic and sales. New shades of cosmetics, feature-rich shampoos, skin care, and shaving products are constantly hitting shelves and e-commerce platforms to attract customers. For example, Ulta Beauty reported that it offered around 20,000 products from 500 brands in its 2015 fiscal year; in 2020, its offer had grown to 25,000 products from more than 600 brands.[2]
One of the consequences of this trend-led model is that the beauty and personal care industry produces too much stuff. The generally low cost of goods hasn't exactly been a strong impediment to overproduction. Changing shopping habits, however, most certainly are. Greener credentials are clearly something beauty shoppers want. A Harris Poll survey in the U.S. found that over half of women are likely to favor eco-friendly beauty products[3] while further research shows that 90 percent of millennials want more sustainable skin care.[4] One straightforward way to help make beauty and personal care even greener is to improve the intelligence around inventories at retailers and in supply chains.
Inventory Issues
IHL Group estimates that overstocks and out-of-stocks are costing the retail industry $1.8 trillion[5] a year due to "worldwide inventory distortion:" in other words, poor inventory management which surpassed the GDP of Canada in 2020.
Beauty and personal care retail is no stranger to this inventory management challenge. Indeed, it's arguably one of the worst offenders in the retail industry. Data gathered at various beauty retailers by digital ID provider Avery Dennison Smartrac found inventory accuracy to be 50 percent on average, and as low as 30 percent at some high-SKU beauty retailers (compared to 65 percent average among apparel retailers).
Avery Dennison's "Zero Waste Futures" report dedicated to tackling waste, reveals that one well-known beauty retailer was found to be massively over-stocked, holding three times its target inventory. Furthermore, between 20 percent and 30 percent of that inventory was either out of season or past expiry date (eye makeup such as mascara can have a limited shelf life of under three months in some cases), so unsellable, leading to much of the surplus having to be destroyed.
"Over-stocking becomes a mounting problem when retailers don't keep a close eye on their inventories. Stores fervently maintain an incoming flow of trendy products in order to attract customers, while also trying to avoid being out of stock of traditional favorites. As a result, stocks can pile up," said Robert Pernice, Director for Global RFID Market Development, Beauty and Personal Care at Avery Dennison.
This has widespread ramifications for the beauty industry's sustainability credentials, which all major brand owners, including L'Oréal[6] and Unilever[7], have diligently signed up for. An analysis modeled from an industry Life Cycle Assessment for similar products[8] indicates that for the production of a typical prestige shampoo, more than 100 gallons of water are required to produce every 13.5 oz retail unit of product. This includes water for farming and production of raw ingredients and for formulation, manufacturing, packaging, and distribution of finished products. Further research by Avery Dennison calculated that the carbon emissions for overproducing just five percent of one popular shade of lipstick would exceed the CO2 levels of 175 cars being driven for a year — requiring a forest larger than New York's Central Park to sequester — and surpass the annual water consumption of 13,652 U.S. families.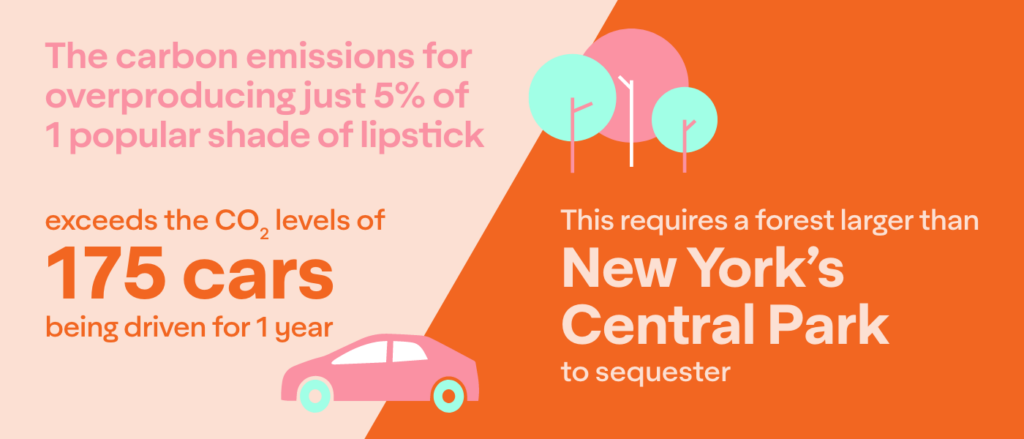 So why is inventory accuracy so poor in beauty? Pernice explains that the same drive for a varied beauty assortment also drives SKU proliferation. Combine this with an increasing trend to "open sell" (fewer beauty associates to manage stocking), high shrink and lower substitution, it's no wonder inventory accuracy for beauty and personal care retail is dismal.
"The upshot is that brick-and-mortar beauty purveyors are missing sales of certain items due to unknown out-of-stocks, while at the same time stockrooms are choked with excess product," he said. "Think of a buffet, with empty popular dishes, all the while huge, hidden quantities of food are languishing in the back."
There is hope, though, to help manage retail inventories, rightsized manufacturing and minimize beauty waste. RFID, which has become a mainstay technology for efficient inventory management among global apparel retailers, is increasingly being adopted by beauty retailers and brand owners. Recent technology developments leave RFID better suited for tagging small items, as well as those containing liquids and with metallic branding embellishments — all common to beauty and personal care.
While the main benefit for beauty retailers is an increase in sales by making single SKUs available for purchase through any channel, item-level RFID provides an added level of authenticity and traceability throughout a product's entire journey: from factory to shelf and beyond — for instance, to help identify packaging and contents more easily for recycling schemes; or to inform the consumer that, for example, no unsustainable palm oil was used. Most importantly with respect to sustainability, the improvement in item-level accuracy delivered by RFID from 50 percent to 95 percent will drive improved forecasting, aligning production with demand, while increasing agility to maintain assortments that excite and delight beauty consumers.
Wrapping It Up
There are many positive signs of change in the beauty and personal care sustainability universe, with various initiatives by retailers and brand owners to minimize packaging and waste: schemes such as The Body Shop and Boots trying to encourage more recycling — customers are incentivized to return empty beauty product containers with money-off tokens or loyalty points; or consumer goods giant Procter & Gamble trialing refillable containers for some of its best-selling Olay skin care products.
To make an even more significant impact, beauty retailers and brand owners now have digital IDs and item-level RFID as powerful tools to improve inventory management. Getting retail and supply chain inventory right will dramatically curtail overproduction and overstocking, minimize consumption of precious natural resources, reduce waste and overall carbon footprint of organizations — all placing beauty and personal care on an even greener pathway towards sustainability.
Learn more about digital ID technologies for beauty and personal care.
Contact us for a consultation at [email protected].
[1] Source: Recyclable Beauty: Dos and Don'ts – The TerraCycle Blog
[2] Source:  Ulta Beauty Annual Reports, 2015, 2020
[3] Source: THE GREEN BAROMETER SURVEY – Kari Gran Skin Care
[4] Source: Natural + Sustainable Skincare for Millennials & Gen Z – COMPOSE[D]
[5] Source: Anyone See Canada? Retail's $1.8t Inventory Distortion Issue – IHL Group (ihlservices.com)
[6] Source: L'Oréal Group: For The Planet (loreal.com)
[7] Source: https://www.unilever.com/investor-relations/sustainability/
[8] Source: Carbon and water footprint analysis of a soap bar produced in Brazil by Natura Cosmetics