The AI-powered search engine, Mira, is designed to empower users to find beauty products tailored to their specific needs, with a view to creating personalized communities.
New beauty search engine, Mira, aims to become a one-stop destination for all beauty needs.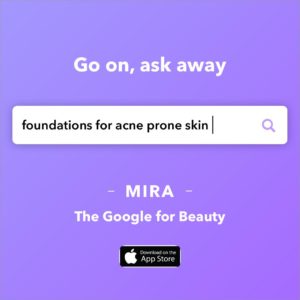 Launched in October, Mira leverages artificial intelligence – a combination of computer vision and NLP (natural language processing) – to empower users to find beauty products, read consumer reviews, make side-by-side comparisons, and click-through to buy products at the best price. Mira is available online on the AskMira site and as an app.
"We are a centralized, democratic platform for beauty," said Jay Hack, CEO and cofounder of Mira.
The search engine is backed by investors that include Unilever Ventures, e.ventures, Founders Fund, 14W, Great Oaks Venture Capital, amongst others.
"Consumers with specific needs and preferences have been navigating a very fragmented landscape. They've been looking at YouTube videos, going on Pinterest, reading Reddit forums. Mira puts it all together and makes sense of it via a common language. We structure that data and give consumers all the resources they need," said Jay.
Users can ask for advice and get product recommendations from consumers with similar skin types, skin tones and aesthetic preferences. They can also explore consumer reviews by way of articles, blogs and videos.
Both Jay and his co-founder, Brandon Garcia, are Stanford graduates with expertise in computer tech, including computer vision (which aspires to develop intelligent algorithms that perform visual perception tasks such as object recognition).
"Mira solves problems for consumers traditionally marginalized by the industry," said Jay, who added that the search engine is on a mission to champion transparency and inclusivity.
After the app is downloaded, Mira asks users to share a selfie with a clear view of face shape and skin tone, and AI technology tailors searches to users' individual features and needs.
The inspiration for Mira (the name phonetically sounds like 'mirror', and is also the Spanish imperative meaning 'to look') came about by chance when an Asian friend of Jay's complained that she had trouble finding influencers with a similar eye shape to hers. Jay created a demo that scanned her face and eye shape, enabling her to find influencers online who were matches for her.
The personalized demo triggered the epiphany that would become Mira: aligning facial recognition and AI to help users join communities of diverse users.
"Brandon and I wanted to find and solve problems where players haven't leveraged data. Beauty is the worst offender. We wanted to address: what is the right product, and how will it satisfy my needs?" said Jay.
Jay pointed to Mira being "brand agnostic, like Shopify" when asked what the key point of difference is when compared to Sephora's community of users.
"Being brand agnostic means we are searching through the entire world of beauty in order to find the right product. If you have rosacea, we know which foundation will solve that problem. Mira is about the experience, the data, and the analysis behind the data," he said.
Mira already has a community of 80,000 users.
Jay and Brandon's long-term vision is to create a central information hub that can facilitate conversation around beauty.
"We are looking to engage with consumers in an authentic way, offering better information on products and trends. In 2020 and beyond, we are looking at how to engage with brands and solve problems for them, in addition to the issues that consumers are facing".
While Mira is currently laser-focused on serving the beauty community, the technology clearly lends itself to other industries, helping to drive the route to purchase on behalf of educated consumers.