This week, Beauty News scoped out a new facial spot hailing from Los Angeles, and learned that Hailey Bieber filed a trademark for an upcoming beauty brand. Also, Kat Von D launched a vegan mascara featuring Orange is the New Black's Jackie Cruz as its face. Here, everything you need to keep you in the know.
Face Haus Opens in New York City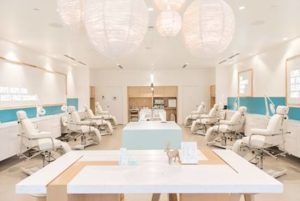 Facials have long been a pampering indulgence, though a necessary one. And the bells and whistles that go along with a typical spa treatment cost time and money. So the founders of Face Haus decided to eliminate all the extras that go tend to along with facials — waiting rooms with dried fruit and citrus water, plush bathrobes—to offer a no-frills yet efficacious facial experience. Founded in 2013 by a Hollywood trio of working moms Karey Burke (President of ABC Entertainment), Dawn Olmstead (President, Universal Cable Productions & Wilshire Studios), and Jenn Worley (former Vice President of Creative Affairs at Radar Pictures), Face Haus is designed to have customers stop in any time and be back at work in an hour. Prices start at $10 for an emergency spot treatment, with facials beginning at $65 for a 45-minute service. The single-service proposition looks to resonate with consumers from a price and time perspective. Specializing and perfecting one service has proven to work well across beauty and wellness categories — think blowout bars, acupuncture boutiques, massage-only startups. Face Haus is expanding nationwide to make this quick-service model available for busy metropolitan women on the go, everywhere. There are currently five locations in L.A., one in Dallas, and the 1140 3rd Avenue location in New York City.
Kat Von D's Go Big or Go Home Mascara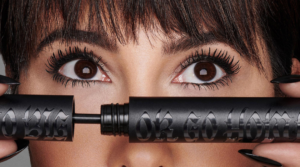 Sold out in just three days after launching in Europe, Kat Von D Go Big or Go Home Mascara hit U.S. shelves Thursday, April 18. The brand's first new mascara in five years, the extreme volume vegan cosmetic item is cruelty-free and uses plant-based fats, such as olive oil and sunflower, instead of beeswax, a common lash-lengthener ingredient. Available in a single shade, Trooper Black, the product's custom-designed brush features wavy fiber bristles designed to coat lashes individually for a fluffy, full-lash effect. The face of the product, Jackie Cruz  from Orange is the New Black, made an appearance at a press on the Lower East Side. Go Big Or Go Home retails for $23 at katvondbeauty.com and at Sephora and sephora.com.