This week's edition of Beauty Scene reports on the latest extension of Pat McGrath's namesake line, and Winky Lux's first foray into the lash category.
Pat McGrath Launches Skin Care Focused Foundation in 35 Shades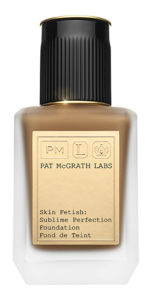 After several seasons of testing, and mysterious Instagram posts, Pat McGrath is ready to debut the latest extension of her namesake line – a primer ($60), 36 shades of foundation ($68) and setting powders ($55) calibrated to correspond with each foundation group.
"It's important that we can now offer a canvas for all our color," said Pat at a press event to debut the line. Rather than launching with the popular 40+ shade line, Pat purposely kept the line to 36 shades in response to her three decades of experience working with models internationally.
"As a makeup artist, these are the shades I use, and this is my curation of colors that I would need to serve everybody," she said.
There are five different levels (Light, Light Medium, Medium, Medium Deep, and Deep), with equal representation of seven shades in each category, with the exception of Deep, which has eight. The buildable foundation has been designed to marry chemistry and artistry and features a Vita-Serum Complex intended to combat wrinkles and boost hydration, while Diamond Core Powder aims to optically smooth and blur imperfections.
The foundation is part of Skin Fetish: Sublime Perfection The System, a collection which also includes a water-based primer infused with hyaluronic acid, and five shades of setting powders featuring micronized amino acid treated pigments designed to ensure skin adherence with color-true performance. The system is rounded out with a foundation brush ($55) and a powder brush ($58), both of which have been designed with FSC-certified wood handles. All products will become available July 26 at PATMcGRATH.com, sephora.com and select Sephora stores, Berdorf Goodman, Selfriges.com and select Selfriges stores.
Winky Lux Taps 'Real Housewives' Star to Launch First Eyelash Collection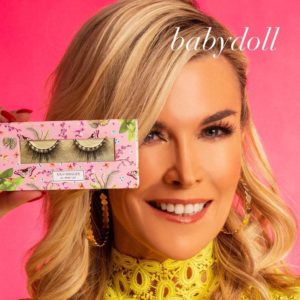 Winky Lux has tapped Real Housewives of New York star, Tinsley Mortimer, to launch a trio of false lashes ranging from a natural look to full drama. The socialite, who previously collaborated with Dior Beauty to launch a lip gloss, Dior Addict Ultra-Gloss in Tinsley Pink, said the partnership is a perfect match. "I love the girly, fun vibe of Winkly Lux and I have worn lashes for so long, so I know what I love and what will look good on different people," she explained at a launch party hosted in her former Penthouse. Designed to be worn up to 28 times, the lashes are housed in boxes designed with the whimsical aesthetic Winky Lux is known for.
"The product is amazing, but the development of the packaging was very important to me. My mother is an interior designer and the packaging is inspired by wallpapers I would see growing up in dining room mixed with things, such as palm trees, that reflect my lifestyle," she said. "It was also important to me to have the boxes designed to be reused to carry small items when traveling, such as bobby pins and Q-tips."
This is the first launch of several the reality star will partner on with the beauty brand. The XXO Tinsley for Winky Lux collection debuted on June 12 and retails for $20 at each winkylux.com as well as all Winky Lux Experience Stores (Chicago, DC, Nashville & Atlanta).