Every day is Earth Day for Rahua, the hair, body and wellness brand founded by New York hairstylist Fabian Lliguin and trend forecaster Anna Ayers. The brand was founded to protect and preserve the Amazon Rainforest and its important oxygen-producing trees and rich biodiversity, while empowering indigenous communities to create a healthy, self-sustained and growing economy by purchasing raw ingredients directly from the indigenous people of the Amazon.
The founders came up with an idea for a hair care product using ingredients from the Amazon after learning the natural oil used by Amazon women made their hair strong and healthy. Fabian started doing Rahua treatments in his salon and when clients begged for more, he invested $100,000 to grow the brand.
Fittingly, during Earth Month, the brand is deepening its efforts to curb waste endemic to personal care with the rollout of Refill Solutions, a refill program that reduces personal carbon footprint and plastic usage by 90 percent.
"People have been asking for refillable solutions for a while and we decided to start with our popular Classic Shampoo and Conditioner," said Anna. "Rahua customers now have the option to purchase a sustainable pouch filled with Rahua Classic Shampoo and Classic Conditioner that can be used to refill into the full-size bottles." The company currently produces nine products in the same bottle and will expand the refillable concept. The shampoo retails for $34; the conditioner is $36. The refill pouches are $30 and $32, respectively.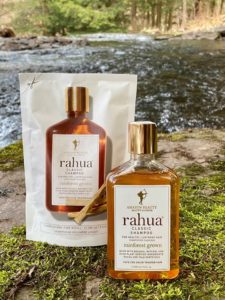 The refillable system is more than about cutting waste. The efforts behind it dovetail with Fabian and Anna's desire to connect users with the rituals and ingredients used in the products: "slow beauty" is how they describe it.
"It's about conscious consumption," Anna said. "Our products are very concentrated—you don't need a lot. This makes you think about how much you use. It's precious." During the current health crisis, many Americans are slowing the cadence of their lives, and are taking stock of what really matters to them—and the Earth—and the impact from the products they use.
While the duo gives back in many ways, they most recently sprang into action during COVID-19 by donating body care products to New York metropolitan area hospitals—NYU Langone Health, St. Mary's Hospital for Children, the Jersey Shore University Medical Center, Staten Island University Hospital and New York Presbyterian, as well as several other U.S. and U.K.-based hospitals. "We hope our wellness products help deliver a thoughtful, peaceful experience during this difficult time," said Fabian, noting the power of the plants used for wellness.
For consumers, Rahua offers several promotions and gifts with purchase throughout the month of April, including Rahua Shower Gel, which is formulated to help offset dry skin caused by constant cleansing. "We hope to help lift spirits," Fabian said.
With an ear to the ground when it comes to adding products based on fans' wishes, Rahua just launched a Leave-In Treatment Light. "Rahua Leave-In Treatment is one of our top sellers and we now offer a Leave-In Treatment Light, which offers clients with finer hair types a lightweight finish," said Fabian. Ingredients include Rahua oil, quinoa, yerba mate leaf, organic sunflower, shea butter, lavender and eucalyptus.
Next month, Rahua is debuting Enchanted Island Lotion Mist, inspired by its Enchanted Island Salt Spray. The mist represents the company's ongoing commitment to another cause, The Pink Flamingo Project, which helps protect the environment of the flamingo birds of the Galapagos Islands.
Rahua is currently sold on its own website, rahua.com, and online at Nordstrom, Bloomingdale's and Sephora.
"Our company was born out of a way to look for how to protect the Amazon," said Anna. "We wanted to create an awareness of the ancestral wisdom, the processes and the plants to appreciate nature. Beauty was the magical tool we found to share that with the world and a means for us to help protect the rainforest."
The company has saved 37,500 hectares (95,000 acres) of pristine and tribal lands with oxygen producing trees in the rainforest. "We are continuing this work with more tribes and communities, one community at a time, providing them with the most powerful tool in history — the legal land titles to their private property," Fabian said.