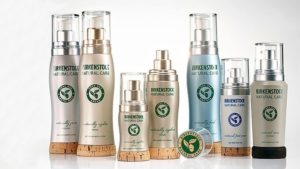 In an unexpected move, Birkenstock, yes, that Birkenstock, has launched a range of vegan, natural skin care products called, appropriately, Natural Skin Care. The products are COSMOS natural certified, in addition to being vegan, cruelty-free, dermatologically tested, sustainable and recyclable. As one would expect, the range includes various foot cream offerings, and also a full line of facial skin care products including a cleanser, toner, eye cream and a moisturizing lip balm. To celebrate the launch, the brand hosted beauty writers and editors at its Soho retail store on Spring Street this week and provided mini cryo facials in addition to hand and shoulder massages using the new products.
The 240-year old German footwear company has a long history with cork. Cork oak, the same ingredient the brand uses for its famous foot beds, is also the secret to its skin care. It's all about suberin, the "immortality extract," which is in all of the Birkenstock Natural Skin Care skus. Per the brand, the key to cork oak's self-regenerating capabilities is the aforementioned suberin, which is a molecular blend of glycerins, tannins, polysaccharides, and waxes that stimulate renewal of the tree's cells. It can be applied topically to rejuvenate skin the same way — helping with renewal, while reducing the look of wrinkles and fine lines. The Birkenstock cork oak extract is a natural bio-lipid complex made from the cork extract and pure coconut oil. It improves skin's moisture while enhancing the moisture barrier and boosting smoothness. The brand held clinical tests, which showed that the extract improved moisture by 51.4% and reduced water loss by 46.3%.
The line boasts five categories, Natural Moisture Face Care, Natural Age Control Face and Body Care, Natural Freshness Facial Cleansing, Natural Shapes Body Care, and Natural Comfort Hand and Foot Care.
Natural Moisture Face Care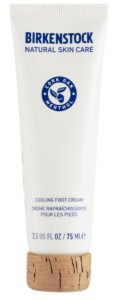 The facial care products include an Intensive Moisturizing Cream ($80), Intensive Moisturizing Rich Cream ($100), Intensive Moisturizing Fluid ($71), Moisturizing Eye Contour Balm ($72), Intensive Moisturizing Mask ($65), and Moisturizing Lip Balm ($22).
Natural Age Control Face and Body Care
Here you'll find the Regenerating Oil Face and Body ($90), designed for normal, dry, and mature skin types.
Natural Freshness Facial Cleansing
In the cleansing category, you'll find Fresh Cleansing Gel ($36), Fresh Moisturizing Toner ($36), and Gentle Exfoliating Cream ($42).
Natural Shapes Body Care
The body care products include Exfoliating Body Scrub ($26) and Moisturizing Milky Body Lotion ($57).
Natural Comfort Hand and Foot Care
The hand and foot offerings include Moisturizing Hand and Nail Cream ($25), Moisturizing Foot Balm ($25), Cooling Foot Cream ($25), and Nourishing Leg and Foot Oil ($40).
Birkenstock Skin Care launched this month and is sold in Birkenstock stores, Nordstrom, and nordstrom.com.