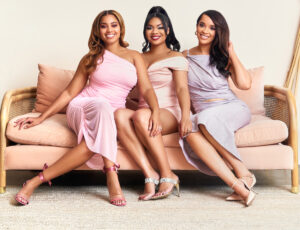 Brand: AMP Beauty LA
Founders: Angel Lenise, Montré Moore, Phyllicia Phillips
Sales:  Under $1million (estimated)
Distribution: AMP Beauty LA distributes Black-owned beauty products through its digital retail platform.
Launch History/Unique Proposition: After a conversation about a lack of access to beauty products for Black women — a demographic that spends nine times what its counterparts do on beauty — three, beauty obsessed HBCU sorority sisters set out on a mission to redefine beauty culture through retail. Co-founders Angel Lenise, Montré Moore and Phyllicia Phillips created the start-up in 2019 with the goal of providing Black and brown consumers with a tech-forward, one-stop shop for their beauty needs, and to create a space that felt inclusive for everyone. Today, AMP Beauty LA is curating the largest inventory of Black-owned products on the market across skin, hair, body, bath, makeup, nails, personal wellness and more.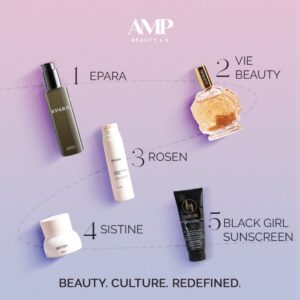 2021 Goals: In 2021, AMP Beauty LA is looking to build on its foundation and raise $3.5 million in seed funding, introduce new consumer beauty tech features, including hyper-personalized product recommendations, subscription services and virtual consultations. Additionally, the brand is looking to execute a shop-in-shop test pilot concept with a mass retailer in an effort to engage with its core consumers and grow the business. Finally, AMP Beauty LA will be doubling its brand and product offerings in an effort to have the largest inventory of Black-owned products on the market, while it continues to cultivate a growing community of beauty enthusiasts that reflect the diversity and modernity of its brand.
What are you hoping the Biden/Harris administration will bring to the business world over the next four years: From a business standpoint, the founders said it would be great to see the new administration really take a stand to support small businesses – especially those funded by women and POC. They feel the pandemic ravaged the economy and that it was a "bit disheartening" to see the PPP loans, tax breaks and fiscal relief given to big businesses, while smaller entities suffered. Last year alone, 100,000 small business shuttered due to the weight of the virus and legislative shutdowns, and the COVID-19 relief package wasn't signed until end of year. Looking ahead, they are hopeful that the Biden/Harris administration will implement new legislative policies to ensure that the backbone of the economy and country have equal, if not stronger, chances of survival in this climate.