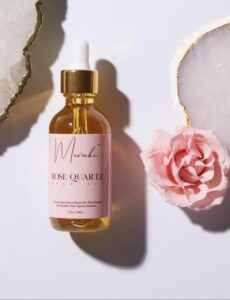 After experiencing a serious chemical burn from an over-the-counter beauty product, Amber Makupson, a licensed aesthetician, was fed up with ingredients in beauty products that were potentially harmful to women. So, she decided to do something about it. In 2018, she launched Meraki, a clean, vegan hair care brand boasting organic, ayurvedic, and fair-trade botanical ingredients infused with gemstones. The goal, Amber said, is to introduce a healing and wellness element to hair care.
"I started with one product, Rose Quartz Glow Oil, which includes rose quartz crystals in each bottle. Once it was time to formulate my second product, I decided that I wanted to add crystals and gemstones inside of each," she said. "This decision was solidified after I started to research the connection of our hair and our energy centers of our body (chakras) and I discovered that hair is actually an extension of our nervous system and that keratin naturally possesses a crystalline structure."
Last year, the brand experienced impressive growth fueled in part by the rising interest in self-care and DIY hair treatments during the pandemic. Since March 2020, Meraki's e-commerce site has seen a 95 percent growth and has experienced a 65 percent increase in returning customers within 30 to 45 days. There has also been a 75 percent increase in the brand's average sales.
"I have completely sold out of my inventory twice and I currently have items that are on backorder and in high demand," she said.
Here, Amber spoke to CEW Beauty News about raising brand awareness, and challenges and future plans for the brand, which has achieved under $2 million in sales since launch.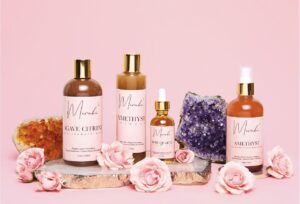 CEW Beauty News: How has Black Lives Matter impacted your business?
Amber Makupson: The BLM movement has allowed my brand to gain exposure. My brand has been highlighted in numerous publications as a Black-owned brand to shop now and forever. I have also seen an increase in sales and continued support on social media from people who want to support and stand behind Black-owned brands. The BLM movement has also opened up retail partnership with those who are participating in the Fifteen Challenge (dedicating 15 percent of their shelf space to Black-owned brands).
BN: Who is your target audience?
AM: My target audience is a wide range of women aged from 25 to 45 years old and typically someone who lives a clean and healthy lifestyle. The offerings are multicultural and work great on all hair types and nationalities. I also cater to an audience who is interested in crystals and gemstones. The global market for quartz was valued at $8.23 billion in 2018 and is projected to reach $13.61 billion by 2026, according to Reportlinker's report, "Quartz Market by Product and End-User Industry: Global Opportunity Analysis and Industry Forecast, 2019–2026."
BN: How are you raising awareness? 
AM: I am raising awareness with my brand by utilizing all social media platforms. I also partner with other brands and influencers to gain exposure. I have gained the most traction from hiring a PR firm, Aimee Majoros Public Relations. Since I hired Aimee in May 2020 I have been in more than 26 national publications including O the Oprah Magazine, W, Elle, Marie Claire and Coveteur, just to name a few.
BN: How has your business been impacted by the pandemic?
AM: Operating under a pandemic has been very challenging however my business has seen substantial growth and exposure during this time. My biggest challenge currently has been sourcing alternate vendors for ingredients, crystals and packaging. Because of the consistent and steady growth within my company, I was able to launch a new product this month as previously planned for 2020 prior to the pandemic. Since people are at home more by their computer or smartphone, I have also found it very rewarding connecting with my customers more virtually via Instagram Lives as well as a private Facebook group I created for my community.
BN: Where are the products available?
AM: All six SKUs are currently available on my website www.ishopMeraki.com. Select SKUs are available on an ecommerce Black-owned marketplace, www.ampbeautyla.com. We have also recently launched within Que Colour Salon in Australia in 3 locations.
BN: What has been your biggest challenge?
AM: Funding. We are privately-owned and self-funded, but I am currently looking for investors to assist with scaling my business.
BN: Can you share any future plans for the brand?
AM: I have two products scheduled to launch this year – a Rose Quartz Nourishing Shampoo and a Kokum Rose Styling butter. I also have an exciting partnership with IPSY launching soon.