The pandemic is fueling the growth of subscription boxes, with beauty boxes being the most popular subscription service, according to recent data from digital marketing company Emarsys. With the plethora of emerging BIPOC brands, beauty boxes enable brand and product discovery, especially in the area of self-care. Here, CEW Beauty News presents a selection of Black-owned subscription boxes delivering curated beauty across multiple categories.
Tribe Beauty Box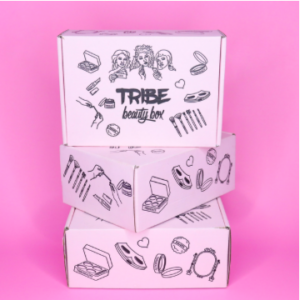 Tribe Beauty Box, a 100 percent female and woman of color-owned company, offers products from indie and female-owned brands including Iman Cosmetics, Suva Beauty, Luxie Beauty, Nomad Cosmetics, Make Up Geek, Gerard Cosmetics, and Clionadh Cosmetics. Each box, priced at $39.99, is sent every other month and includes a mix of at least five products for the face, eyes, and lips, as well as a beauty tool. Subscribers can also select add-ons from brands such as Patchology and Beauty Blender. The company has also created Lashscoop, a subscription service for makeup artists and lash lovers. Each lash stash costs $11.99 and comprises five new styles of lashes every month. Lashes are cruelty-free, faux mink and vegan lashes.
Black Girl Magic Box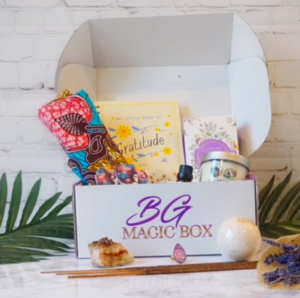 Subscribers to Black Girl Magic Box receive a bi-monthly box featuring seven to 10 self-care items aimed at promoting "healing, self-love and positivity" selected by a team of holistic wellness pros. Products include essential oils, crystals, and candles. The company describes Black Girl Magic as "doing whatever is necessary to reach your full potential." Each box, starting at $54.95 for a bi-monthly subscription, is aimed at stimulating mind, body, and soul, and is sourced from minority-owned businesses, and made by Black women for Black women.
CURLBOX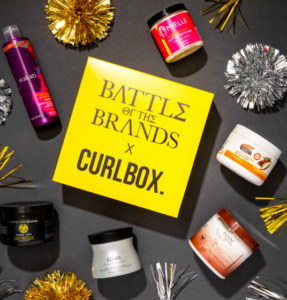 Curlbox offers hair care for relaxed and curly hair from brands such as Mielle Organics, Curls, Eden BodyWorks, Mixed Chicks, and Pattern Beauty. Monthly subscriptions cost $25. Themed boxes include a subscription box featuring Garnier in January's box, December's Ulta Beauty Box in December, and a Palmer's box in November. Founder Myleik Teele went au natural with her hair 15 years ago, and her goal is to help women tame their tresses by giving them the opportunity to try several products for the price of one.
Cocotique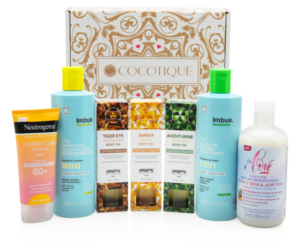 Cocotique's subscription boxes contain five to eight beauty, self-care, wellness, fragrance, skin care and lifestyle products, both full size and travel size. The monthly subscription costs $25 and aims to offer a fun way for women of color to experiment with an extensive range of products. Past boxes include January's "Self-love is Your Superpower Box" that includes brands such as Exsens, Imbue and Én Love, as well as themed boxes including Palmer's Takeover Box and Limited Edition Holiday Box. The Makeup Lovers Box (Cocotique x Monroe Steele Winter Edition), a collaboration with influencer Monroe Steele, invites beauty lovers to get runway-ready for the winter. Customers can also purchase curated boxes from previous months.
The Beem Box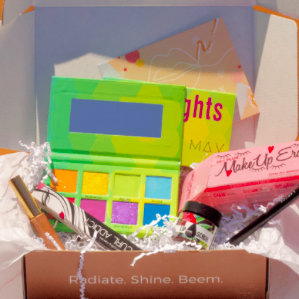 The Beem Box invites Women of Color to "radiate, shine and beem" and celebrate the beauty that lies within. Each beauty box comprises five to six full-sized beauty products that are chosen to suit deeper and darker skin tones, pigments and undertones. Makeup products include liquid lipsticks, eyeshadows, makeup brushes, liquid liner, moisturizer, lip liner, setting spray, eyelashes, lip glosses, mascara, lipstick and body lotion. The boxes, sent out every two months, are priced at $39.95.
CurlKit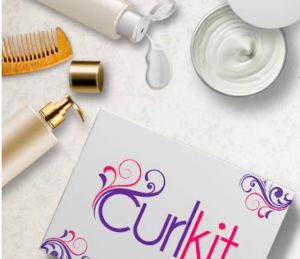 CurlKit's mission is to make it easy for subscribers to discover products that work with their curly hair. Each box contains four to six products selected by curly hair experts. Subscribers learn how the products work, from classic finds and fresh picks to new hair care tools. CurlLife magazine offers recommendations and tips from product owners and beauty experts. The starting monthly membership is $20. Subscribers can also shop on the CurlKit website according to hair type, including loose curls, tight curls and color treated.