MOSS Studio + Magazine has launched a new series that takes an in-depth look at the creative and aesthetic development of high-end beauty brands. 
The first installment in this creative evolution series explores Moroccanoil and their five-year development through evocative Mediterranean productions, innovative sentiment via a high-tech feel, and video strategy throughout the global pandemic.  
Rooted in Immersive Storytelling, Brave Beauty Profiles
In 2016, Moroccanoil produced and showcased a collection of deeply evocative, polished videos in tandem with the launch of their body care line. It was when the brand's founder, Carmen Tal, talked about her vision for the brand in Carmen's Story, a video directed by actress Bryce Dallas Howard, which still serves as the brand's core narrative. The scope was substantial in a number of different ways; the micro and macro shots, the solemn music, the near-theatrical set-ups that feel cinematic and grand. With Carmen's voice as the narrator, the video series is a leader in storytelling in every sense of the word. The audience feels as if they are in Morocco, with the brand's leader guiding them through each step of her own magical journey. Lines like, "the essence of the Mediterranean" and "my greatest discovery was to listen" anchors a sense of place and storytelling in gorgeous visuals.

Following on this evocative identity statement, Moroccanoil launched the #FearlessBeauty campaign the next year. The brand has always been highly women-centered ('Inspired by Women' is one of their main taglines today), and in these four intimate meetings, a group of very different women share their passion for their different fields. This storytelling, of course, positions Moroccanoil's products as complements to real, albeit somewhat aspirational, lives. The series is a great example of a profile format that became hugely popular in the beauty industry through both 2018 and 2019; a result of the increased consumer demand for transparent and inclusive brands.
High-tech and Innovation Lead into Documentary-Style Intimacy
In 2018, Moroccanoil launched their Color Complete series with a collection of videos characterized by micro shots, slow motion, and 3D animations, an esthetic fusion between high-tech and sensorial messaging styles. The soundtrack is dramatic and powerful, and the imagery heavily focuses on bringing the viewer up close to Moroccanoil's technological advancements. With the animations, we see the effects of the argan oil's magic on a single strand of hair, and the use of other post-production tools, such as color grading to give videos a crisp, clean, and sleek look. There is also a semblance of sensorial in these pieces, with butterfly and hourglass imagery, coupled with a calm and lush narration.
A New York Minute series from 2019 is as intimate as it gets. It follows a similar kind of style to the #FearlessBeauty campaign from two years earlier, though this feels much more like tuning into a conversation between friends. Celebrity hairstylist Bryce Scarlett meets other media personalities in a luxurious Mercedes van, and takes them on a drive around Manhattan. The series is a real testament to the intimacy consumers had come to expect from brands by 2019, following the immense growth of social media as a main platform for beauty industry leaders. The products are heavily featured throughout, but the focus remains on the conversation about how to achieve a gorgeous hair finish, and works as a solidification of Moroccanoil's brand focus of empowerment and style.
Creative Expression Shaped by a Global Crisis
As the world came to a halt during the first quarter of 2020 beauty brands across the board were forced to mold their creative expression to a new reality where studio productions, and even smaller scale in-house productions were impossible. Like the vast majority of other brands, Moroccanoil's video strategy throughout most of 2020 was heavily characterized by how-to videos typically shot in remote production and featuring a single person showing a step-by-step routine that could easily be replicated at home.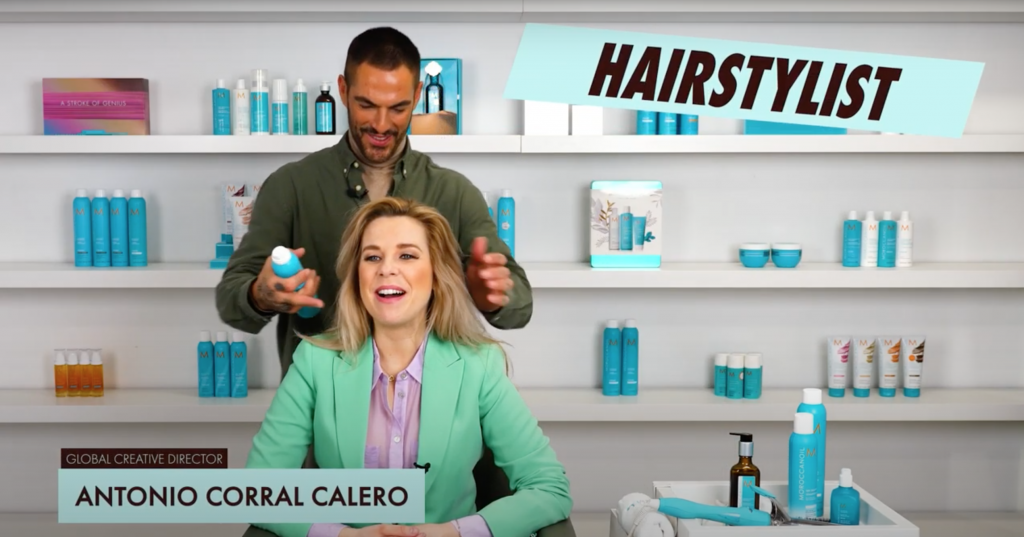 A creative norm for video production in the beauty industry during the pandemic, the esthetic is down-to-earth, and while it still feels polished, there is very much a sense of homemade. On a messaging level, this serves as empathy and understanding for brand consumers who were largely isolated by lockdowns on a global scale when the pieces were published.
Continuing into 2021, Moroccanoil's creative expression is still characterized by the pandemic, but their partnership with Eurovision 2021 has given us a more upbeat and optimistic narrative and video style. With everything from inspirational monologues by artists to hair styling session-conversations between talent and Moroccanoil's creative director, these pieces are infused with glam and humanity.
Over the past five years, Moroccanoil's creative evolution has been closely interlinked with industry trends and developments – while still leaning into brand esthetic, core values, and messaging throughout.