Leveraging their extensive experience in both retail and spa, industry pioneers Taylor Barry, Melissa Chiofolo, and Gina Jacoby-Clements have set out to innovate how brands and buyers connect via a new digital platform and concierge service, Brand Uncover.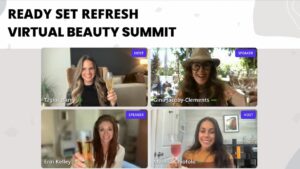 "Our team's complementary capabilities provide an ecosystem of support to emerging brands and retail buyers and/or spa directors alike. It's a one-two punch," Jacoby-Clements said of the new platform, which is the culmination of two powerhouse agencies, Beauty Breakthrough and Revenue of Inspiration [ROI].
Beauty Breakthrough was created in 2020 by Barry and Chiofolo, who together have more than 20 years of experience working in prestige beauty, as well as a proven track record of growing indie brands from early-stage to established industry players. Their paths initially crossed while working together in the buying offices of Lord & Taylor where they were charged with creating the retailer's Indie Beauty department. Their shared passion for helping emerging beauty brands achieve retail success led them to create Beauty Breakthrough.
"We are keenly aware of the components necessary to be successful at point of sale and maintain a healthy replenishment business," Barry said.
Jacoby-Clements, a 30-year veteran of the retail and spa industry, created consulting firm ROI in an effort to help connect the right brands to buyers in need. Having been a spa owner and Vice President of Sales for a national beauty brand herself, the trusted relationships she has built over the years are second to none. ROI has a dedicated sales team who work directly with retail, e-commerce, resort spas, and apothecary buyers.
"There's true, tangible value that we bring to buyers and brands," Chiofolo said. "We have lived the experience as industry veterans and use proven strategies that we then tailor to each member's unique needs."
Brand Uncover works by helping brands to increase their brand exposure, support sales growth, build teams and get retail and/or spa ready. By joining this curated community of indie beauty and wellness brands, Brand Uncover promises to support buyers by aiding in brand discovery. One of its major points of difference? Active listening.
Brand Uncover's virtual platform is broken out into 15 categories. In addition to core skin care and makeup solutions, the assortment also includes in-demand and on-trend products like hair growth systems, clean deodorant, clean fragrances, and sexual wellness. Every brand has a digital brand boutique that acts as a buyer-facing virtual storefront. Brand members receive hands-on support from the Brand Uncover team to help create actionable strategies to support their goals. They work hand-in-hand with members to ensure a dedicated sales staff is fully trained and able to effectively pitch the brand.
Trade show support is another perk of joining the Brand Uncover ecosystem. Not only do brands receive help with securing premium space and location on an expo floor, but the Brand Uncover team helps manage, set up, and communicate with the buyers attending the show.
As an additional layer, Brand Uncover hosts at least three to four Beauty Summits a year, both virtually and in person. These summits intentionally pair mutually interested brands and buyers, buyers with brands, setting them apart from other industry networking events, and ensuring highly productive meetings. Their most recent virtual summit, "Ready Set Refresh," took place last month and made 109 meaningful global connections. A total of 97 attendees dialed in from eight different countries to participate in thoughtful conversations during the virtual summit. The event was a smashing success, and the team is already gearing up for its next virtual summit in February 2023.
Brand Uncover will launch its first in-person Beauty + Wellness Showcase next spring in Los Angeles, California. The event will feature an intimate expo-style setting for buyers to experience new brands across a wide range of categories.
In addition to Brand Uncover-led events, this team has a strong presence at a variety of industry-led trade shows including FounderMade, Cosmoprof, ISPA and The Makeup Show. In May 2023, they will be hosting a collection of brands in their 400 square foot booth space at the ISPA Expo in Las Vegas.
The expertise and resources that Brand Uncover shares with their community members yields real results and provides unparalleled support to both buyers and brands alike.
"We truly and equally hold both buyers' and brands' interests at heart," Jacoby-Clements said. "We are fixated on supporting successful growth for each of our partners."
Learn more about Brand Uncover here.
Q&A with Brand Uncover
CEW: Can you provide a case study where Brand Uncover made a successful connection between brand and buyer?
BU: Natural health and beauty retailer, Pharmaca, was seeking elevated newness in their skin care, cosmetics and tools categories to drive Holiday 2022 sales in their 26 Brick and Mortar locations and ecommerce site. Pharmaca leveraged Brand Uncover's Buyer Concierge service for brand discovery and procurement to support this initiative. Understanding their specific needs, our team devised an action plan and presented Pharmaca with a synergistic brand within our BU community, Jenny Patinkin, to fill their assortment needs. This led to a new business partnership where Pharmaca is opening Jenny Patinkin in all B&M locations and ecomm for Q4 2022 with a plan to expand in Q1 2023.
CEW: How can you help smaller brands with leaner budgets?
BU: We pride ourselves on being flexible and easy to work with. One of our biggest focuses is supporting early-stage, emerging brands. That is often where you can make the most impact, and we find it to be extremely fulfilling. We offer a personalized approach and work closely with brand founders to ensure we can find a solution to meet their needs.
CEW: What are Brand Uncover's three-year goals?
BU: Our goal is to continue building out our list of services to further solidify our organization as a one-stop destination for brand growth + buyer concierge services.