Consumer attitudes are normalizing towards business as usual. Results from a Poshly survey conducted in March showed that 34 percent of consumers polled said they were in favor of seeing new launches. Recently, Poshly revisited their survey and results revealed that consumer sentiment to new launches has since grown to a more favorable 47 percent. As attitudes start to balance, brands are forging onwards. Subsequently, CEW Beauty News reached out to four beauty brands to discuss the how, the why and the challenges behind product launches. Kicking off this series is Shelby Wild, Founder of naturally-derived hair care line Playa Beauty, where she shares her thoughts on online sales trends, supply chain disruptions, PR/influencer marketing, retail partnerships, customer engagement and what she perceives will be the lasting effects of COVID on the beauty industry.
On Online Sales Trends Since the Close of Physical Stores…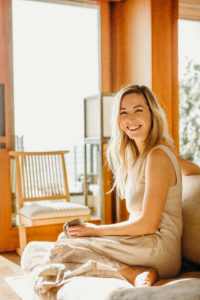 "We were planning a 4/1 roll-out into the main hair section in Sephora with all our SKUs, which is a really big deal, but that's now been pushed back, unfortunately. However, our dotcom business there is up 333 percent since COVID started, which is more than making up for both in-store and dotcom sales. It's been wild to see. We're also seeing parallel growth in sales on our own website. We have a very different customer on there, who have been incredibly loyal to the brand since the beginning. But around key launches we do our best to drive new customer traffic to Sephora.
A lot of our products are treatment-oriented – hair oils, masks, salt-scrub shampoo, detoxifying and repairing products – which I think is playing into this upward digital trend. But it's also about our price point. A $38 hair product that is designed to last three to four months is an accessible luxury, yet the customer still feels like they're treating themselves when it arrives in the mail. We're also seeing customers who really want to come out of this on the other side a newer, improved version of themselves, which plays right into the strength of our line. Our products are designed to improve your hair over time, and give you the best version of your hair as a consolidated daily routine. It's not a stylist driven brand with sprays and things you may not need now because you're mainly at home. Our line really leans into this idea of self-improvement."
On Supply Chain Disruptions…
"We're incredibly lucky that our warehouse and all our manufacturing partners are still open. But instead of operating at 100 percent capacity, maybe now it's 25 percent for instance. We're seeing some delays, but in a way there's been an overall stress reduction. Before this time a launch had to be released strictly on a certain date. Now that everything is purely digital we have more flexibility in terms of time. For example, we had an issue getting the bottles for our leave-in conditioner out of China because of the focus on hand sanitizers and N-95 masks. We definitely don't want to interrupt that supply chain to launch a leave-in conditioner by any means. So it's required a lot of flexibility on our end, as well as the suppliers and the retailers. But everyone has just been really easy to work with, and incredibly understanding of the situation."
On PR and Influencer Relationships…
"We have a very tightly curated list of influencers for PR packages now, so we're not inundating FedEx and being disruptive. Historically brands would send out hundreds of packages. We're trying to be even more thoughtful now than ever. We're reaching out to our core group of influencers to ensure that there's a real need for this particular product in their routines, and asking what kind of content they'd produce. We're not shipping things just to get product out there. We want to make sure our products are being received, utilized and discussed."
On the Evolution of Retail Partnerships…
"This has been a key focus of ours for 2020. Since we're a small team we wanted to make sure we're really maximizing the potential of our retail partners, so we've been consolidating our distribution since early this year. We'd rather focus our efforts on a few key partners, rather than this idea of death by a thousand paper cuts."
On Changes in Customer Behavior and Engagement…
"We've seen a massive spike in organic engagement and mentions on social since COVID. Now you're seeing influencers share their routines with followers in an effort to connect on a more intimate level. Historically it's been more transactional and less authentic; a post would go for $25,000, for instance. But I think what you're seeing now is that authenticity is being reinvigorated in the beauty community.
I think customers want newness that's thoughtful and curated even during this time. We had a SKU that we initially wanted to launch this summer, but we're pushing it to the back half of the year since it doesn't make sense right now. We want to give customers products that we feel they really need during this time at a price point that's accessible."
On COVID's Effects on the Beauty Industry Long Term…
"I think this idea of togetherness and authenticity will continue to grow and compound. I really do think beauty brings people together. This time requires brands to really rethink how to approach their customer in a thoughtful way."