Glow Recipe is much more than a brand known for its breakthrough beauty products.
Industry trailblazers Sarah Lee and Christine Chang founded Glow Recipe in 2014 as an online destination for clean, cruelty-free Korean beauty curations, paired with robust educational content around skin care routines and ingredients.
As long-time product developers and marketers at companies including L'Oréal, Sarah and Christine saw an opportunity to create a line of products that combined familiar fruit ingredients and clinically effective actives that were efficacious, yet gentle.
In 2017, the duo launched Glow Recipe Skincare with their first product, the Glow Recipe Watermelon Glow Sleeping Mask. Inspired by the memory of their grandmothers rubbing watermelon rinds on the skin to soothe and calm heat rash and irritation during the hot summer months in Korea, the mask both hydrated and exfoliated the skin simultaneously, and was an instant hit.
But it has always been about more than just the products. Since its inception, Glow Recipe's positioning has centered on the company's core values of community, real skin acceptance, inclusivity and sustainability. Here, the initiatives Glow Recipe supports.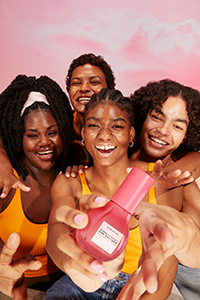 Diversity, Inclusion and Equity: Glow Recipe's Diversity Advisory Board was created with a team of experts including makeup artists, dermatologists and influencers who ensure the brand reflects diversity in all touchpoints of communications and helps test formulas during product development to innovate with all skin types in mind.
Female Empowerment: To help up and coming brands, Glow Recipe started a Small Business Mentoring Initiative. "Through our Mentoring Initiative, we customize one-on-one coaching sessions for our mentees, with us and our senior team members," says Christine.
Real Skin: It has always been mission-critical to the founders to avoid the use of photoshopping or retouching of images and to show a range of skin types, tones and textures, representing the brand's diverse community. Recently, Glow Recipe decided to eliminate the use of words known to promote unrealistic beauty standards especially on social media, such as flawless, poreless, anti-wrinkle, anti-aging and perfect complexion. "These words imply an unattainable beauty norm. We will not perpetuate that position," says Sarah.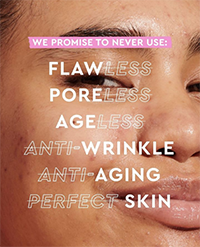 The Environment: Glow Recipe products are formulated with clean ingredients and the brand is Leaping Bunny certified, cruelty-free, vegan, and sold within Sephora's Clean section. Further, Glow Recipe packaging is 100% recyclable, either curbside or via Terracycle. The company has also committed to being carbon neutral by 2022.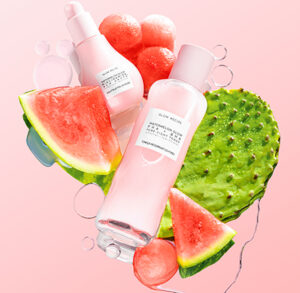 In 2021, there were four key launches that corresponded to Glow Recipe's core pillars and formulation philosophy of combining fruit antioxidants with clinically effective actives:
Guava Vitamin C Dark Spot Serum: Glow Recipe's most recent launch checks off the box of fruit antioxidants-meets-clinically effective actives. This serum is a new approach to vitamin C without the typical downsides, such as stickiness, greasiness or skin sensitivity. Using advanced vitamin C encapsulation technology, paired with tranexamic acid, it efficiently absorbs into skin to treat dark spots and hyperpigmentation over time–and brightens skin without irritation.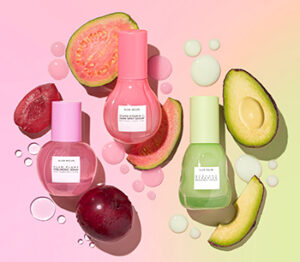 Avocado Ceramide Recovery Serum: This serum helps reduce redness and support the skin barrier with nourishing Avocado and potent yet soothing Ceramide. "We are at a tipping point in skin care formulation, with people using incredibly potent and sometimes harsh formulas without considering the long-term ramifications for their skin," says Sarah. "Recognizing this trend, we emphasize ingredients that are gentle yet efficacious when formulating our products. A barrier- supporting treatment builds up a defense to protect your skin from becoming more vulnerable to external aggressors."
Watermelon Glow Hyaluronic Clay Pore Tight Facial: "This is a clay mask for all, dovetailing with Glow Recipe's mission to offer products for a diverse audience and skin needs. We formulated this non-drying pore facial with hyaluronic acid-infused kaolin clay. This innovative ingredient helps to decongest and clear pores, while still hydrating all skin types – even sensitive," says Christine.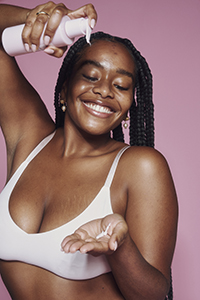 Watermelon Glow Pink Body Cream: The founders call this Allure Beauty Award-winning body treatment a pioneer in the "skinification" of body products. "We are excited to be recognized for this product, which leverages clinically-proven actives such as AHA and hyaluronic acid, traditionally used only in facial skin formulations, to elevate the experience for body care," says Sarah. A social campaign includes influencer Tess Holliday, an advocate for body acceptance, as well as un-retouched images of a diverse cadre of women. "We showed skin as it is," says Christine. "As a brand we have a responsibility to make sure we reflect back on our community in a realistic way."
Glow Recipe's products are sold at retail partners including Sephora U.S, Canada, Singapore, Malaysia and Hong Kong. Sephora has also recently launched the brand in the Middle East, a market where there has been great demand for the lineup. Cult Beauty, Douglas and Mecca also stock the brand, along with availability on its own website (Glowrecipe.com).
Winning Through Social Success
Through consistent influencer seeding and organic relationship building, Glow Recipe caught the attention of TikTokers who posted a how-to video on achieving natural radiance with two Glow Recipe Watermelon Glow products: PHA+BHA Pore-Tight Toner and Niacinamide Dew Drops. The posts went viral.
"This was a significant milestone for us," says Christine. "The views that came out of the initial trigger content were incredible [more than 11.7 million views]. TikTok has a global following so every single market saw a huge sales lift and it was incredible to see the buzz and conversation around these gone-viral products continue afterwards."