There is no mistaking the vital role augmented reality (AR) plays in the consumer experience, from discovery, to play, to purchase. While the seismic shifts in shopping behavior brought on by the pandemic have certainly accelerated it, demand for this technology has been steadily growing since L'Oréal launched the Makeup Genius app back in 2014, the first virtual try-on tool to go mainstream in beauty. By 2019 global consumers listed AR and/or virtual reality as the top technology they seek to augment their daily lives, according to a survey conducted by NielsenIQ; 51 percent of those surveyed stated that they were willing to use AR to assess product purchases. Taking this one step further, Shopify reported in the same year that products marketed with AR content showed a 94% higher conversion rate than products marketed without it.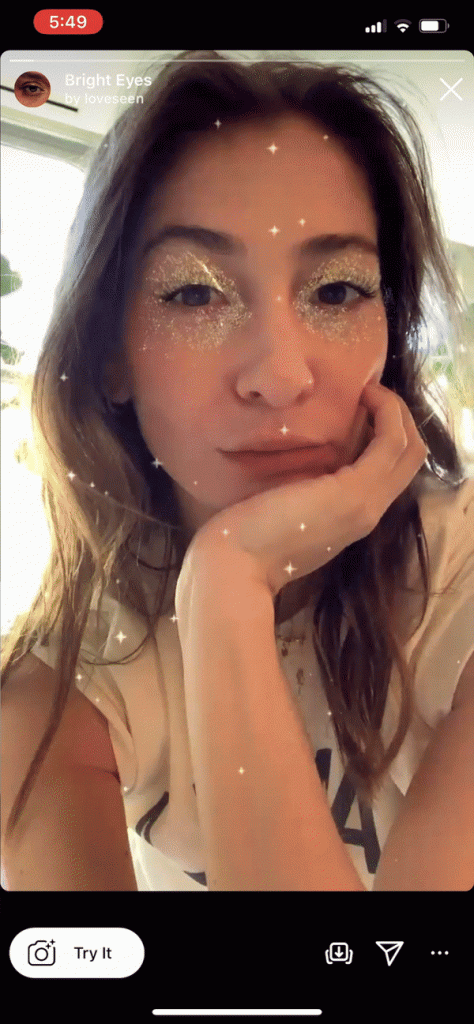 Enter Camera IQ, a female-founded and operated AR technology company that launched in 2016 during this growth period. Committed to optimizing the camera as an effective and experiential channel for brands to engage and convert their audiences, Camera IQ has collaborated with top CPG and entertainment companies, including Nestle, Purina, Discovery, and ESPN, to help create, integrate and promote customized AR filters that let users do many things, such as pick their favorite college basketball team colors, walk the virtual red carpet, or try on NASA-style astronaut helmets. Turning to beauty in 2019, Camera IQ quickly gained partners such as M.A.C, Smashbox, Honest Beauty, Avon, and KVD Beauty. Indie faux lash brand, LoveSeen, joined their roster in 2020.
Having come to market during the most challenging period for brick-and-mortar retail, LoveSeen identified AR early on as an effective tool for recreating the in-store experience and for establishing key touchpoints with their consumers. "We knew we wanted to develop a technology that would replace the absence of a real-life try-on. It was important to create AR experiences that were realistic and gave customers an honest understanding of how our lashes would look on them," said LoveSeen Co-founder, Jenna Lyons. Together with Camera IQ, LoveSeen launched 10 AR experiences across their social media platforms, garnering more than 150,000 views in just a few weeks. According to Jenna, the brand has seen their engagement rate on Instagram soar more than 90 percent since introducing this AR component.
CEW Beauty News spoke with Camera IQ Co-founder and CEO, Allison Ferenci, about the role of the camera as a powerful communication tool, the importance of designing products with diversity in mind, and the primary role of AR in the beauty space.
CEW Beauty News: Why did you start Camera IQ and what does it mean to "…democratize the camera for brands everywhere" as stated in the company's mission?
Allison Ferenci: AR for me was first and foremost a creative medium. My background is as a creative technologist; I studied interior architecture and digital interactive art, so I was really interested in how we could connect our physical and digital worlds together. Could AR make them feel closer together? I realized around 2014-2015 that consumer behavior around the camera was only going to accelerate more. Of course, now it seems so obvious. Today there's four billion daily active story users alone just on social, but what's often overlooked is the vital role of the camera. You open your camera every time you create a story, and the only medium that shows up in the live camera feed is AR. Apple, Google, Facebook, and Snapchat were not only investing in camera hardware around this time but were also investing in what is referred to as the computer vision stack, which is essentially the ability for the camera to understand the physical world around it.
There was an opportunity that never existed before to use the camera as a communication tool. My business partner, Sonia Tsao, comes from a mobile commerce background, so there was a lot of discussion at the beginning around creating and commercializing a technology that could help drive businesses forward. We were really focused on how to build a platform and tool set that would empower brands to reach consumers in every camera.
BN: What are your key points of differentiation?
AF: We have a technology platform that allows companies to create AR experiences within minutes. We not only provide the tool set to create these experiences, but we also help brands promote and integrate them not only in their social strategies but also in web and in customer success. Then we gather insights on performance across channels and against benchmarks, all in one tool. It's really a cross-platform solution.
We have a kick-ass team of in-house experts focused specifically on beauty. They help to educate brands about digital makeup artistry, and how to translate their physical products into digital assets for the best experience.
Importantly, we're also designing with diversity and inclusion in mind, both from the standpoint of how we choose to build our products, but also asking our customers who use our tools: how do you democratize the beauty counter and invite your global audience to participate in your brand?
BN: Tell us more about designing with diversity in mind.
AF: Our beauty clients want to feel confident that the experiences they're putting out are reflective of their global audience, and that means representing different skin tones, undertones, and ethnicities.
We enable our clients to preview and test their AR experiences on a diverse set of models with different skin tones, eye shapes, lip fullness, etc. Our model database now includes nine models, but there's plans to continue growing.
We also do not allow for face augmentation. Retouching on Camera IQ is throttled below what is available on Facebook and Snapchat, for instance. Our default setting for retouch is at 25 percent, which protects against skin lightening on [creating] darker skin tones.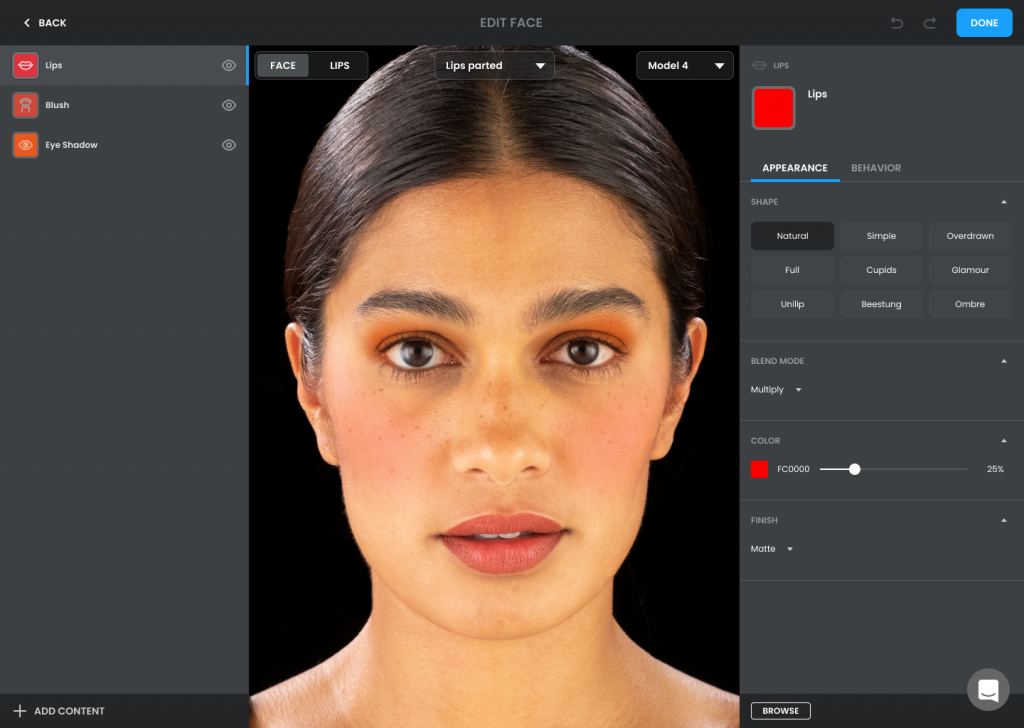 BN: When did you start working in the beauty space?
AF: Something we're really cognizant about at Camera IQ is making sure the quality of the experience is going to match the expectation of the brand and consumer. We're really excited that the technology has gotten to a point where we felt that beauty brands would be happy with the quality of the experience. We started to focus on beauty about six months before COVID hit. We had some really great early customers that were double and tripling down and growing with us. Then the pandemic happened which changed the way we discover and play with new beauty, and this has allowed us to focus even more deeply in that space.
We work with larger brands under the Estée Lauder umbrella, such as M.A.C and Smashbox; also Avon and Honest Beauty. Additionally we've been able to assist emerging, digitally-native brands such as LoveSeen, Dominique Cosmetics, and Undone Beauty. It's important for us to provide the same quality of tool that both a prestige brand and an emerging brand can afford.
BN: What objectives do beauty brands come to you with and how do you help them meet those objectives?
AF: There are three core objectives that we see brands coming to us for. Firstly, to facilitate a conversation around awareness and community. Secondly, product education; how do they show people how to apply their products, how do they show product differentiation from an ingredient standpoint, etc. Lastly of course is the virtual try-on; they want people to know what this product is going to look like on their particular features.
In addition to being their tech partner and providing them with the platform to create, manage, and measure this content, we also are their partner in education. This includes helping their teams become digital makeup artists, and teaching them to distribute, promote and measure success in the virtual space. We provide a real hands-on approach to make sure that our customers are successful in meeting their objectives.
We think of ourselves as a full-funnel solution, and it's a key part of our expertise in understanding how you can create different experiences based on where in the funnel your customer is. For instance, if a customer is right at check-out, a try-on would likely make the most sense. But if you're launching a product and you want to drive awareness and engagement, maybe you want to make the experience more fun and whimsical.
The truth is, AR is outperforming traditional formats at every stage of the consumer journey now. We see brands that are reaching 34x beyond their Instagram audience with a single AR experience; it's the most effective format for top-of-funnel engagement and views. To compare, an Instagram Story typically reaches only 5% of your audience. We're also seeing a 4x engagement rate on AR over a photo or video, for instance. The average play rate on Camera IQ ranges from 50 percent to 80 percent, meaning 50 percent of people who see an AR experience choose to opt-in and use it for themselves.
BN: What do you think is the primary role of AR technology in the beauty space?
AF: You can't sample in the same way anymore when you walk into a traditional beauty brick-and-mortar retailer. AR presents an in-store alternative that gives consumers the confidence to try-on, play and potentially convert from the safety of their homes. What we find really exciting about this technology is that AR customers are trying on exponentially more colors or products than they would if they went in-store. It's such an incredible opportunity for a brand; if you can get someone to play with your product in this way you have them that much closer to purchase. It's building a relationship.
BN: What are your future plans for beauty?
AF: From a product perspective, we'll soon be releasing what we consider to be the best-in-class beauty editor. It will give brands the ability to build digital makeup looks and their SKU libraries in minutes with a tool that's as easy to use as Canva or Squarespace.
Today we're focused on social because that's where the most saturated consumer behavior is currently happening. But it's on our roadmap for this year to introduce distribution across more channels.