CEW Beauty News traces the ascent of Canadian retailer Green Growth Brands, which aims to own the CBD space with a rapidly-expanding portfolio of cannabis brands.
Green Growth Brands is aptly named.
One of the biggest brands in its portfolio, Seventh Sense Botanical Therapy, opened its first retail location in February of this year. As of today, there are 138 Seventh Sense shops. By May 2020, there will be 270, in 40 states.
"We're moving fast. We're building the plane while it's in the air," said Jann Parish, Chief Marketing Officer of Green Growth Brands. Jann was recently included on Forbes' CMO Next 2019, a list of 50 disruptive chief marketers.
Its parent company, Green Growth Brands, is listed on the Canadian Stock Exchange. The company reported revenue of $5.5 million earlier this year, an increase of 77 percent from the previous quarter.
With U.S. headquarters in Columbus, Ohio, the company currently has 80 corporate employees and recently opened a flagship Seventh Sense store in Chicago. "The CBD space is very coastal. We wanted to be more central in the country," said Jann.
This year, Seventh Sense also began selling its products in 90 DSW stores. Abercrombie & Fitch will begin selling the brand's products in 161 of its locations. In July, American Eagle and Green Growth Brands announced a deal that will allow the retailer to sell Green Growth Brands' CBD products in nearly 500 stores and online.
Besides Seventh Sense, the Green Growth Brands portfolio includes CAMP, The+ Source (a Nevada dispensary business), Green Lily, and Meri + Jayne. The company also has a licensing agreement with Australian golfer Greg Norman to develop a line of CBD-infused personal care products designed for active wellness.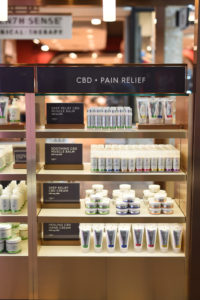 "Seventh Sense has a democratic approach. It's CBD for all. There are a lot of new entrants coming into CBD at the high end. We intentionally didn't want to price the products at a high price point," said Jann. "The Green Lily consumer is a little more woke. The brand is aimed higher."
Green Lily will launch on the Seventh Sense website October 14, and in stores November 1.
The overarching vision of Green Growth Brands is to create what it refers to as the new standard of cannabis and CBD consumer experiences. Women represent the fastest-growing customer demographic within the cannabis industry.
"The amount of opportunity with this plant is phenomenal," said Jann. "The potential is so clear. Once the Farm Bill was approved (which federally legalized hemp and CBD products), we wanted to be perfectly positioned when the rest of the market came in."
Indeed, a recent report from investment banking firm Jefferies stated that sales of CBD beauty and personal care products could reach $25 billion globally in the next 10 years.
Seventh Sense's shops, as they are called, are freestanding locations in shopping malls. They are constructed like a store, and are typically 200 square feet with four walls.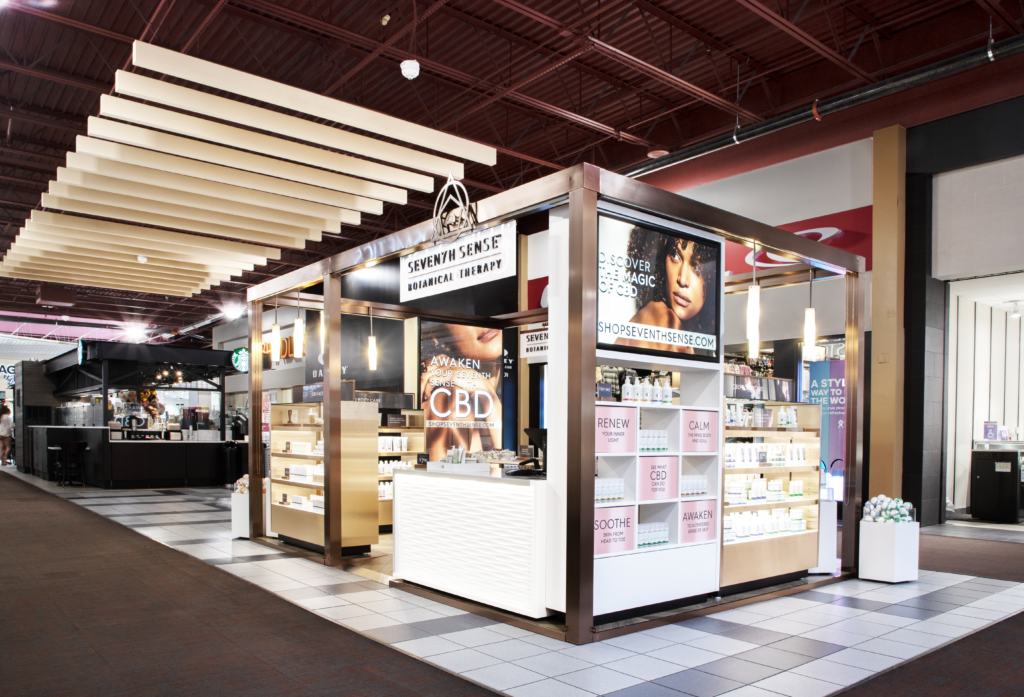 "The shops give us flexibility about where we want to be in a mall," said Jann. "They are like a high-end beauty counter in an open environment."
The spectrum of Seventh Sense products is broad, and includes body lotions, muscle care balms, creams, sprays and oils for nighttime. Jann cited the CBD Muscle Balm (with 200mg of CBD and infused with a blend of menthol, peppermint, ginger and comfrey) as a bestseller. Other popular products include CBD Deep Relief Cream and CBD Face Oil.
All Green Growth Brands CBD raw materials are compliant with the Farm Bill. Raw materials are tested by third-party testing facilities for mold, heavy metal and pesticides. CBD is sourced in the United States from certified, state-licensed hemp processors. The company's cosmetic products are compliant with the US FDA, Health Canada, and EU Cosmetic Regulations.
"We source CBD in a very consistent way," she said.
Unlike many companies that focus on either CBD or THC products, Green Growth Brands is developing both. This diversification allows the company to be part of the growth on both sides of the industry in the coming years.
"It's only a matter of time before THC becomes legal," said Jann.
Green Growth Brands has a fully realized retail concept called The Source, in Nevada, where it is building markets, in addition to Massachusetts. CAMP will be launched in both those states next spring. "We are active in the community regarding education and THC usage."
"We understand the potential in the cannabis space. There is an appetite for what this product can bring."